The Boston Bruins have already made many significant changes, which have dramatically altered the look of the team in preparation for next season. Boston has done away with several key players, such as Dougie Hamilton and Milan Lucic, and have brought in exciting names such as Jimmy Hayes and Matt Beleskey.
Is there more to come?
However, despite all of the madness that has surrounded the Bruins this offseason, general manager Don Sweeney says that the team may not be done, especially with regards to available free agents.
"There are still players out there that may fit," said Sweeney, according to NESN.com . "You have conversations with agents about possibilities. I think we're comfortable with where we are in creating internal competition, but I'm not going to stop sort of asking in areas that we can continue to look at."
Perhaps this means that Sweeney is simply going to keep his eyes open for further opportunities. Or, perhaps Boston already has it's eyes on a player, say, Cody Franson for example. There's already been some speculation regarding Franson and the Bruins, and many people believe that he would be a great fit for the Bruins.
The Defensive Gamble
Sweeney referenced the Bruins defensive situation. He admits that the Bruins' blue line serves as a bit of a gamble at the moment, however, he's confident in the defenseman on the roster at the moment.
"Well, you're always going to want to have the best group you possibly can," the GM said. "There's probably an element of the unknown, because we have some guys that are going to push (for roster spots). But we have waiver decisions — there are certain things that impact the decision overall. There are a couple of free agents that we still have conversations with that we felt might improve our club if the financial component works, and we're not going to stop having those conversations, because they might be the right thing to do. Matt Irwin coming on I think helps provide a lot of depth for our overall grouping.

"… But we have some younger players that at some point in time have to be given an opportunity if you believe in them. And for me, that's an exciting part of the game. Yes it is. It's a little bit of the unknown. I'm not going to sit here and blow smoke in any direction that it's not. It absolutely is. Would a coach like to have four guys that have been in the All-Star Game the previous year? Yeah. If he can pencil that in, I'm sure he's going to say, 'Let's check that box right off.' But at times, it doesn't happen that way. We've got five players who are returning who have played for your hockey club that had a lot of success, that I think you've got a foundation there."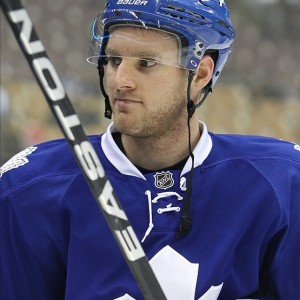 Whether or not Boston has their eyes on Franson in particular, they'll certainly be keeping their eyes on the market as a whole.
Sweeney knows as well as anybody that offseason deals don't always represent success or failure. Sometimes, great offseason acquisitions end up being a bust. Other times, the opposite is true. However, he's hopeful that the players Boston has brought in will have a good impact on the team's success this season.
"Again, knowing that there was going to be some change, you can talk about planning, but until you're having conversations to what materializes, you don't necessarily absolutely know," he said. "There's just no absolute in this game. From start to finish and until the red light goes on that particular night — that's the only absolute we have.

"Were there areas that we needed to change and address and have some flexibility in some things? Yeah, there were. And I'm on record as saying, three very good players left our organization. And we're hopeful that the players that we brought in are going to have an impact."
Whether or not the new additions have a positive impact for the Bruins is left for time to tell. However, don't make your bets quite yet, because the Bruins may not be done quite yet.
What do you think? Should the B's make any more additions to their roster?