The Anaheim Ducks sought a future solution to their struggling defensive corps on Day 2 of the NHL Draft. During Tuesday's first round, the Ducks took a potential top-pairing defenseman in Jamie Drysdale at No. 6. Then they took a scoring specialist in left wing Jacob Perreault at No. 27. On Day 2, the Ducks selected two defensemen, both puck movers as well as three more forwards. Overall the second day of the draft appeared to be a success for Anaheim, but time will truly tell if that's the case. Let's delve into the picks they made.
Pick No. 36 Sam Colangelo, Ducks' Tuch?
The Ducks started Day 2 and Round 2 by picking big American winger Sam Colangelo. The 18-year-old Massachusetts native already weighs in at nearly 210 pounds at a height of 6-foot-2.
Related: 2010 NHL Draft – 5 Forgotten Picks
Though scouts say he will take some time to develop, he could be a versatile winger if he does reach the potential many see in him. He's got a strong shot, excellent net-front presence and nightmare forechecking ability. 
The Athletic's Scott Powers has a very encouraging profile on Colangelo that shows the mental maturity and drive that could make Colangelo a steal in the second round. That includes a tidbit about a conversation between Colangelo and his general manager with the Chicago Steel, Ryan Hardy. 
"I was nominated for player of the week, and (Hardy) said, I don't think you played good, and I actually agreed with them," Colangelo said. "I didn't play that good. I was playing with two of the best players in the league with Sean (Farrell) and Brendan (Brisson), and obviously it's easy to get points when you play with great players. And I mean, don't get me wrong, I don't think I was playing bad, but I knew I had more to do. I don't want to be satisfied with just getting points."

(from 'What the Ducks can expect from No. 36 pick Sam Colangelo, The Athletic – 11/7/2020)
In that same profile, Colangelo's father says he hopes his son could one day be an Alex Tuch-type player, which would be great for Anaheim.
Colangelo's Future
Colangelo has committed to play at Northeastern University in his home state of Massachusetts. However, if COVID-19 further truncates or cancels an already delayed NCAA season, it stands to reason that Colangelo will play elsewhere. In his case, that would be Charlottetown Islanders of the QMJHL.
In either case, Colangelo will use the more intense competition to sharpen his abilities and work on his skating, which has been the most significant question mark in Colangelo's game.
When could Colangelo see NHL action? With the uncertainty surrounding COVID-19, the traditional path to the NHL changed indefinitely, but in normal circumstances, it would probably be two seasons, at least.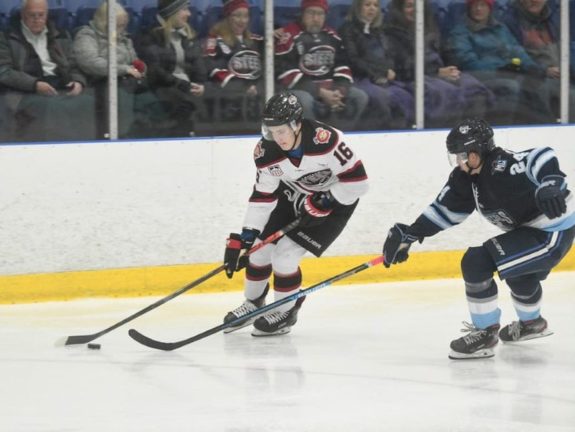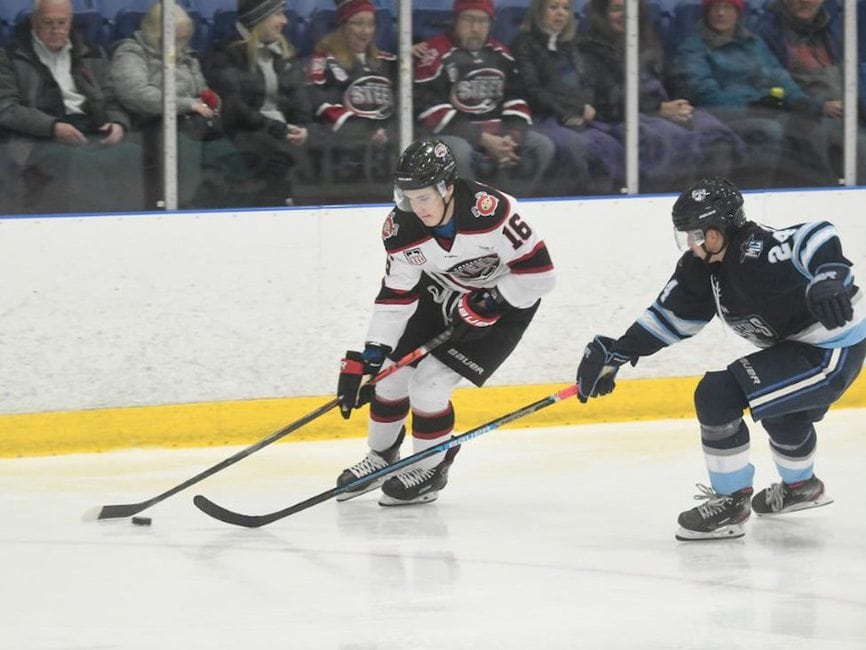 Colangelo still has to prove himself in either Hockey East or the CHL. The Ducks typically like to let their players develop longer as well. As a result, Colangelo probably won't see professional action until the 2021-22 season at the earliest but more likely 2022-23.
Ducks Return To MA for No. 67 Pick Ian Moore
At No. 67, the Ducks picked Massachusetts-born defenseman, Ian Moore. He is the second Massachusetts native to hear his name called by the Ducks on Day 2. He's also the second player to have played at a New England Prep school (St. Marks), after Colangelo. Like Colangelo, Moore will play in the USHL with the Steel before going to college.
This pick also marks the third consecutive draft that Bob Murray and company have plucked a player directly out of high school hockey. Last year, they drafted Jackson LaCombe out of Shattuck St. Mary's, and before that, they selected Jackson Perbix out of Elk River high school, also in Minnesota.
Moore is a big defenseman, standing 6-foot-2 but needs to add muscle weighing in at 171 pounds. Like Drysdale, he's a puck mover with a right shot, which is clearly a need that the Ducks are addressing in this draft.
According to analysts, Moore needs to work on his defensive zone ability and risk-taking but is a talented offensive defenseman who could one day be a power-play asset.
Moore is a Harvard University commit who will play in the USHL before going to the NCAA. Under normal circumstances, Moore is a player who could spend a year in junior and then two or three years in college before going pro.
Ducks Select Austrian Thimo Nickl at No. 104
The Ducks selected a second consecutive right-handed defenseman and third in five picks at this draft with Austrian Thimo Nickl.
Nickl is entering his second season with the QMJHL's Drummondville Voltigeurs, Max Comtois' former junior team. He scored 10 goals and added 29 assists in 58 QMJHL games, so he's shown the ability to contribute offensively in major-junior.
The 6-foot-2, 176-pound defenseman sounds like a good, all-around player. Analysts point out his passing prowess and his ability to defend rushes using his skating and gap control abilities.
He can shoot and has the potential to play on both the power play and the penalty kill.
The Ducks aren't focused merely on right-shot defensemen, but offensively productive ones at that, which is smart considering their current lack of both those assets.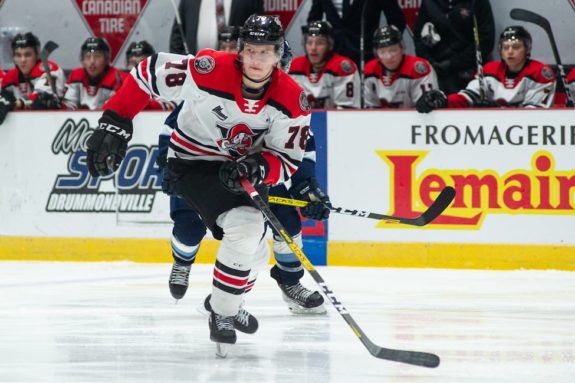 From the sounds of it, Nickl might be one of those mid-round picks that finds his way to the NHL sooner rather than later. He's played at a higher level than Moore already, has more mass, and his skating ability will make it easier to transition to the speed of the professional level. Don't be surprised to see him turn pro as early as 2021-22.
Ducks Look To Russia for No. 129 Artyom Galimov
For the first time since 2009, Murray and the Ducks selected a Russian player in the NHL draft. Forward Artyom Galimov is also one of the oldest players available in the draft at 21-years-old.
But with that age comes experience. Not a lot of other players in the draft have as much experience as Galimov. He has played a combined 72 KHL games over three seasons for Ak Bars Kazan. In that time, he's contributed 33 points, including 16 goals at the professional level.
The KHL is regarded as the second or third best league in the world behind the NHL, and maybe the AHL, meaning Galimov's production is significant.
Galimov is described as a smart two-way player with a good shot and offensive instincts who proved himself this season. So, why did it take four drafts for Galimov to finally hear an NHL team call his name? The answer is probably a combination of his size and home country.
Galimov's Future
He is listed anywhere from 5-foot-11 to 6-foot-0, which isn't small in today's NHL, but if you combine that with the fact that he's from Russia, you might find the answer. Talented Russians have found a reason to stay in Russia and continue playing in the KHL over the past decade, which means NHL teams run the risk of using a draft pick on a player who may never come to North America.  
But his talent is tantalizing.
Either way, the Ducks now have a player with good offensive skills and scoring ability to jump into the NHL lineup as soon as 2021-22 and produce on the second or third line.
Ducks Select Swedish Forward Albin Sundsvik at No. 160
The Ducks' sixth selection of the 2020 NHL Draft came in Swedish forward Albin Sundsvik. It's no surprise that Murray selected a Swede yet again in this draft, as some of his most productive picks have come from the country. Will Sundsvik be a late-round steal for Anaheim and continue Murray's tradition of picking productive Swedes?
Sundsvik is 6-foot-2 and nearly 190 pounds, so he's got size and mass already. Though he's played 54 games in Sweden's top professional league, he hasn't put up eye-popping numbers, managing only six points in that time.
He did win a gold medal with Sweden at the 2019 U-18 World Championships and added a goal in three games on Team Sweden at this year's World Junior Championship.
He isn't a guy who's considered a sleeper but the Ducks using their final pick on a player like Sundsvik won't hurt if he doesn't pan out.
Ducks Select Another Center With Final Pick
The Ducks rounded out their draft by selecting Ethan Bowen, center for BCHL's Chilliwack Chiefs. The 18-year-old from British Columbia has already produced in junior to the tune of 79 points in 121 BCHL games.
The Ducks may have gotten a slight steal with Bowen, who suffered a broken hand as a 17-year-old which caused him to miss significant time.
"I'm a 200-foot player that can put the puck in the net. I like to think of myself as a power forward who can score. I've actually transitioned my game into the past two years."
Bowen will play another season for the Chiefs before heading to the University of North Dakota in 2021-22. Though he's a seventh-rounder, the competition Bowen will face playing for North Dakota is sure to challenge him and could drastically help his development.
If he does reach NHL, it likely won't be for another three or four years, which would account for his upcoming season in junior and at least two at North Dakota.
Related: The Worst 1st Overall Pick…Ever
The Ducks addressed one of their primary needs in a big way at the 2020 Draft. Puck-moving right-shot defenseman is a rare commodity in the NHL, and the Ducks drafted two of them with their four picks on Day 2. They also took a risk in Galimov but he may add some much-needed punch by the 2021-22 season if that risk pays off. If Sundsvik makes an impact, all the better. All told, the Ducks addressed needs without leaving a lot of room for head-scratching at this draft. Now we wait!
All stats from eliteprospects.com
---
---