Rarely anything in life comes with a guarantee. There's no guarantee that your hockey team (Edmonton Oilers) will win the Stanley Cup, or your favourite player (Connor McDavid) will hoist it. As Ben Franklin put it, "…in this world, nothing is certain except death and taxes." Yes, there are few guarantees in life but when one comes along that can protect your purchase of a Connor McDavid Rookie Card, you know it's a good thing. eBay recently introduced their Authenticity Guarantee and it's another major game changer for hockey card collectors.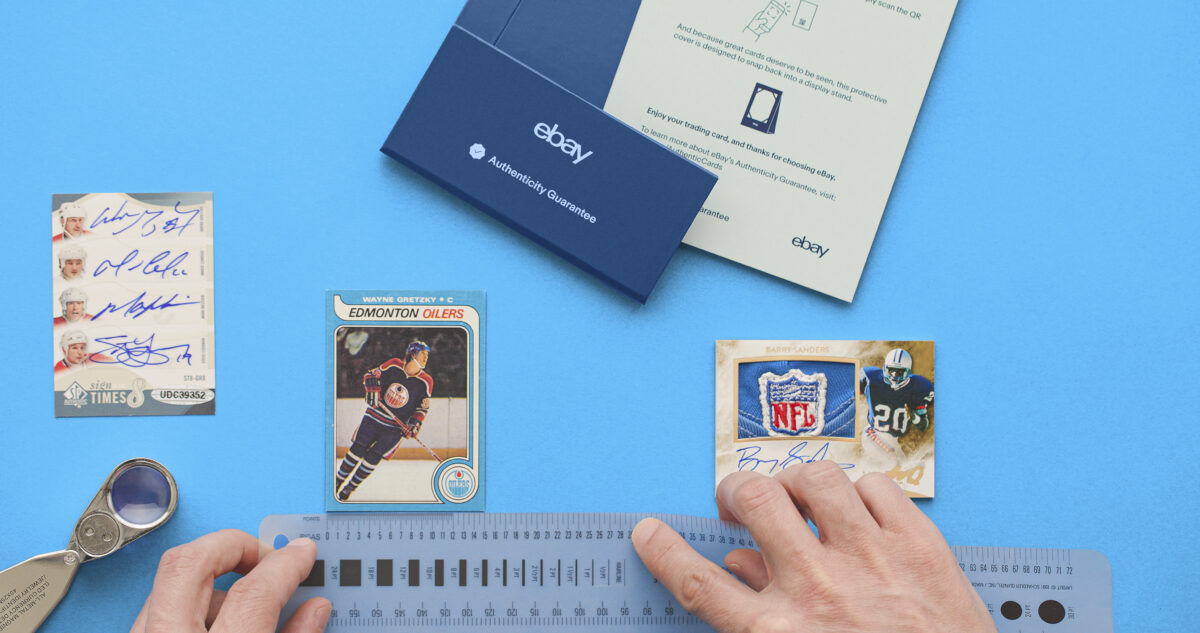 eBay has partnered with professional authentication companies CGC and CSG to inspect ungraded cards valued at $250 and higher to ensure buyers are getting exactly what they ordered on eBay.
What You See on eBay is What You Get
Here's how eBay's Authenticity Guarantee works: If you're purchasing a 2016-17 Upper Deck Auston Matthews Young Guns Rookie Card rookie card, a 1971-72 OPC Ken Dryden Rookie Card or even a 2016-17 Matthew Tkachuk Young Guns Rainbow Foil UD Upper Deck Rookie, eBay will guarantee the card's value and authenticity. With eBay's Authenticity Guarantee, ​the seller ships your card to the authentication facility, where it remains in its penny sleeve throughout the process. Ungraded cards go through a multi-point inspection process performed by CGC or CSG. The card is sealed with a sticker and delivered directly to you via secure and discreet tracked shipping. It's important to note that your card will not be graded. Only the purchase through eBay is guaranteed.
Noted Hockey Card Collectors Are Paying Attention
"Trust is a fundamental component of collecting, and with the added security provided by eBay's Authenticity Guarantee for trading cards, I feel even more confident buying and selling on the marketplace," says Ken Reid, SportsNet host and passionate hockey trading card collector. "This is a win-win for both buyers and sellers, and I can't wait to continue building my collection, knowing the cards I'm getting are 100% legit."
Scott Clark of Mellonville Memorabilia, who engineered one of the first and best hockey card subsets for the Oshawa Generals and Eric Lindros in the early 1990s, also likes how eBay is protecting collectors with the Authenticity Guarantee. "I think eBay just added even more legitimacy to the whole transaction, giving more confidence to the buyer." Clark, who has worked on the business side of sports for over 30 years with numerous organizations such as the Generals, the Regina Pats and Toronto Blue Jays likes the idea that the buyer has someone on their side. "At Mellonville, we are dedicated to helping all of our clients find the proper value for their collections or individual items, and then receive maximum value through direct sale or auctions. It's really good to see a company like eBay is also looking out for the best interests of the hockey card buyer out there."
Protect Your Purchase and Your Collection
eBay recommends that before purchasing a card, a buyer should check the seller's return policy. If the seller doesn't accept returns, the sale is considered final. If the seller has a timeframe for returns, you must open the return within that window. In the unlikely event that your card is damaged in transit, you can open a return request on a final sale card so long as you do so within three days of receiving the card.
eBay also offers a Money Back Guarantee that covers most transactions on eBay. It means buyers can get their money back if an item didn't arrive, is faulty or damaged, or doesn't match the listing.
Related: Hockey Cards Are Worth Collecting
---
Latest News & Highlights
---
If you're shelling out a bunch of Benjamin's (US $100 Bills) for your hockey cards on eBay, you can now have even more confidence that your investment is protected. As eBay mentioned in a promotional video for their Authenticity Guarantee: "It's the real deal. Or no deal." There's no better guarantee than that.
Hockey Card Collectors Helping Kids During Wildfires
The hockey card community features some of the most knowledgeable people in the sport of hockey and some of the best. The Original Burnsie is one of my favourite follows on Twitter, not only for what he offers but for what he does for the community. With the recent wildfires burning in Nova Scotia, the Original Burnsie organized an initiative to help children who lost everything in the fires, including their sports card collections.
It's a great example of the hockey card and memorabilia community coming together to help. If someone wants to donate hockey cards, collectibles or make a financial donation that will be used to purchase new cards for the kids affected, Burnsie can be reached on Twitter or on Instagram at Burnsiessportscards or Facebook at Burnsie's Sportscards & Collectibles.

Burnsie mentioned to me that, "Support has been awesome from all over North America already so far and I'm blown away by the kindness." It's a great initiative to help try and restore a child's sports card collection, and restore faith that there are good people out there that care.
---
---