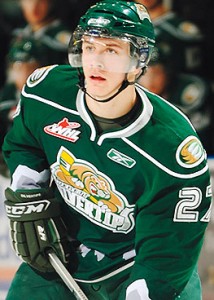 For the past two seasons, the Edmonton Oilers have been the first team to stand up on draft day and call out a prospects name. This year, thanks to the luck of the lottery, they have that opportunity once again. There have been countless rumors, stories and speculation as to what the Oilers will do with the pick, and not just who they will choose, but rather if they'll keep the pick at all. There's a possibility of them trading down, and even getting a big name player back in a trade package. The Oilers haven't tipped their hat on which prospect has them the most interested. They have an abundance of top forwards, but are weak on defense. The biggest question is whether the Oilers will choose based on their needs, or take the best player available. So which player will go home on Friday night wearing an Oilers jersey? Here are some of the top possibilities:
Nail Yakupov
The consensus number one prospect by Central Scouting, Yakupov is regarded as a can't miss pick. His explosive speed and deadly release draw some comparisons to his favorite player growing up, Pavel Bure. Many feel the Oilers would be remiss not to take the dynamic Russian forward, despite their organizational needs. Yakupov has already been playing in North America with the Sarnia Sting, lessening the always present concern of him signing with KHL, as was the case most recently with Evgeny Kuznetsov, a Washington Capitals prospect. Yakupov wants to play in the NHL, and he has the skill set to be a dominant player for many years.
Ryan Murray
Regarded as being viewed quite highly by the Oilers, the smooth skating defenseman from the Everett Silvertips has been mentioned in the same breath as Scott Niedermayer.Murray is the kind of player the Oilers desperately need, and that makes him a strong possibility to land in Edmonton.
"One of the main reason's that Murray will be drafted very high in next summer's draft is that his skill set is tremendous. His skating ability and decision-making on the ice are outstanding, and his puckmoving ability is arguably his best talent. Even though is offensive ability is off the charts, Ryan doesn't shy away from physical play, and always seems to be in the right position" (The Hockey Writers)
Griffin Reinhart
Another big defenseman, Reinharts strong two-way play is garnering a lot of attention from scouts. He's another player that would fit in very nicely on the Oilers blueline.
"Reinhart is a great passer with excellent vision. Known for a strong and accurate first pass. He also excels at keeping the puck in at the offensive blueline while quarterbacking the powerplay. Excellent body position in this situation and great hand eye co-ordination" (WHL From Above)

Red Deer Rebels Matt Dumba #24 (Darren Aucoin/Flickr)
Matt Dumba
Dumba, a defenseman from the Red Deer Rebels of the WHL, is considered to be one of the top blueliners available. He's a strong, quick player with a fast release and physical dimension to his game.
Dumba is an explosive dynamic defenseman with game-breaking ability. NHL team brass will like the fact that he single-handedly has the ability to put fans in the rink with his electrifying style of play and infectious personality. He always comes to play and possesses an elite level of competitiveness. (The Hockey Writers)
Fans of the dramatic are certainly enjoying the intrigue of this story, and everyone in the hockey world is waiting to see what will happen with the Oilers and the first overall pick. Will they keep it? Will they trade it? Who will be the first to put on an Oilers jersey? This Friday in Pittsburgh, all those questions will finally have answers.
Marcy, a former hockey player, is a hockey correspondent on CTV News and TSN radio. She began her career as a Sports Journalist in 2009 and has been part of The Hockey Writers since 2010, where she is currently a senior writer and editor.