The Edmonton Oilers have gotten their pre-season off to a solid start. While official NHL camps haven't opened yet, The World Cup of Hockey is getting into full swing and the 2016 Rookie and Young Stars Camp has begun with a few Oilers — most notably some international players — getting right into the action.
Draisaitl with 3 goals in his last game.
Puljujarvi with 2 goals,1 assist in his last game.

Things are looking up. ? #Oilers

— Jesse's Grill (@peteroiler11) September 17, 2016
As they should, fans are expecting a lot of Connor McDavid. He's a generational Canadian talent and with a healthy season, should score the most points and make the biggest impact in Edmonton this season. While he didn't register a point in three exhibition games, he was all over the ice and a big part of the game plan for the North American squad.
So too, another Canadian, Ryan Nugent-Hopkins has shown well in three exhibition games at the World Cup and may be looking at a bounce-back year from a less than stellar 2015-16 campaign. He's played an all-around effective two-way game and showed up on the score sheet with a pretty effort in the first Team North America exhibition game for a goal.
As Edmonton's first and second-line centers, there's a lot riding on McDavid and Nugent-Hopkins having strong seasons for the Oilers. That said, it's some of the Oilers international contingents that may make some of the biggest noise and take some of the biggest strides, hopefully contributing to the Oilers potential jump in the standings.
Leon Draisaitl
Draisaitl scores a beauty to put Europe up 3-0 over Sweden pic.twitter.com/EPSnWUBvV0

— Marc Dumont (@MarcPDumont) September 15, 2016

 In an exhibition victory against Team Sweden on Wednesday, team Europe walloped the Swede's by a score of 6-2. Draisaitl stole the headlines with a three-goal performance. His second goal got people talking as he burst down the wing and beat goaltender Henrik Lundqvist with a beautiful independent effort.
There is some debate in Edmonton as to where Draisaitl will play this season. Is he a winger, is he a center? He may see time at both positions, but what counts is that he's picking up where he left off at the end of last season. Draisaitl has the size, speed and skill to pull off these kinds of plays regularly and a big year for Draisaitl will be to contribute in much the same way he did last season, only this year without his 2015-16 regular running mate Taylor Hall. Hall and Draisaitl had great chemistry last year and it will be a big part of Draisaitl's game to show he can produce results with other linemates.
After being benched for two periods and subsequently challenged by European World Cup coach Ralph Kreuger to step up his play and be a force for the Europeans, Draisaitl's hat trick bodes well for the Oilers, showing he can elevate his game when called upon. Should he be Edmonton's third line center he may be responsible for driving that line and if deployed as a second-line winger will have to prove he can compliment some of Edmonton's biggest stars.
Jesse Puljujarvi
Jesse Puljujarvi with a slick goal in last nights Young Stars competition. pic.twitter.com/T1UYoV6vTk

— Robert Söderlind (@HockeyWebCast) September 17, 2016

In Edmonton's first Young Stars game in Penticton, B.C., Puljujarvi stole the show with a three-point effort. Scoring two goals, Puljujarvi made the game look easy. He took the first on-ice opportunity provided by the Oilers and showed that perhaps the Columbus Blue Jackets were unwise to pass on him at this past NHL draft. Of course, it's only been one rookie game and in this environment, he's supposed to shine, but Puljujarvi is out to show Oiler management that he's looking to play in the NHL this season. To say he was impressive would be an understatement of grand proportions.
Both goals were goal-scorers type goals, but his second showed glimpses of former great, and also Finnish star winger, Jari Kurri. Puljujarvi skated in on the right wing, held the puck and cut across the top of the slot, then roofed a beautiful shot top-shelf to give Edmonton a 3-1 lead. The Oilers group eventually won that game 4-1 over the Canucks rookies.
Rounding out the International Cast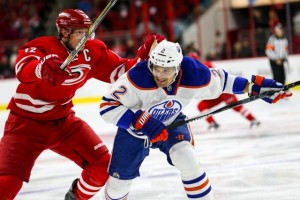 Edmonton also has European team member Andrej Sekera along with Swedes Oscar Klefbom and Adam Larsson playing the top three positions on their blue line. Of any players on the Oilers this season, these three will likely play the most minutes. Another steady season from Sekera is key. With a lack of right-handed d-men, Sekera may be asked to play his off side and a successful transition in that respect would aid the Oilers greatly in a more well-rounded defensive effort.
A healthy season from Klefbom would mean a lot to the Oilers and having Larsson mesh by Klebom's side will give Edmonton a strong top-pair. The Oilers have lacked a decent top pair defensive unit for years.
If he can get his game back on track, Russian Nail Yakupov is also expected to play a pivotal role for the Oilers this season. He brings a potential top-six scoring threat that has the potential to take advantage of the opposition's third lines.
Clearly, the Oilers are going to need McDavid to be the star, but a strong surrounding cast is going to come, in large part, from an international group of Oilers who will contribute in a big way. If they don't, Edmonton fans can expect another long season and another potential lottery selection in next year's draft. It's still early, but if the results from the World Cup and 2016 Rookie and Young Stars camp is any indication, things are looking up.