Dallas Eakins took one for the team this week and was the fall guy for a hopelessly underachieving Edmonton Oilers team.
With news of his firing, there have been a multitude of other rumours being floated about, from the future of Craig MacTavish, Kevin Lowe or moves within the dressing room.
MacT has said that nothing will be done until he has some "eye to eye" conversations with his core players.
The most recent notion to hit the rumour mill is the possibility of trading Taylor Hall.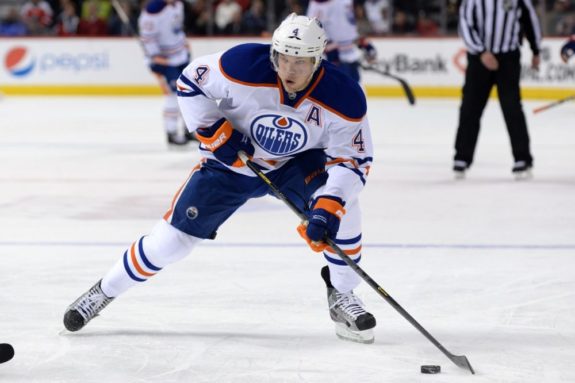 .@DarrenDreger, on TSN Drive right now, just said he expects Taylor Hall to be in play between now and the trade deadline.

— Bruce Arthur (@bruce_arthur) December 15, 2014
This would be a huge mistake and one the Oilers may live to regret.
That's not to say there aren't some drastic changes needed, but trading your star player and only point per game guy is not the answer. I understand the need to consider all options, especially a team in the plight of the Oilers, however this isn't one that should be pursued.
Face of the Franchise
Taylor Hall right now, for better or worse, is the face of the Oilers team. There are more Hall jerseys in the stands than any other and he is the team's most recognizable figure.
He has also grown into one of the game's top wingers and one of the more dynamic forwards in the league. And he's only 23 years old.
Like most young players he has his warts, he's still suspect defensively and can be over aggressive at times. However he also brings more energy and passion than most players on the team, and something the Oilers can ill afford to lose.
The fact is that Hall has been by far the most productive of any of the team's core forwards and has 243 points in his 271 games as an Edmonton Oiler. In the past three years he has averaged 1.03 points per game, far and away tops on the team.
Accept the Inevitable
We're at the point now, where there is little hope for this season. It's time to evaluate for the next coming years.
Sound familiar?
There is one significant difference this time around though.
Connor McDavid.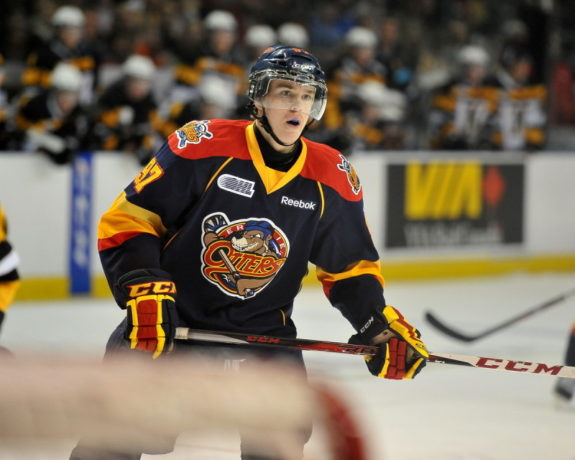 If there is ever a year to accept losing, it's this year with one, and maybe two, generational talents waiting in the draft.
Adding McDavid to Nugent-Hopkins gives the Oilers a deadly future 1-2 punch up the middle. Add in Leon Draisaitl as another pivot, or potential trade bait, and there are some assets in an important position for the team.
Arguments have been made to trade Hall for a top pairing defenseman, and then you still have the strength up the middle with McDavid, or potentially Jack Eichel, and a horse to rely on for the backend.
Elite No.1's Aren't Coming to Edmonton
Here's the problem with that. The type of defenseman some out there are proposing in return, are never coming to Edmonton, even for Taylor Hall.
Guys like Shea Weber, Drew Doughty, Ryan Suter or Duncan Keith are a rare breed and the package to get one would have to be significant indeed.
It would take far more than Hall, and the more likely scenario is that those types of defensemen are untouchables anyway.
To trade Hall for a second tier defenseman and hope to turn him into one of the previously mentioned is a huge risk.
That's not to say if MacTavish can pull the trigger on someone like that in a deal that doesn't include Hall, it isn't a good idea. It's a fantastic one and no doubt one MacT is hoping to make.
A more realistic approach, albeit still extremely difficult, is if he can pull a deal for one or two of those defensemen, and a prospect like Darnell Nurse becomes the No.1 everyone hopes he can be.
I'm all for acquiring a stud defenseman, but the chances of pulling off a deal like that in Edmonton are very slim.
Moving your best offensive player on a team that has trouble scoring is not the answer. In the event that the Oilers ice a depth chart in the future that includes McDavid, Nugent-Hopkins and Draisaitl up the middle, you're going to want Hall riding shotgun on that top line.
The Edmonton Oilers are already a team that lacks fire and is considered soft. The one core player that brings a competitive fire every night is Hall and the Oilers can't give up on that.
The only way Hall should be considered available is if he wants out and cannot be convinced to stay.
The way things are going that is not outside the realm of possibility, however it does not appear to be the case just yet.
The Oilers are a mess right now and need to fix the team in almost every area. Taylor Hall however, is not one of those problems.
_______________________________________________
Follow Carl on twitter @CarlTHW and Google+ for more articles
Carl covers the Edmonton Oilers for THW as well as providing additional prospect coverage. Follow him on twitter @carlTHW, connect on Facebook or contact at carl.maloney@hotmail.com for questions, comments or if you're interested in him writing for you.