Road Schedule From Hell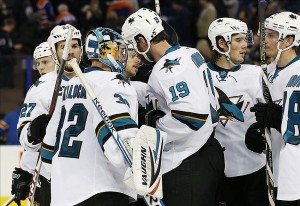 For the majority of their arduous (and that's putting it lightly) road stretch to start the season (16 of their first 21 games were away from home, toughest schedule in NHL history), the Sharks were up and down. One of the main problems was the lack of chemistry with the lines and defense pairs.
Prior to their current hot stretch, where the Sharks have won seven out of their last eight games, Sharks fans were always curious as to what the lines were each day. Not just each game, each day at practice they seemed to flip flop. Over the course of the first couple months of the season, we saw tons of different lines. On the top line, anchored by big Joe Thornton, the Sharks used the following combinations through the first couple months:
Tomas Hertl-Thornton-Joe Pavelski
Matt Nieto-Thornton-Pavelski
Hertl-Thornton-Nieto
Patrick Marleau-Thornton-Hertl
Tye McGinn-Thornton-Pavelski
San Jose's second line has usually been consistent over the years with Marleau and Logan Couture, but even they have been split up. There have been a handful of alterations to the second line.
Marleau-Logan Couture-Nieto
Marleau-Couture-Wingels
Marleau-Couture-Pavelski
Nieto-Couture-Pavelski
Marleau-Couture-Tyler Kennedy
As you can see the Marleau-Couture and Thornton-Pavelski combos have been mostly intact but both were split up on occasion, although we never see Pavelski to third line center (except for once at practice). The third line has been a hodgepodge as well. The bottom six group has been hit by injuries but even when a Hertl-James Sheppard-Kennedy line was playing well, they were split up without any injuries occurring.
McGinn-Chris Tierney-Tommy Wingels
Hertl-Tierney-Wingels
Hertl-Sheppard-Kennedy
Nieto-Sheppard-Kennedy
McGinn-Sheppard-Goodrow
Goodrow-Sheppard-Melker Karlsson
There were a number of other third pair combinations thrown out there, those are just the ones that come to mind. And the fourth line?
John Scott-Andrew Desjardins-Adam Burish
Mike Brown-Desjardins-Burish
Scott-Desjardins-Brown
McGinn-Desjardins-Brown
McGinn-Desjardins-Kennedy
Nieto-Desjardins-Kennedy
Mcginn-Tierney-Desjardins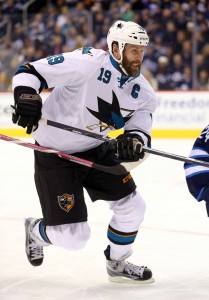 In fact for all the lines, there are probably a few combinations forgotten about, it has been that kind of year with the forward groups. However, over the last eight games, lines have finally started to stay together on a regular basis and it is paying off with a surge up the standings.
While the hot streak started with McGinn playing on the top line, over the last six-and-a-half games, the top line is back to Hertl-Thornton-Pavelski. Sharks head coach Todd McLellan can pencil that line in without even thinking about it. This trio in particular was dominant in both the last two games against Minnesota and Nashville. McLellan can also pencil his second line of Marleau-Couture-Wingels into the lineup without much thought. This line has been together for the majority of the hot stretch as well. Only when Couture missed part of the Philadelphia game due to injury was this line split apart. They have also been picking up the points on a regular basis. This top six group has been absolutely on fire. The top line has combined for 20 points over the last eight games, while the second line has done even better over that time, 28 points total between the three of them.
The bottom six has also started to find an identity with consistency. James Sheppard has been the third line center for quite some time now since getting back into the lineup after starting the year injured. He has played the majority of his games this season as the third line center. At the beginning of the streak he was playing well with Matt Nieto and Tyler Kennedy on his wings. With those two both sustaining injuries, the last three games Sheppard has thrived with a pair of rookies on his line in Goodrow and Karlsson. Sheppard has a respectable four points over the last eight games, and since joining the line, both rookies have played well. Goodrow chipped in with his first career goal and Karlsson added an assist. They have been playing quality minutes, rarely hemmed in their own zone.
Speaking of the bottom six, the Sharks finally have a consistent fourth line with talented players on it. With Burish having been waived and sent to Worcester, Brown being injured, and Scott scratched the past couple games, it has forced the Sharks to ice a skilled fourth line. Mcginn, Tierney, and Desjardins have give the Sharks quality minutes by sustaining more offensive zone time than a line with Brown and Scott ever could. Not only can they play offensive minutes but with the underrated vision and hands of Desjardins with top prospect Tierney (known for his play making abilities), this trio can actually create some grade A scoring chances.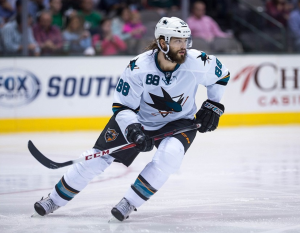 The consistency doesn't end with the forward lines though. The defense pairs have also been easy to pencil in. While the top pair Marc-Edouard Vlasic and Justin Braun has been constant nearly all year long, the second and third pairs were a merry-go-round until this recent hot streak. Brent Burns struggled mightily the first couple months of the season on the second pair. That said, it certainly wasn't easy for him playing primarily with a 19-year-old rookie in Mirco Mueller. Burns also spent some time paired with Matt Irwin, who, like Mueller, is currently struggling to stay in the lineup. However, ever since Jason Demers was traded to Dallas for defenseman Brenden Dillon, things have changed. Although Dillon got off to a rocky start in his first few games, he has since solidified that second pair next to Burns. A much more defensive minded, swift skating, large left-handed defenseman has been a great fit for the similarly huge but right-handed and offensive minded Burns. These two have established themselves as a quality second pair that the Sharks were missing to start the season. As Fear the Fin recently noted, one of the biggest things is they are reading off each other well, particularly being able to read when the other is going to make a reverse D to D pass.
Not only has the second pair finally established some chemistry, but quietly, Scott Hannan has been terrific anchoring the third pair. The wily old veteran defenseman looked like he was slowing down last year but he's been a bright spot lately. He provides very little offense, and the team doesn't score a whole lot when he is out there, but this season he actually leads the team in goals against per 60 minutes of ice time, even better than Vlasic. Nobody could have predicted the 35-year-old to be this good. His partner on the third pair continues to rotate between Irwin, Mueller, and now Matt Tennyson, but Tennyson has looked good in both the games he has played this season. With a defensive rock like Hannan there to bail him out, we might see those two as the third pair for a number of games to come.
It is no secret why the Sharks are winners in seven of their last eight, across the board, players know their roles and know who they will be playing with on a nightly basis. Chemistry is really starting to develop from all the lines and pairs and it is starting to show with quality, team wins. It also helps that both Antti Niemi and Alex Stalock are playing well between the pipes. This team is incredibly fun to watch right now.
Andrew has been credentialed to cover the Sharks since 2010 and the 49ers since 2012. He graduated with his BA in Broadcast Electronic Communication Arts in 2013 from San Francisco State University.