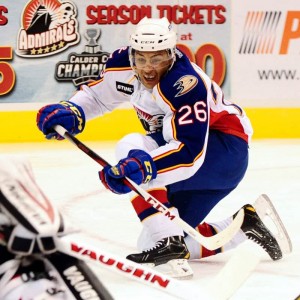 Before the Anaheim Ducks called Emerson Etem's name in the first round of the NHL Entry draft 29th overall in 2010 at the Staples Center in his home state of California, the 21-year-old went through the NHL Combine. The Combine is a four-day event in Toronto where NHL hopefuls put their physical, mental, medical, and interview skills to the test in front of all 30 NHL teams.
TheHockeyWriters.com caught up with Etem and chatted about the Combine and his draft day in a Q&A interview.
THW: During the Combine how many teams did you meet with?
E.E.: I met with 24 out of the 30. Dallas and Pittsburgh did interview me, but I've heard stories that teams that don't interview you are the ones you get picked by.
THW: During the interview portion, teams may ask you some crazy questions or make you do some weird things. Does anything stick out in your mind?
E.E: I remember when I was in the Colorado Avalanche meeting, they had me draw something after I told them I was an artist. They had me compete against another scout in a drawing competition so that's the only random thing that happened.
THW: Do you remember what you drew?
E.E.:  I actually drew their head scout.
THW: Going into the physical testing, what do you remember about the dreaded VO2 bike?
E.E.: I think the worst part is the nervous energy. I think when you see 50 guys go in front of you and you see how much pain they're in that gets in your head a little bit, but I think that's the worst part. When you finish the bike test the worlds lifted off your shoulders.
THW: Was the V02 bike the hardest part of the physical testing?
E.E.: Yes it's either that or Wingate, they're both tough. I just think the anticipation of the whole day gets in your head a little bit and you get fatigued quickly. Even in the bench press, it's always harder when you're under pressure.
THW: After the Ducks selected you, how long did it take to get back to your family?
E.E.: Maybe 30 to 35 minutes. Your name is called, you walk up, and you take a couple pictures. The round starts moving a lot quicker when you get to picks 20 to 30. It was rapid fire after the tenth pick. I signed some autographs and that's about it.
THW: How many texts, tweets, and phone calls did you receive that day?
E.E.: Endless, I can't even remember. I had a lot of buddies down there. My crew I went to school with since second grade was there. A lot of them played baseball. It was a difference experience for them and it was nice for them to see a draft.
Check back soon as Warren goes one on one with another 1st round draft pick of the Ducks–Rickard Rakell.
Follow Ted on Twitter @Bauerhockeydude