Rankings:
Minnesota
Clarkson
Wisconsin
North Dakota
Cornell
Boston College
Harvard
Robert Morris
Quinnipiac
Boston University
Game of the Week
#8 Robert Morris at Mercyhurst, Fri. 1/24 @ 7 p.m. EST & Sat. 1/25 @ 2 p.m. EST
In their series back in November, the Colonials and Lakers split, and Robert Morris hasn't lost since dropping that first game on Nov. 8. They've now gained national recognition, and have a two-point lead over Mercyhurst for first place in the CHA. The Lakers fell out of national contention a while ago, but they've started to pick up some steam. It would be huge for the Colonials to earn a sweep this weekend and really take the reins in the CHA race. They'll have to be wary of Mercyhurst's top players up front, and they'll be counting especially on Rebecca Vint and Brittany Howard to create chances and score some big goals.
Robert Morris Battles Mercyhurst in Pivotal @CHAWomensHockey Series http://t.co/kuzC0NP60j #ColonialPride pic.twitter.com/uGIlrno4vZ

— RMU Women's Hockey (@RMUWHockey) January 23, 2014
Mercyhurst ended 2013 on a seven-game winning streak, but opened 2014 with a tie and a loss against Cornell. The Lakers' offense has become more consistent of late, but Robert Morris did a good job last weekend of silencing a good Quinnipiac offense, so they'll have to be on top of their game if they want to score against the Colonials. Mercyhurst's defense has also been suspect this year; they gave up 10 goals in two games against the Big Red, and with players like Vint and Howard up front for Robert Morris, it likely won't be any easier for them to prevent goals this weekend. But strong play and a win or two here could really help vault the Lakers back into the picture with the postseason coming up soon.
Top-10 Teams in Action
St. Cloud State at #1 Minnesota, Fri. 1/24 @ 8:07 p.m. EST & Sat. 1/25 @ 8:07 p.m. EST
Colgate at #2 Clarkson, Fri. 1/24 @ 7 p.m. EST; Cornell at #2 Clarkson, Sat. 1/25 @ 4 p.m. EST
Minnesota-Duluth at #3 Wisconsin, Sat. 1/25 @ 3:07 p.m. EST & Sun. 1/26 @ 4:07 p.m. EST
Bemidji State at #4 North Dakota, Fri. 1/24 @ 8:07 p.m. EST & Sat. 1/25 @ 8:07 p.m. EST
#5 Cornell at St. Lawrence, Fri. 1/24 @ 7 p.m. EST
New Hampshire at #6 Boston College, Sat. 1/25 @ 2 p.m. EST; #6 Boston College at New Hampshire, Sun. 1/26 @ 2 p.m. EST
Union at #7 Harvard, Fri. 1/24 @ 7 p.m. EST; Rensselaer at #7 Harvard, Sat. 1/25 @ 4 p.m. EST
#10 Boston University at Vermont, Fri. 1/24 @ 7 p.m. EST & Sat. 1/25 @ 4 p.m. EST
What to Watch For
Yale will host its fourth annual "White Out for Mandi" game on Friday at 7 p.m. EST as they attempt to fill up Ingalls Rink in honor of former player Mandi Schwartz, who passed away in 2011 after a battle with acute myeloid leukemia at the age of 23.  The St. Louis Blues will be in attendance, and will host a practice open to the public at Ingalls on Friday from 3 to 4 p.m. Current Blues player Jaden Schwartz is the brother of Mandi; if you haven't read it yet, here is an excellent piece from NHL.com's Mike Morreale on the event. It will serve as a fundraiser for the Mandi Schwartz Foundation, and the Bulldogs are also hoping to break the rink attendance record for a women's hockey game of 1,539. More information can be found here.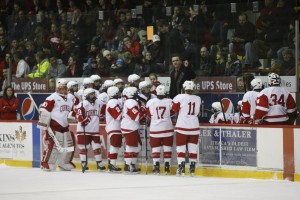 Both Cornell and Clarkson will be looking to bounce back from some disappointing results last weekend, and with a tight ECAC race already heating up, it should make for a fun game between these two. The Big Red won the first match-up when the two met back in November, but the Golden Knights' defense has been much improved since then. Led by Jamie Lee Rattray, their offense has also been clicking, and their forwards could really cause some headaches for Cornell's defense. Along with a concerted defensive effort, the Big Red will likely need a big game out of goaltender Lauren Slebodnick in order to answer Clarkson's Erica Howe in net.
Boston University will travel to Vermont for a series with some big Hockey East implications. After losing three of their last four conference games, the Terriers have some catching up to do if they want to pass Boston College and take over first place. And after being swept by the Eagles last weekend, the Catamounts are now a point out of third place, behind red-hot Northeastern. UVM was pretty competitive against BC in their series, able to generate shots and mount a decent offensive effort even though the Eagles have much more depth. If Vermont can play to that level against a struggling BU defense, they've got a good chance at a split.
Wisconsin will host Minnesota-Duluth in another huge conference series this weekend. The Badgers are just a point behind Minnesota for first place in the WCHA, so a sweep here would be huge for them as they attempt to stay on pace with the Gophers. The Bulldogs aren't going to go down easy, though. They've got players in their top-six who can challenge Wisconsin's defense, though they'll need to make sure they convert their chances when they get into high-scoring areas, because Alex Rigsby might not give them much to work with. UMD goaltender Kayla Black has seen a lot of rubber this year, and she should help the Bulldogs keep it close in a low-scoring game if need be.