Facing Off is a weekly column debating five of hockey's hottest topics each and every Monday. From current events like trades and hat tricks to bigger-picture stuff like scandals and expansion — you name it, we're debating it. Albeit, not always with a serious tone. We're keeping this column light, so keep that in mind when reading, and feel free to join in on the fun by leaving a comment. Follow us on Twitter (@FacingOff_THW) and get in on the debate there too.

Tonight's the night.
With a win — at home, over Los Angeles — the Edmonton Oilers will clinch a playoff berth and bring an end to the franchise's 11-year post-season drought.
Officially. Finally.
Any kind of EDM win over LA Tuesday clinches a playoff spot for the Oilers.

— Jack Michaels (@EdmontonJack) March 26, 2017
This should be fun! pic.twitter.com/oB8FAZWgfE

— Edmonton Oilers (@EdmontonOilers) March 26, 2017
Win again on Thursday — at home, over San Jose — and the Oilers could be topping the Pacific Division standings by week's end.
However, two losses — combined with other teams' results — could tumble Edmonton into the Western Conference's second wild-card spot.
Yes, it's a humungous big week for Oilers Nation. It's the biggest week of the season — until next week, and the week after that, and the week after that . . . and so on and so forth, for as long as the campaign lasts now.
Coach McLellan discusses #Oilers potential to clinch, team focus on remaining schedule & more ahead of tonight's #LAKvsEDM matchup. pic.twitter.com/up6QRWl2fQ

— Edmonton Oilers (@EdmontonOilers) March 28, 2017
"Looking at it now, you can finish 1st in the division to 2nd in the wild card. It's still a dog fight." @cmcdavid97 on West standings pic.twitter.com/kiMwojdwaV

— Edmonton Oilers (@EdmontonOilers) March 28, 2017
Assuming the Oilers are playoff bound for the first time in more than a decade — which should be a formality, needing only one victory from seven remaining regular-season games — it's going to be a wild trip for their fans far and wide, and also for the media following this year's run.
I'm thrilled for our terrific team of Oilers writers here at THW — Shane Sander, Rob Soria, Jim Parsons and Marcy Di Michele — to be getting their long-awaited opportunity to cover playoff hockey for the first time in this website's existence.
It sure beats gearing up for another draft lottery, right gang?
Facing Off is excited to be along for the ride too, yours truly having rooted for the Oilers growing up — born into a family of Edmonton fans — and having attended the majority of home games during that improbable journey to the 2006 Stanley Cup Final. It was a euphoric atmosphere that words can't really describe, and some of my fondest memories date back to that spring in what was then still known as the City of Champions.
Based in B.C. now, I won't likely make it back to relive those experiences next month, but Facing Off will be hopping on that bandwagon going forward and giving the Oilers preferential treatment in terms of the topics we'll be debating in the immediate future.
In fact, I'm joined this week by all of those aforementioned Oilers contributors for a special two-part edition — a collaboration publishing today and tomorrow — to (prematurely) celebrate Edmonton making the playoffs.
Who are you hoping the Oilers face in the first round? Which team does Edmonton stand the best chance of beating? Who would you least want to play based on the potential scenarios? Which series would be the most exciting? How important is home-ice advantage for the Oilers?
DI MICHELE: It would be great to see a good old-fashioned Battle of Alberta in the first round of the playoffs.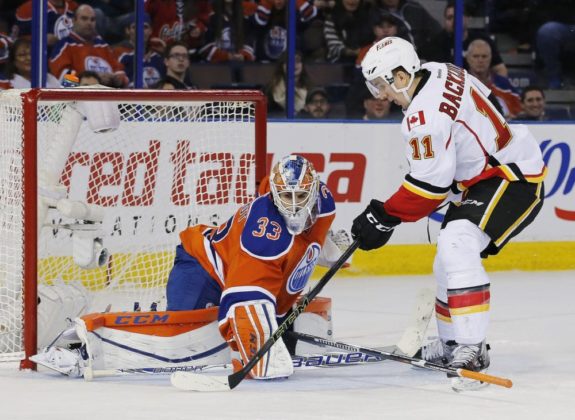 The Oilers match-up best against the Flames in terms of style. But if the Oilers are on top of their game, I don't believe the Ducks nor Sharks are unbeatable. Obviously what they don't want is to finish in the second wild-card spot and face the Blackhawks, but that appears unlikely.
The Oilers' winning percentage is virtually the same at home as it is on the road, so home-ice advantage is not as crucial as it might be for other teams. It's always good to have the crowd behind you to start things off, but it's also going to be a lot of pressure for the team. Maybe opening on the road wouldn't be the worst thing in the world.
SORIA: In a perfect world, facing the Calgary Flames would be the ideal scenario. Rekindling the first Battle of Alberta since 1991 would have to be atop the list of hockey fans everywhere. In my mind, Edmonton matches up well with either the Anaheim Ducks or Flames, and would have its hands full against the Chicago Blackhawks, Minnesota Wild or San Jose Sharks — though the Ducks' experience could also prove problematic.
As awesome as a Flames-versus-Oilers matchup would be to watch, the most entertaining/exciting series would be against Chicago. The chances of that occurring in the first round seem rather remote at the moment, but how cool would it be to see Connor McDavid and company go head-to-head against Patrick Kane, Jonathan Toews and the rest of the Hawks? It would be fantastic theatre and must-see TV for hockey fans around the globe. With that said, the Blackhawks would be the team Edmonton would want to avoid.
Oilers Playoff Potential: Chicago Blackhawks – https://t.co/iKkpmTVMLD #hockey #THW pic.twitter.com/aEorrVgERn

— The Hockey Writers (@TheHockeyWriter) March 27, 2017
With regards to home-ice advantage, the opportunity to grab it is there, so they may as well go for it. But in mind, the Oilers would be better-suited to start on the road and try to steal a game, as opposed to dealing with the pressure that comes with opening in your own barn. It is a difficult spot for any team, but even tougher for one with as little playoff pedigree as this one — though no team wants to be on the road in a potential Game 7.
PARSONS: I'm just happy to see the Oilers in the playoffs, and I truly believe Edmonton is capable of winning a series against any team in the Western Conference. It doesn't seem likely that the first-round match will be Edmonton versus Calgary, but if I had to choose, I'd say Calgary. It would be nice to see a revival of the Battle of Alberta.
The Oilers are 21-12-4 at home and 20-13-5 on the road, so I don't see a huge advantage in terms of being home versus away, but you have to believe any team wants to play at home.
SANDER: Calgary — what better way to return to the Stanley Cup playoffs than having the first Battle of Alberta series since 1991? The Oilers are 4-0 against the Flames this season, but Calgary's been a different team since January. Could be a thrilling seven-game series that'll give the newer generation of fans something they haven't experienced.
#Oilers or #Flames: Who Finishes Higher? https://t.co/PmbIgIiBUz #THW pic.twitter.com/o7WcSghLCw

— The Hockey Writers (@TheHockeyWriter) March 22, 2017
FISHER: I'll make it unanimous — bring on the Flames! I had a funny feeling that everybody would want to face Calgary, but we best be careful what we wish for. Shane is right that the season series means little now that Brian Elliott has found his game to match Cam Talbot should that provincial rivalry be reignited in the playoffs.
I'd gladly welcome and embrace home-ice advantage, be it against Calgary or any other opponent. I understand the pressure side of things — being the "favourites" in that scenario — but Rogers Place would be rocking like Rexall from 2006, and I think these young Oilers would thrive in that environment. Providing they scored first in Game 1, they'd be off to the races, though they seem to do just fine chasing the game too.
Peter Chiarelli has been downplaying the Oilers' postseason expectations, denouncing them as a Stanley Cup contender. What do you think is realistic versus reaching: second round, third round, Cup final, winning it all? Where do you draw that line? What would be a successful playoff showing? What would you consider overachieving?
SORIA: First off, the fact this franchise will be returning to the post-season for the first time in 11 years is reason enough to celebrate. Heading into the season, they were a bubble team at best. Even if Edmonton were to be swept out of the first round, which won't happen, it would be impossible to look at it as anything other than a success. The experience alone will pay huge dividends in the not-too-distant future.
Reaching the second round would certainly be a realistic ask and, as we all know, anything can happen come playoff time. The ace in the hole the Oilers have is that kid wearing No. 97. Players of that calibre tend to do special things when the spotlight is brightest and that truly makes Edmonton a wild card.
If this team can get some kind of secondary scoring, receive a similar performance from Cam Talbot that he has delivered all year long, and McDavid were to elevate his game yet another notch, the Oilers could beat anyone. However, expecting anything close to the Cup would be about as unrealistic as it gets. Again, this was never supposed to be part of the deal this year.
Closing out the Season: Realistic Expectations – https://t.co/O5vhplEgnQ #hockey #THW pic.twitter.com/3GMWmiTsh8

— The Hockey Writers (@TheHockeyWriter) March 25, 2017
PARSONS: I think the Oilers' season already has to be viewed as a success and winning a playoff series would be a very big boost for the team. Best-case scenario, I believe Edmonton has a chance to come out of the Western Conference. However, I think there are some extremely strong teams in the East and that could pose issues for the Oilers if they get that far.
Chiarelli is wise to downplay their potential. Don't put unnecessary pressure on the team, but make them feel a need to "prove him wrong."
SANDER: Despite all their success and reaching the playoffs for the first time in 11 years, the Oilers have plenty of warts that limit their ability to be considered a true Stanley Cup contender. Edmonton's a dark-horse that could win a first-round matchup against the Ducks or Flames, but anything beyond that would be an overachievement.
Oilers a Stanley Cup Dark Horse? – https://t.co/4ONErHIMed #hockey #THW pic.twitter.com/DxDtqAYKMu

— The Hockey Writers (@TheHockeyWriter) March 24, 2017
DI MICHELE: Either Peter is trying to take the pressure off his young team, or he truly doesn't believe they're ready. The fact is, if any one of Cam Talbot or Connor McDavid isn't effective, I don't see the Oilers going very far. The goal is making the playoffs. Winning a round would be great, but you can't rely on a couple of guys to get you through the grind of the postseason. I wouldn't be surprised to see them in the second round, but anything beyond that is gravy.
FISHER: Shane and Marcy are the realists here and Rob is right that this season is already a success, but I much prefer Jim's optimism. Providing the Oilers stay healthy down the stretch, I could see them making more noise than most expect. I wouldn't want to face Edmonton in the first round, certainly not if I'm Calgary or Anaheim, but even San Jose and Chicago have been looking vulnerable lately. The Oilers totally believe they belong in the playoffs but, in saying that, they can go in playing like they have nothing to lose. That makes Edmonton a dangerous matchup for anybody.
I called the Oilers to finish second in the Pacific Division in my preseason standings predictions, and now I'm calling Edmonton to make the second round of the playoffs. I feel that's realistic. Third round is reaching a bit, just because I think San Jose will right its ship between now and then and the Sharks will prove too strong and too experienced if and when the Oilers come up against them. I found myself nodding in agreement with Jim's answers, including the part about the Cup staying in the East this year.
What did you make of Chiarelli's trade-deadline moves? Were you happy, satisfied, disappointed, outraged . . . what emotion were you feeling at the time and in hindsight? Did he give Edmonton the best possible roster to succeed down the stretch and into the playoffs?
PARSONS: I was a bit surprised by the lack of movement, but not terribly surprised that he chose to let the Oilers sink or swim with the players who got them to this point. The one area that could have been addressed is backup goaltending, but Laurent Brossoit could be better than fans think.
Oilers' Deadline Analysis: "Team Deserves a Chance" – https://t.co/eJWOrNZYzD #hockey #THW pic.twitter.com/fmOMtd24te

— The Hockey Writers (@TheHockeyWriter) March 1, 2017
David Desharnais has just enough spunk to help this team, and Brandon Davidson was an obvious choice to be moved with the looming expansion draft. I believe expansion played a major role in what was available this trade deadline. I also believe not having a second-round draft choice hurt Edmonton's ability to make another move.
SANDER: Indifferent. It would've been nice to add a couple depth pieces — a more physical third-line center, another top-nine forward, and some more experience on the blue line. The Desharnais pickup was questionable, but he now leads the Oilers in face-off percentage and has improved his points-per-game.
DI MICHELE: Whether Chiarelli was setting the bar low on purpose or not, I agree that the Oilers aren't Cup contenders. So, really, who else could they have picked up at the deadline that would have made a difference? The prices were far too high for most of the better players. The only thing I would have liked to see is Chiarelli try and pick up an experienced backup goalie. It's clear they don't trust Brossoit.
SORIA: Chiarelli did what I expected — not much of anything. I wasn't a fan of the Davidson-for-Desharnais deal, and I'm still not. In my opinion, Chiarelli could have easily went out and got a third-line centre for less and kept Davidson around as depth for the postseason and possibly beyond. Eric Gryba has been better than expected and has experience, but I would have been far more comfortable with Davidson in said role than Gryba.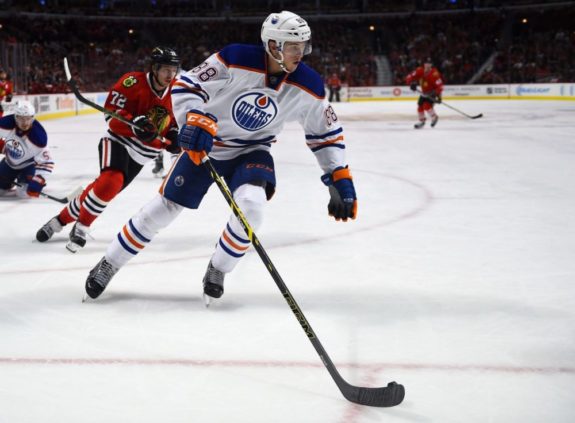 For my money, making a side deal with Vegas to ensure the Golden Knights didn't grab Davidson in the expansion draft would have been a smart direction for the organization to go, but they clearly did not.
The opportunity to add a complimentary scoring winger and a backup goalie was there, but not having a second-round pick at his disposal handcuffed the GM's ability to make a trade. Though to be perfectly honest, I'm not a fan of making multiple moves at the deadline. More often than not, they tend to do more harm than good, and what kind of message does it send to the players inside the dressing room? Especially when the season has gone as well as it has. It was a tough spot to be in and one Chiarelli dealt with fairly well.
FISHER: It's hard to hate on Chiarelli since his fingerprints are now all over this successful roster, but he left me wanting more at the deadline. Desharnais came out of left field but, to his credit, has fit in just dandy on that third line between Benoit Pouliot and Zack Kassian. That has allowed Todd McLellan to roll nine forwards, while deploying Mark Letestu and Drake Caggiula more so on special teams. It's working and I can't say the Oilers are missing Davidson in the present tense.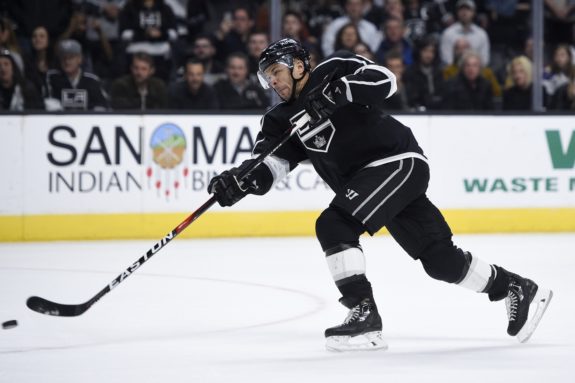 I just thought Chiarelli could have been more proactive in addressing Edmonton's needs — those that Shane listed. Owning a second-round pick would have obviously helped if the Oilers were targeting Brian Boyle or Curtis Lazar, but Ben Bishop, Thomas Vanek, Jarome Iginla, Drew Stafford and Mark Streit were all acquired for less. Shane Doan didn't move at all, though who knows if he would have been willing to come to Edmonton. Chiarelli seemingly could have matched or beat those offers, and most those names have been linked to the Oilers over the years, so it would have been cool to see one of those deals come to fruition. More importantly, I think all five of those guys could have helped the Oilers in the playoffs.
I get not wanting to rock the boat and wanting to reward the players that got the team into this position without bringing in marginal upgrades, but the Oilers should also be wanting to make the most of McDavid's cheap years. In that sense, Chiarelli missed an opportunity, in my opinion, to strengthen his supporting cast on the cheap. There will always be 'what ifs' whenever a season ends, and this year will be no different for Edmonton.
How concerned are you about overworking Cam Talbot? Are you afraid that fatigue will be a factor for him in the playoffs? Do you see any opportunities to rest him down the stretch or how would you manage Talbot's workload the rest of the way? And how worried are you about (knock on wood) injuries in general?
SANDER: Too late — unfortunately we've ventured too far down the rabbit hole for Edmonton to give Talbot a reasonable amount of rest. The Oilers have seven games remaining in their schedule and five of those games are against Pacific Division teams still in the playoff mix (San Jose, Anaheim and Los Angeles). Edmonton will need Talbot for those five games if the Oilers want a chance at home-ice advantage in the playoffs.
Oilers Can't Afford to Rest Talbot – https://t.co/mXSPW7Z7lf #hockey #THW pic.twitter.com/8Ts58ZKrM2

— The Hockey Writers (@TheHockeyWriter) March 23, 2017
That leaves only two games to possibly start Brossoit instead, just the home-and-home against Vancouver to close the season. The last time Talbot sat out prior to Saturday was Feb. 21 against the Tampa Bay Lightning. He then played 14 straight games. God forbid Talbot gets injured, the Oilers would be turning the crease over to a guy who has started just three games this season (and played in just seven at the NHL level). Yikes!
DI MICHELE: They don't have the depth — especially at goalie — to overcome significant injuries. But it's one of those things that you can't predict. I'm a little concerned over Talbot's workload, because of his value to the team. If fatigue is setting in, they're sunk.
SORIA: I have been pretty clear on this all season and stand by it. Talbot has not been overworked and his numbers clearly suggest he isn't wearing down. What I did take issue with was having him start back-to-back against Anaheim and Colorado last week. As I stated in my story at the time, it was nothing more than McLellan overthinking things and it was bad decision.
McLellan Puts Talbot in Tough Spot – https://t.co/KPWPFYiSja #hockey #THW pic.twitter.com/gKEbKaUtij

— The Hockey Writers (@TheHockeyWriter) March 24, 2017
Of course, the masses point to Talbot being tired any time he has an off-night, but they are basing it on absolutely nothing. Anyone who watches other NHL teams play will confirm every goaltender has the occasional rough outing over the course of a season, and the 29-year-old is no different. Fatigue hasn't been an issue to this point in the season, and there is no reason to think it will be.
As far as rest goes, my guess is Talbot won't play in two of the Oilers' final four games. If you look at their schedule, the ideal times to have him sit would be Game 80 against the Sharks and the season finale versus Vancouver. He could get another break somewhere along the way, but I wouldn't count on it.
When it comes to injuries, if they happen, they happen. The only way they can be controlled is by not playing and that's not an option, so why even worry about it?
PARSONS: The last few games have shown that Talbot is human. Fortunately, Brossoit has come in and done an admirable job of backing him up. That said, even the best goaltenders are prone to stinker games every once in a while, and I think putting Talbot back in often to get that confidence back is going to be key.
Edmonton has a pretty light schedule the rest of the way and Talbot should be able to get the rest he needs. Once Edmonton clinches, I'd say a 70-30 split between Talbot and Brossoit. Talbot needs to enter the playoffs feeling like he's on a winning streak and Brossoit needs some game action.
FISHER: Talbot is four wins away from breaking Grant Fuhr's single-season record of 40 victories. Last year, Braden Holtby was chasing Martin Brodeur's league-wide record of 48 and settled for a tie, as Barry Trotz opted to rest Holtby for Washington's finale rather than letting him attempt to stand alone. It'll be interesting to see whether McLellan does the same if Talbot gets to 40 ahead of that season-ending home-and-home with Vancouver.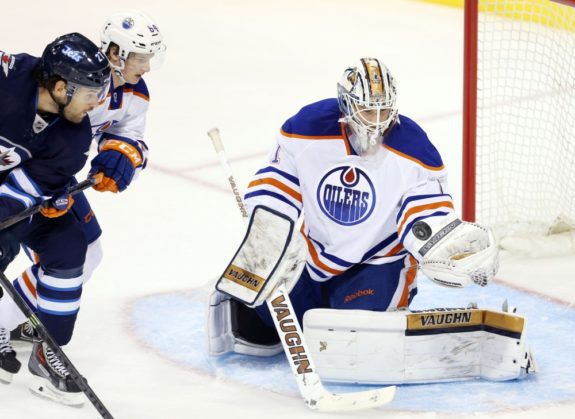 Records are nice and all, but playoff success trumps everything and the Oilers need Talbot at his best for Game 1 of the post-season — not Game 81 or 82 of the regular season. Then again, if home ice or a more favourable playoff matchup is at stake in those games, Talbot probably plays the rest of the way. The Canucks would love to play spoiler and they pushed pretty hard in the last meeting despite getting blanked by Talbot. Tough call, but Brossoit has looked capable in three consecutive appearances — backstopping two wins over last-place Colorado — so McLellan might be inclined to give him more work against another non-playoff team.
Depending how tonight goes for the Oilers and Talbot — remember, he's been pulled in two straight — I wouldn't rule out starting Brossoit in Los Angeles next Tuesday, assuming the Kings will be eliminated by then and have nothing left to play for. Part of me would be tempted to roll with Brossoit again tonight — no, it wouldn't spark a goalie controversy — to give him a more important start and to give Talbot a full week off before facing San Jose on Thursday. The team would be fired up in front of Brossoit tonight, knowing a playoff berth is hanging in the balance, but Talbot is probably itching to get back in there and McLellan typically hands him the keys to the crease.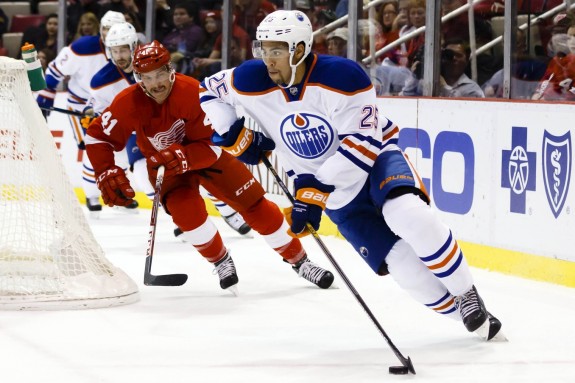 The Oilers have been fortunate on the injury front this season, or so it seemed. Yet, when I referenced mangameslost.com, I was shocked to see Edmonton ranked fourth among the most impacted teams at 290 games — fewer than only Buffalo (293), Winnipeg (319) and Vancouver (358). That tally was as of March 25 and was counting 74 games for Andrew Ference, which subtracted would drop Edmonton to 216 and 10th overall. Tyler Pitlick accounts for a big chunk of those games too, but the Oilers' key players have been able to avoid injury in comparison to recent years.
It would be absolutely devastating — a cruel joke by the Hockey Gods, really — if McDavid or Talbot were to go down now, but I don't want to be accused of fearmongering, so I'll just end this here and hope nothing bad happens for Edmonton's sake.
---
Who won this round of Facing Off? Feel free to weigh-in with your opinions in the comments below. We will be checking in periodically to both defend and expand on our initial answers. If you want us to face-off over a topic, we're open to suggestions as well.