It is next to impossible to go out and find an NHL coach who doesn't make his share of bad decisions over the course of a season. No matter who we are talking about, mistakes are going to be made. In a campaign that has seen little go wrong for the Edmonton Oilers, very few of Todd McLellan missteps have come back to bite him or his team. However, the decision to start Cam Talbot against the Colorado Avalanche on Thursday night could potentially prove problematic.
Talbot starts at Colorado.

— Jack Michaels (@EdmontonJack) March 23, 2017
The narrative that has surrounded the 29-year old netminder for much of the season has revolved around Edmonton placing far too heavy a workload on his plate. Problem being, his performance tells us a completely different story. Through the first 72 games on the Oilers schedule, one would be hard-pressed to find more than a handful of games in which Talbot played poorly. By no means is that to suggest he has been stellar every time out but the numbers speak for themselves.
With a guy that has played as much as the Oilers No. 1 goalie, picking spots to allow him to rest are essential. For much of the season, McLellan has done a brilliant job of doing just that. Edmonton's schedule during the back half of the season has allowed them to have Talbot start far more than most skeptics seemed comfortable with. But again, his body of work tells us they are trying to make something out of nothing…as his workload hasn't affected him in the least.
Oilers are Pretty Good
Looking at the Oilers schedule in the month of March, there were always two spots in which starting Laurent Brossoit made sense and only one that was obvious. Their game on March 18th against the Vancouver Canucks was a possibility but far from a necessity. Not surprisingly, McLellan turned to his go-to-guy and Talbot delivered as he has throughout the season. A great call by the coach to be sure and one that should have guaranteed Talbot would be sitting on the bench during last night's tilt with the Avalanche…so much for sticking to the script.
After watching his team be badly outplayed over the final 40 mins of their 4-3 loss to the Anaheim Ducks on Wednesday night, McLellan decided to over think things and it came back to bite him. Instead of allowing his backup goalie to start against the worst team in hockey, the Oilers bench boss inexplicably decided to go back to Talbot. While the notion that goaltenders should never play on back-to-back nights is absurd, there are certain times when it's obvious and last night was one of those.
When you combine their previously mentioned schedule with the fact the club arrived in Colorado at 3 am local time from Anaheim, it's makes the decision all the more puzzling. The supposed thought of having him "get back in there" after a tough night against the Ducks, not only holds no weight…it's just dumb. With all due respect to media-types who are suggesting McLellan was giving his guy a chance to "bounce back", he actually put him in a spot that was almost guaranteed to not go well.
Talbot has bailed the Oilers out 10+ times this year. Time for the skaters to repay the favour.

— Woodguy (@Woodguy55) March 23, 2017
Unless you haven't been paying attention, there is nothing Talbot needs to prove. Next to Connor McDavid, who is the Hart Trophy front-runner, the guy has been this team's MVP. There was no need whatsoever for him to get out there and back on the proverbial horse after an ugly outing the night before. We are not talking about a player who is lacking in confidence. He has been among the best netminders in the league for the past 15 months and every goalie has a stinker from time to time.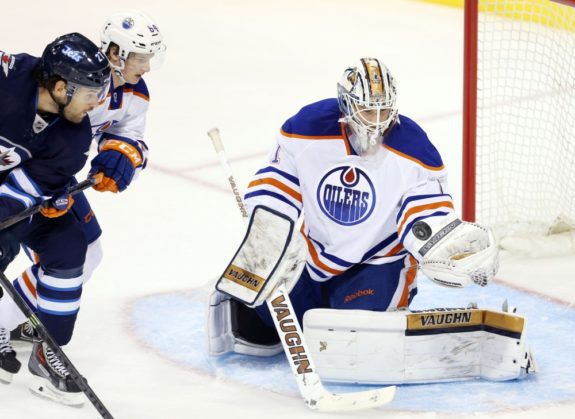 Avalanche Were the Perfect Opponent
So again, what was the purpose in starting him? If the coaching staff believes this team can't beat the worst team in the league with Brossoit in between the pipes, they have far bigger issues. Sorry but the Oilers are battling for top spot in Pacific Division and the Avalanche are in the midst of one worst season's in recent NHL history. No matter how you look at it, going back with Talbot made no sense.
What a huge win for the Oilers. They certainly didn't deserve to win, but thankfully the Avs are a tire-fire this season. A win is a win!

— Inside Oilers (@InsideOilers) March 24, 2017
Also, it's not uncommon for teams to struggle out of the gates in Colorado, as players usually need time to adjust to the "thin air" and it tends to be even more problematic when guys a tired. The entire Oilers roster would fall into that category after getting in at the time they did from Anaheim. Their start was predictably ugly and by starting Talbot, the door was opened for things to play out in the manner they did and it could prove costly.
Instead of allowing him to have a couple of days off after a rough start and coming back out with clean slate on Saturday against the very same Avalanche, they now have a goalie who has been pulled in back-to-back starts and is likely rattled. Anyone who has played the position, no matter the level, will tell you when things are good the puck looks like a beach ball. When it is not, it looks a like pea and the pendulum can swing from one end to the other in the blink of an eye.
Workload Hasn't Been an Issue
By putting his goaltender in the situation he did, McLellan has not only opened the door for what could potentially become a bump in the road for Talbot but also allowed the silly narrative of him being "overworked" to be brought back into the equation.  Again, even the best players have off nights and it has nothing to do with them supposedly being tired…that isn't what this is about. Scary thing is it could have all been avoided had the head coach not tried to outsmart himself.
Ok. So, real talk. Brossoit should start on Saturday. He's earned it and Talbot needs to reset.

— Arch (@Archaeologuy) March 24, 2017
Contrary to popular belief, Brossoit should not start against the Avalanche this weekend. Talbot has already shown during both the All-Star break and league-mandatory week off that he needs time to find his form following an extended absence. If he were to take a seat against Colorado, he will have gone four straight days without playing a game. At this time of year, Edmonton doesn't have the luxury to allow him to find his game and the fact he is coming off two poor starts could make it even harder.
You can bet he will be itching to get back into the net and making him sit and stew will only make it worse. He can easily sit two of the last four games of the season and be fresh for the playoffs. Obviously, it wasn't his intent but by over thinking things Todd McLellan has created a bit of a situation and one can only hope he has learned from his previous blunder. In other words, unless Cam Talbot is battling an injury or has something else going on that we are unaware of, No. 33 has to be the guy who starts in goal for the Edmonton Oilers at Rogers Place on Saturday night.