Facing Off is a weekly column debating five of hockey's hottest topics each and every Monday. From current events like trades and hat tricks to bigger-picture stuff like scandals and expansion — you name it, we're debating it. Albeit, not always with a serious tone. We're keeping this column light, so keep that in mind when reading, and feel free to join in on the fun by leaving a comment. Follow us on Twitter (@FacingOff_THW) and get in on the debate there too.

Jimmy Vesey to the New York Rangers, I'm still at a loss for words over that landing spot.
To me, the Rangers didn't check any of the four boxes that Vesey should have been weighing in his decision:
• Current Stanley Cup contender
• Team on the rise
• Hometown team
• Elite centre to play with
So what was Vesey thinking? I posed that question to Andrew Forbes in our debut episode of the Facing Off podcast.
At the end of the day, it was Vesey's decision and he'll have to live with it. Living in New York City probably won't be all that bad, but he's got a lot of hype to live up to now. Rightly or wrongly, expectations are going to be through the roof for Vesey after generating all this free-agency hoopla. The circus is over, it's time to actually perform.
RangersTown is ready for you @19Vesey! #JVtoNYR pic.twitter.com/MuD3xIDQsQ

— New York Rangers (@NYRangers) August 19, 2016
One point I forgot to make in the podcast is that Vesey is already in his prime. He's not a "kid", he's a young man with a Harvard degree. He's entering the league at 23 years old — the same age as last season's Calder winner, Artemi Panarin — and that is considered a prime age nowadays. A players' prime used to be 25 to 30 years old, or even 27 to 32, but with the game trending younger and younger — with teenagers breaking in on a regular basis — that prime window has been bumped up to 22 to 27. Vesey will debut within that window and the Rangers will be hoping he hits the ground running.
"It's a very exciting day for us"-the #NYR land @19Vesey; Full Story: https://t.co/HUAWjfPWYd pic.twitter.com/JeyB8hbhzY

— New York Rangers (@NYRangers) August 20, 2016
Shea Weber: Declining or still dominant?
On the opposite end of the prime spectrum is Shea Weber. He turned 31 years old this month and thus is past his prime based on these new standards. The NHL Network still had Weber ranked No. 9 on their recent list of the top-20 NHL defencemen. That ranking was right in line with where I had been slotting Weber all summer — in my top 12, likely around No. 8 or 9 — and I was fine with the list in general. Brent Seabrook might be just outside my top 20 and Alex Pietrangelo would be closer to my top 10, but that's nitpicking. The list, as a whole, was a good one in my opinion.
NHL Network's Top 20 defensemen "right now." Sure to raise some eyebrows. pic.twitter.com/PsSZVHWrUI

— Mark Lazerus (@MarkLazerus) August 15, 2016
Of course, that is a matter of debate and Weber is at the centre of it. The analytics community, at least those I've been engaging with on Twitter, including a few our THW peers who I respect as progressive hockey minds, are not big fans of Weber. They don't rank him anywhere near the top 20. In fact, that THW trio have Weber outside of their top 40 in terms of overall ability and behind the likes of Jason Demers and Justin Braun. One of their lists even had two Oilers ranked ahead of Weber — Andrej Sekera and Oscar Klefbom. To me, as an Oilers follower, that's laughable and I can almost assure Edmonton would have made that 2-for-1 trade in a heartbeat — Sekera and Klefbom for Weber — especially if it meant keeping Taylor Hall. I'm also fairly certain David Poile, the Predators general manager, would have laughed at that offer.
Where does Shea Weber rank among #NHL defencemen based on overall ability/impact? Contracts equal, only for 2016-17.

— Facing Off (@FacingOff_THW) August 16, 2016
Reality is, the fancy stats paint the picture of a declining player with poor shot suppression and possession numbers, a player who didn't necessarily make the Nashville Predators a better team when he was on the ice. I vehemently disagree with the latter part and have spent much of the summer defending Weber and maintaining that he's still an elite defender who is effective at both ends of the ice. For the record, I do NOT prefer Weber to P.K. Subban, that was never part of my argument, but give me Weber over Demers, Braun, Sekera, Klefbom or 20-plus other names on these lists every day of the week for the coming season.
Here was mine in no particular order: pic.twitter.com/0OoRHNEcb5

— Jordan Dix (@jordan_dix) August 15, 2016
looks like I have Weber 49 pic.twitter.com/iC9GXGtirN

— Andrew Bensch (@BenchWarmerView) August 15, 2016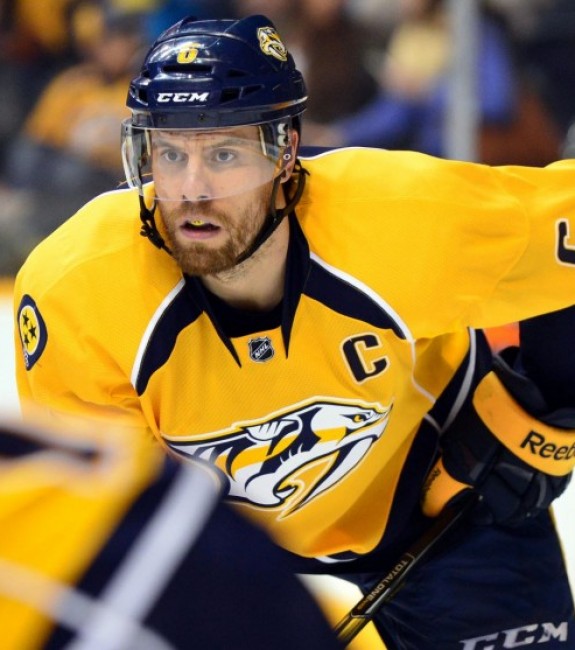 Félix Sicard, one of our regular Facing Off contributors, didn't provide his top-40 list without Weber, but he did discuss the topic in Episode 4 of his Garage Hockey Podcast, which is worth checking out. A quality listen.
I think you need to look beyond the numbers with a player of Weber's calibre and reputation. Admittedly, I have an elementary understanding of analytics and I consider myself an active learner in that realm, but I have a theory on why the numbers are no longer flattering for Weber.
I believe opposing coaches have gradually been game-planning against Weber, finding ways to limit his impact on the game by essentially taking him out of the game. I feel, even through the eye test of watching Nashville games, that opposing players are purposely avoiding Weber and his side of the ice — especially upon setting up and sustaining pressure in the offensive zone but also when attacking off the rush.
Using a baseball reference, I see this "avoid Weber" strategy as being similar to the intentional walk. If a renown slugger is getting intentionally walked way more often than in years past, naturally his home-run totals are going to be way down too. Sometimes there are contributing factors for these fancy stats and you need to grasp the bigger picture.
I see, with my own eyes, teams steering clear as much as possible, and Weber's fancy stats are subsequently taking a hit — simply because he's not in possession of the puck or even in the shooting lanes as a defender nearly as often as those same numbers are showing from a few years ago.
Does that mean Weber is getting worse? Or that other teams were getting better at beating the Predators without beating Weber? I lean towards the latter, but that's just my theory and maybe it can be debunked with more numbers. I just feel it's a 6-on-6 sport as opposed to 1-on-1, and therefore the fancy stats can be misleading in this particular case based on what's happening around Weber on the ice.
In saying that, I do realize Weber has spent the past decade playing a punishing, physical style and that those hard miles could be catching up to him — that he may no longer be as much of a force with Montreal. Time will tell whether that proves true, but I wouldn't bet against Weber bouncing back and earning his spot on everybody's top-20 lists at this time next year.
The podcast touches on that and the rest of the NHL Network's list before rehashing my offseason standings predictions. We also talk briefly about remaining free agents, an intriguing trade rumour, and Las Vegas' imminent team name. Andrew provides top-shelf insight throughout, although we end up agreeing more than we should in the spirit of Facing Off. Turns out, Andrew and I are quite likeminded on most these topics — yes, even on Weber's place in the top 20 — but definitely give it a listen and let us know what you think. Feedback and advice, or constructive criticism, is very much welcomed.
Consider this a soft launch for the Facing Off podcast, more of a trial run, with hopes of improving the production side of things between now and the start of the NHL season. There is certainly some fine-tuning to do, but in terms of content and conversation, it seemed to flow smooth enough — aside from my mispronunciation of the names Vesey and Ghostisbehere. I can spell them no problem, but saying them can be a bit trickier at times.
A work in progress, though I'm not sure when the next episode will be in the works. We'll likely return to the column format for next week with Sebastian Hedley-Noble, but we'll be giving the podcast another shot sooner than later. Stay tuned!
https://soundcloud.com/larry-fisher-670384684/sounds-from-sunday-morning
---
Who won this round of Facing Off? Feel free to weigh-in with your opinions in the comments below. We will be checking in periodically to both defend and expand on our initial answers. If you want to see us face-off over a topic, we're open to suggestions as well.
Larry Fisher is a senior writer and head scout for The Hockey Writers, having been an at-large contributor for THW since August 2014. Fisher covers both the NHL and the WHL, specializing in prospects and NHL draft content, including his annual mock drafts that date back to 2012. Fisher has also been a beat writer for the WHL's Kelowna Rockets since 2008, formerly working as a sports reporter/editor for The Daily Courier in Kelowna, British Columbia, Canada from 2008-2019. Follow him on Twitter: @LarryFisher_KDC.