With NHL hockey returning tonight, North American hockey fans can breathe a collective sigh of relief when their respective teams hit the ice this week. Although there is only one match-up on the schedule for Tuesday night, bettors will be pleased to know that they could once again start to hedge their bets on NHL hockey.
After having international hockey – and players from around the world – dominate hockey viewership over the last two and a half weeks, fantasy managers are certainly itching to get back to maintaining their virtual lineups. While it might take some players a little while to get back to speed after fighting off some residual fatigue and jet lag, it wouldn't hurt to look at some lesser-owned fantasy options that some might have forgotten about during the brief NHL-hockey layoff.
Can They Sustain Their Pace?
David Desharnais (Montreal Canadiens – C)
David Desharnais might have gotten off to a very slow start this season, but he more than picked it up leading into the Olympic hockey break. Fantasy managers should expect Desharnais to be prepared to get back to work as he won't have to deal with any lingering side-effects from international play. Centering the Canadiens' first line, Desharnais should be considered for addition in every format as he plays alongside gifted offensive players such as Max Pacioretty and Brendan Gallagher – individuals that become the direct beneficiaries of Desharnais' ability to create plays.
In his last ten games before the Olympic break, Desharnais recorded eight points (3 Goals, 5 Assists), and fantasy managers should expect more of the same from the diminutive centerman. Desharnais' slow start to the season has undoubtedly contributed to low ownership rate (11%) in Yahoo! leagues, but that is all the more better for fantasy managers as they have a chance to snag a producer that can make a legitimate impact on fantasy lineups for the rest of the fantasy hockey season.
Ondrej Palat (Tampa Bay Lightning – LW)
For a player that has only had 72 NHL games worth of experience under his belt, Ondrej Palat sure isn't playing like a forward that is relatively new to NHL hockey. So far this season, Palat has amassed 34 points (10 Goals, 24 Assists) and was seeing time on the Lightning's first line alongside Tyler Johnson and Alex Killorn. Seeing as how Palat is still only 18% owned in Yahoo! leagues, there is a good chance that the winger is probably still available in a bunch of formats.
While Steven Stamkos won't return to the Tampa Bay lineup for the team's four-game road trip, Palat will most likely have a good opportunity to rediscover some of the form (5G, 7A in 10 games leading up to the Olympics) that made him such a dependable player before the break. Despite the fact that Palat didn't have a great showing with the Czech Olympic hockey team in Sochi, there is no reason for fantasy managers to hit the panic button on the left winger as he has shown himself to be a very reliable and consistent option thus far.
Mikael Granlund (Minnesota Wild – C)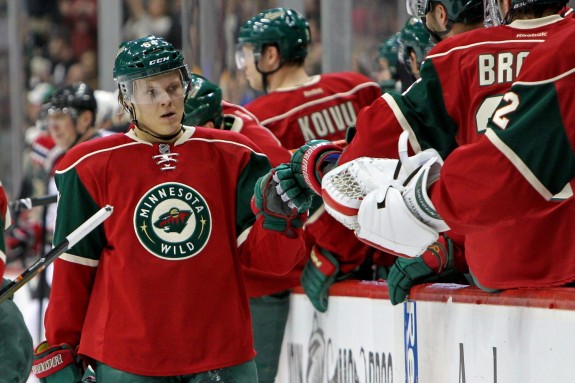 Mikael Granlund had quite an impressive showing during the 2014 Olympics in Sochi as he led Team Finland with seven points scored. While Granlund was back to a more familiar and larger ice surface in Sochi, there is no doubting the fact that such a performance in the international arena will boost the center's confidence. Granlund was certainly starting to rack up the points before being sent to represent his country in the Olympic tournament, and it was plain to see that the Finnish forward was playing a calm and assertive game that allowed him to maximize his scoring capabilities.
Before heading over to Sochi, Granlund had tallied nine points (2 Goals, 7 Assists) in his last 10 NHL games – an amount which accounted for nearly a third of the forward's total points scored this season. With Granlund seeing top-six minutes and Mikko Koivu continuing to recover from ankle surgery, fantasy managers should absolutely consider adding Granlund to their respective rosters. After all, at 8% owned in Yahoo! leagues, it certainly makes sense to see what the young centerman has to offer after coming off such an important international tournament.
Chris Higgins (Vancouver Canucks – LW)
At 12% owned, Chris Higgins would probably be a good addition for fantasy managers that need contributions from a left winger. In his last ten games before the Olympic break, Higgins registered eight points (4 Goals, 4 Assists) and even had time alongside Ryan Kesler and Jannik Hansen on the Canucks' top line. So far this season, Higgins has been averaging slightly more than 19 minutes of ice time, and should continue to see that same amount as long as he keeps up his consistent play. Fantasy managers in shallower leagues might want to see how Higgins performs in his first couple of games after the long layoff, but those in deeper leagues should absolutely check the forward's availability as he could be an extremely useful deep-league player.
Mikael Backlund (Calgary Flames – C)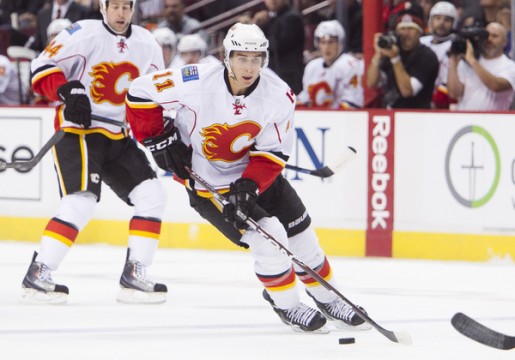 Much like Ondrej Palat, Mikael Backlund was on a tear before the Olympic break, and it might not be too farfetched to believe that the centerman can keep producing at a formidable clip. Backlund has been receiving a plethora of minutes on Calgary's top line and should continue to keep seeing the same type of ice-time barring any injury or severe inconsistency. Even though hockey fans might not be too enthused at the talent that is on the right and left side of Backlund (Lee Stempniak & Jiri Hudler), Backlund is only 11% owned in Yahoo! leagues and would make a good pickup for a manager that needs help at the center position.
Having scored ten points (6 Goals, 4 Assists) in his last ten games played, Backlund should certainly be a center that fantasy managers strongly consider over the next few games. Despite the fact that fantasy managers might not have many Calgary Flames players on their active fantasy roster at this point in time, Backlund has definitely earned his due attention as his ice-time and peripheral statistics can attest to his prowess as of late.