Fantasy Hockey Mailbag is a weekly column, answering your questions every Tuesday. No question is too big or too small, so if you want advice or feedback on any topic related to fantasy hockey, just ask away in the comments below.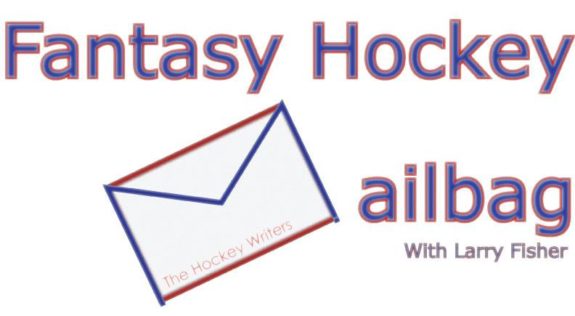 Where my Sidney Crosby owners at? Aren't you glad I told you, time and again, to stick it out with him?
The "Kid" is coming around and catching fire, with half a season still to go. He's starting to thrive and play like himself again under new coach Mike Sullivan, so if there's any chance to make a move for Crosby in your league, now is the time to strike before it's too late.
The NHL is a young man's league and I find, especially in keepers, nobody wants players over 30, let alone 35. But some of the old boys are still productive and worth owning, so if you're "going for it" this season, don't be afraid to acquire the likes of Jaromir Jagr, Shane Doan and Jarome Iginla. If you're rebuilding, or perpetually rebuilding, they won't be of much use to you by the time you're ready to contend, but if you're in the title hunt this season, they can definitely help put you over the top and will probably come cheap. As fantasy trade deadlines near, live in the present and do what's best for your team right now, which might mean buying low on these eventual Hall-of-Famers.
Moving on to this week's Mailbag . . .
Stefan Marrone asked on Facebook: Tough question for you. Now that James Reimer is back, I picked him up for depth because he's been playing well and, besides Braden Holtby, my goaltending has been rather weak. Now I still need more scoring and somebody wants Reimer or Kari Lehtonen from me. I'm thinking of trading Reimer instead for obvious reasons. However, I'm not sure who to target?
BACKGROUND: His team features Tomas Plekanec, Sean Monahan, Rick Nash, Marian Hossa, Brandon Dubinsky, Dylan Larkin, Jake Muzzin, Ryan McDonagh, Kris Letang, Brad Marchand, Jussi Jokinen and Ryan Strome. Who do you think I could probably get (and should target) with Reimer? I want Nash, but for that, I'm sure I'd have to give up Lehtonen.
ANSWER: I would trade Reimer for almost anybody on that roster. Nash would be tough to get, I agree, although I'd probably do Lehtonen for Nash if that was on the table. At the time of Stefan's question, I told him to target Letang as a buy-low because he had just missed another game with an upper-body injury and there was uncertainty about his status. But when Letang is healthy, he's one of the very best offensive defencemen in the league, which he has since shown again. That would have been quite the coup to get an "injured" Letang for Reimer, but it didn't work out. Muzzin and McDonagh are decent options on defence too, but if Letang and Nash are non-starters, I'd take aim at a couple of forwards. Monahan is going to get his points with Johnny Gaudreau and so will Marchand with Patrice Bergeron, so if you could swing either of them for Reimer, that'd be a big win. I like Larkin and Strome a lot for keeper leagues, but they aren't quite on that level for single-season leagues. Hossa should heat up in the second half and improve his point production, playing with Jonathan Toews. I like Dubinsky and Jokinen more than Plekanec. I'd target Monahan or Marchand, but assuming he says no on those guys (along with Nash and Letang), then I'd take a run at Larkin/Hossa/Strome/Dubinsky in that order. If he actually wants Reimer, he'll be willing to part with one of those four.
THW colleague Sebastian Hedley-Noble asked: I have Carey Price, Semyon Varlamov, Cory Schneider and Ryan Miller. I'm only allowed one IR spot and that's Price. However, now David Krejci is week-to-week. Do you know how far Price is away from returning? Or how bad Krejci's injury is? I'm thinking of dropping Miller and grabbing Aleksander Barkov before anyone notices who he is. But that'll leave me with just two goalies and Price still on the IR.
ANSWER: For starters, I would definitely swap Miller for Barkov without thinking twice. I'm actually shocked Barkov is available. Go grab him immediately. He's a legit first-line centre and one of the league's most underrated players. Miller is also hurt and wasting a roster spot at this point. Varlamov and Schneider are strong starters who can hold the fort until Price gets back. If you're other goalies were Jimmy Howard and Brian Elliott, then I'd be more reluctant to drop Miller, but you're still in good shape between the pipes without him. It's believed that Miller and Price could both be back within the next week, but Price might be behind schedule. Price was expected to miss five-to-six weeks, but it's nearing the end of that timeline and he's still not practising, so that's concerning. I have Price on my IR too, so I check daily for updates, but it has been pretty hush hush out of Montreal. I'm starting to think the Habs might let Price heal up through the All-Star break, especially now that they traded for Ben Scrivens to platoon with Mike Condon. If Price had been close to returning, the Canadiens probably don't make that deal coming out of the Christmas break. Injuries are top secret in all levels of hockey and there isn't much information out there on Krejci either. I assume he won't be back this week or next.
Mike Hall asked via email: Would you drop any of Ryan Nugent-Hopkins, Joe Thornton or Andrew Ladd for Jaden Schwartz? Or would you trade two of the three — RNH, Thornton and Ladd — for Vladimir Tarasenko and then pick up Schwartz off waivers if he's available?
ANSWER: No and yes. In regards to Mike's first question, I wouldn't drop any of those three for Schwartz, who just started skating again but won't be returning until after the All-Star break, likely in early February. Even then, it'll take Schwartz some time to get up to speed and I really don't see him outproducing Nugent-Hopkins, Thornton or Ladd in the second half of the season. As for Mike's second question, that's a no-brainer for me. I would absolutely trade two of those three for Tarasenko, heck I'd give up all three of them. Do whatever it takes to make that deal happen. If you have an open IR spot, I see no harm in claiming Schwartz. If you don't, then I'd hold off for a few more weeks so he's not just wasting a roster spot for the month of January. I do like Schwartz, always been a fan of his, but he was off to a slow start before fracturing his ankle and undergoing surgery, so I don't have high expectations for him for the rest of this season.
---
My Fantasy World
Keeper 1
I put up a better fight than anticipated here, only losing 6-4-0 to our standings leader, but he had an off week and that score still flattered my team. I'm tied for 12th place in this 20-team league, but only six points away from missing the 16-team playoffs. That might not be such a bad thing, considering the bottom-four teams will battle it out for the top-four picks in our 2016 rookie draft. Right now, I'd rather get into that tournament as the 17th seed and thus the favourite to select first overall.
So, with that in mind, I've become a seller ahead of our Jan. 27 deadline. More so a seller of secondary assets, with the plan to continue building around my big five of Crosby, Price, Erik Karlsson, Taylor Hall and Nugent-Hopkins. Jacob Trouba will probably be the sixth member of my core going forward, although he needs a contract extension this off-season and I'm still evaluating his future potential. Jeff Petry is a cheap keeper on defence, so I'm not really entertaining offers on him, but everybody else is available for draft picks and prospects.
I've already made the following three trades, parting with four players while acquiring six prospects and five picks in return:
INCOMING = Daniel Sprong, Nikita Scherbak, and three third-round picks (currently 50th, 56th and 58th overall)
OUTGOING = Jacob Markstrom
ANALYSIS: This deal had been in the works for more than a month. He really wanted Markstrom and I didn't really want to give him up, seeing the potential of a Price-Markstrom tandem for at least the next two seasons. I balked at more than a dozen offers before finally caving and setting this asking price, which he reluctantly met. After the trade was announced, many peers felt I was a big winner, but I'm not so sure. I got what will amount to five prospects for a cheap goaltender, something that is hard to come by in this league. If Markstrom lives up to his potential and supplants Ryan Miller in Vancouver, I might end up regretting this trade, especially if Sprong and/or Scherbak end up busting. I'm not overly high on either of them and he had better prospects to offer, but wouldn't budge. Those were the prospects he was building the trade around, so I had to negotiate for more picks to be thrown in. By the third round of a rookie draft, it is a crapshoot and those will inevitably be boom-bust prospects, so more is better. I'm happy with the return, it will certainly help to replenish my prospect pool, but time will tell who the real winner is here.
---
INCOMING = Colin White, Martin Reway and a third-round pick (currently 57th)
OUTGOING = Nail Yakupov
ANALYSIS: I'm not sure what to make of this deal yet either. I like Yakupov, but he'll be entering the final year of an expiring extension next season and moving him freed up the cap space to sign Trouba for an extra year at the same price if that's the direction I decide to go with him. Defence is more of a pressing need on my roster, so I wanted that cap space available for either Trouba or an auction upgrade on the back end. I wouldn't flat-out say Yakupov was a salary dump, but that had more to do with it than the return here. With that said, I liked what I saw from White at this year's world juniors — he was playing on Team USA's top line with draft-eligibles Auston Matthews and Matthew Tkachuk — and Reway had previously caught my eye at last year's world juniors as a standout for Slovakia. I'm hoping one of Reway or Scherbak eventually make it in Montreal, and there should be decent opportunity for White in Ottawa when he's ready to turn pro. If the season ended today, I'd have three straight picks and four of five to end the third round of our rookie draft, so that'll test my personal scouting ability. I'm looking forward to that but, more than anything, these picks and prospects are assets for the future. If I decide to become a buyer next season, I can flip them all for win-now upgrades.
---
INCOMING = Gustav Forsling, Sergei Tolchinsky and a second-round pick (currently 35th)
OUTGOING = Josh Bailey and Zemgus Girgensons
ANALYSIS: This is my favourite return of the three deals, and it was offered to me. I'm a big fan of Forsling, I own him in my other keeper and he's been a stud defender for Sweden at the last two world juniors. He's going to look good in a Chicago Blackhawks jersey some day and I'm hoping he'll come over to North America next season. Tolchinsky is a tiny but ultra-talented forward prospect for the Carolina Hurricanes, who is enjoying a decent pro debut in the AHL. In all honestly, I probably would have done this deal as a 2-for-2 without the pick thrown in, but I gladly accepted without hesitation. That's not to say the other GM overpaid, it's just more than I would have demanded. Bailey needs an extension after this season but can be kept fairly cheap for another year, while Girgensons has two years left on a cheap contract too. That GM needed some additional forward depth and those two should definitely help in his pursuit of a top-five payout. He's currently in sixth place, just three points out of the money with eight weeks to go in our regular season. I like his chances, especially if he continues to be a buyer.
---
Keeper 2
It was another good, losing week here. Yes, it is good for this team to lose too. That's two straight defeats and six in the last seven. I'm playing a winless (0-13) team this week, but I actually like my chances of falling again despite my superior record (5-8) on the season. The further I fall in the standings, the higher I'll pick in the rookie draft, so that's the goal from here on out. The team I just lost to is now 3-10 and that much closer to surpassing me in the 28-team standings. I'm currently picking ninth overall, but if all goes to plan, I'll get into the top five, likely at fifth overall.
I didn't make any trades this past week, but I did make another solid addition via the waiver wire by adding Michael Mersch, a rookie forward for the Los Angeles Kings. I like Mersch as a prospect and actually drafted him in my other keeper league. He went undrafted in this league, which meant he was ineligible to be claimed until after his 10th NHL game as per our rules. I was pleasantly surprised to get him, considering I'm still ninth in the waiver order. Having made a few trades in weeks past, I had to flesh out my roster and also added defencemen Jared Cowen and Brad Hunt, while dropping Jyrki Jokipakka.
There were a handful of trades in this league over the last week:
INCOMING = Nick Merkley, a second-round pick (currently 29th overall) and a third-round pick (72nd)
OUTGOING = Jimmy Vesey
ANALYSIS: That's a solid return for Vesey, but he's a solid prospect who could emerge as a dark-horse candidate for the Calder Trophy next season. Vesey is one of those college prospects who could opt for free agency this summer. He's drafted by the Nashville Predators, but his dad recently took a scouting job with the Toronto Maple Leafs and many think that's where he'll end up. He's a high-skill forward, somebody to keep an eye on and to potentially target in your own leagues. Merkley was the last pick of the 2015 first round and is probably a couple years away from debuting for the Arizona Coyotes. It'll be interesting to see how his game translates to the professional ranks when that time comes. Most would take Vesey straight up over Merkley, but probably wouldn't add much. Maybe the third-rounder, but not the first pick of the second round as well. A slight overpayment in my opinion, but Vesey could be worth it.
---
INCOMING = Kris Russell
OUTGOING = Brendan Shinnimin and a third-round pick (currently 70th)
ANALYSIS: Fair deal here, with friend of the Mailbag, Luc Grenier, bolstering his blue-line with the addition of Russell. Shinnimin was a big-time scorer in junior and has steadily improved in the AHL, but he could be a career minor-leaguer. That return is more about the pick than the prospect in my opinion.
---
INCOMING = Calvin Pickard
OUTGOING = Thomas Vannelli
ANALYSIS: I probably prefer Pickard to Vannelli, but this deal was a swap of prospects with one team wanting a goaltender and the other a defenceman. Time will tell who got the better of the two, but Pickard is looking like the stronger bet as of today. That said, Vannelli does have offensive upside as a blue-liner and was a second-round pick, so he could prove to be a sneaky good pick-up.
---
INCOMING = Tyler Bunz
OUTGOING = Roman Cervenka
ANALYSIS: Yes, that deal happened . . . in 2016. The chances of either guy seeing another NHL game are slim to none. Draw your own conclusions there, but it seems like a nothing trade to me.
---
Do you have a question for the Fantasy Hockey Mailbag? You can reach out to me in the comments section below, by email at larry.fisher31@gmail.com, or on Twitter: @LarryFisher_KDC.