Welcome all to the last regular season edition of Fantasy Hockey: Studs and Duds! If anyone is interested in reading last month's edition, it can be found here.
This is it fokes, we are in the home stretch of our leagues, and for some, the championship is on the line! However, we wouldn't be in the championship if not for some shrewd additions, and clutch contributions from your brightest stars. So stop stealing hamburgers, and sit back and relax; here are my studs and duds for the month of March.
Studs:
Forward: Radim Vrbata, Vancouver Canucks
In a year we thought would be a rebuilding one for the Vancouver Canucks, they have surprised everyone, and nobody should receive a bigger thank you than free-agent acquisition Radim Vrbata.
In the Canucks last game against the Dallas Stars, Vrbata scored his 30th goal of the season, which is the second time he's hit the 30-goal mark in his career. Vrbata scored 35 goals in the 2011-2012 season with the then Phoenix Coyotes, and helped them reach the Western Conference Finals.
For this season though, Vrbata has come in exactly as advertised. He was a guy that could play with Sedin's because of his shot, and he's a great shootout man. However, Vrbata been much more than just a guy with a good shot for Vancouver. He was rewarded as such by being the Canucks only representative at this year's NHL All-Star game in Columbus, Ohio.
Vrbata is probably one of the most underrated players in hockey, and if you're looking to upset someone in your championship, he's your guy.
Honorable Mentions: Ryan Nugent-Hopkins, Edmonton Oilers and Jiri Hudler, Calgary Flames
Defensemen: Kris Russell, Calgary Flames
Calgary is fighting for their playoff lives, but they wouldn't even be where they are if not for the outstanding play from Kris Russell. Russell has been a nice defensemen for the Flames throughout the season, but when Marc Giordano suffered a torn biceps tendon towards the end of a game against the New Jersey Devils, somebody had to step up.
Kris Russell hasn't just stepped up for the Flames; he's stepped up for every fantasy squad that was lucky enough to grab him off the waiver-wire. What makes Russell so valuable is he does just about everything, and when I say everything, I mean absolutely everything. Russell has 11 points in his last 14 games, he has 34 shots on goal, 10 hits, is a plus player, plays more than 26 minutes a game on most nights, and the most unreal statistic is in those 14 games, he has blocked 74 shots. Those 71 blocked shots are 27 more than the next highest player in Mike Weber of the Buffalo Sabers.
If he's not putting up points one night, he's blocking shots, and taking shots. If he's not blocking shots, he putting up points and making plays. It's a win-win with Russell, and if you haven't added him on your fantasy team yet, then get out from whatever rock your under and add this guy!
Honorable Mentions: Erik Karlsson, Ottawa Senators and Tyson Barrie, Colorado Avalanche
Goaltender: Cam Talbot, New York Rangers
This decision is something I was torn on for a while. Do I go with the best hamburger-stealing story in the NHL? Or do I go with a guy like Cam Talbot, who has been nothing but consistent for a Rangers team that is now in contention for the President Trophy.
Upon looking deeper into the stats, in the month of March, Cam Talbot has a .946 Sv% compared the "Hamburglar's" .930 Sv%. Talbot's record isn't as good as Hammond's, but the consistency Talbot's brought the Rangers this month has made almost everyone forget they have a guy named Henrik Lundqvist making his way back from a neck injury.
The other difference between the two is that teams are beginning to figure Hammond out, along with him suffering an injury, which has contributed to his sub-par stats over the past few games. While Talbot took a tough 5-2 loss yesterday to Ovechkin and the Washington Capitals, Hammond, even in victory, has steadily allowed more goals in each start he's had.
Either way, both goalies had a fantastic March, but in my estimation, no matter how great a story the "Hamburglar" is, Talbot has been slightly better. Also, Carey Price is pretty ok, but that's for another time.
Honorable Mentions: Andrew "Hamburglar" Hammond, Ottawa Senators and Carey Price, Montreal Canadians
Duds:
Forwards: Tyler Bozak, Phil Kessel, and James van Riemsdyk, Toronto Maple Leafs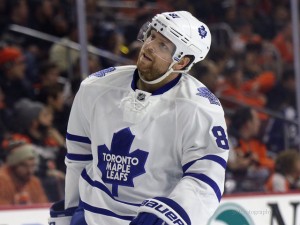 I was originally going to select Phil Kessel as my dud of the month, but when I took a closer look at his plus-minus, I found his two line-mates, Tyler Bozak, and James van Riemsdyk were just as bad, if not worse.
Allow me to put into perspective how bad they're month as been. In the past 15 games, the trio is a combine minus 50. Not only is their plus-minus terrible, but they have also only combine for 19 points in those games. For anyone who owns these any of three players, you must be ripping your hair out trying to figure out what to do with them.
Ranking them from worst to best, Tyler Bozak is definitely droppable. If Bozak were a second line center on a better team then he would be a valuable asset for sure. The real problem lies in Phil Kessel and JVR. If it's a keeper league, then you obviously keep them on your team and hope next year is different. However, if you're fighting for your league championship in a 1-year league, I would drop them.
I know, it's easier said then done, but the stats don't lie, and it's not like Toronto is trying win anyway. Kessel even got into a small scrap with David Booth the other day, so it can be argued the Kessel's head isn't even in the game anymore, and he's already looking toward next season. It's a tough situation up there, but don't let it be your problem anymore.
Not-so-Honorable Mentions: Chris Kunitz, Pittsburgh Penguins and Alex Galchenyuk, Montreal Canadians
Defensemen: Shea Weber, Nashville Predators
When a guy like Shea Weber, who debatably has the hardest shot in the NHL doesn't have a goal in a month, that's when you know its been a rough go lately. The weirdest thing about it is Weber's last goal came against the Detroit Red Wings on February 28th. In all seriousness though, this has been a weird month for the Preds captain.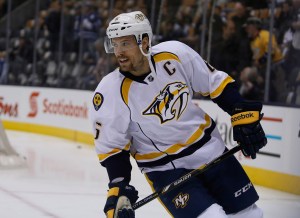 Along with not having a goal, Weber only has two assists to go along with a minus five rating, and he's missed the past two games with a lower-body injury. Weber's down play has effected the team's record, as they had that 6-game losing streak, which began in the end of February and tailed into this month. The Preds have been a bit inconsistent since, but have been better as of late by winning three of their last four, and clinching a playoff spot in the process.
What we do know is that Shea Weber will be fine. Nashville still has five games remaining, so they will definitely want to get Weber back as soon as possible before the playoffs begin. However, while Weber may win the Norris Trophy at season's end, for now, he's a dud.
Not-so-Honorable Mentions: T.J. Brodie, Calgary Flames and James Wisniewski, Anaheim Ducks
Goaltender: Antti Niemi, San Jose Sharks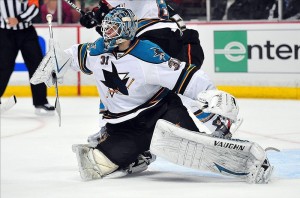 There are many reasons why the San Jose Sharks are going to miss the playoffs for the first time since the 2002-2003 season. The offense isn't the problem, although it hasn't been as good as recent years. The defense definitely hasn't been as good, with promising Justin Braun regressing while Brent Burns needs to go back to playing wing. What's been the worst part of their team has been the inconsistency of goaltender Antti Niemi.
He has a .914 Sv% this season, which is tad lower than his career mark of .916 Sv%. The problem is he gives up goals at the worst time, or can't come up with the big save to keep the game tied. What's weird is he has stretches where he looks unbeatable, like against Pittsburgh and Nashville earlier this month, but then has a string of clunkers where he simply gives up too many goals.
There's no doubt that Niemi and Sharks will be parting ways at the end of the season. He's had a nice tenure with the team, which includes a trip to the Western Conference finals back in 2010-2011. I'm sure all parties would have wanted it to end of better terms, but I just hope to god he doesn't get stuck in Edmonton.
Not-so-Honorable Mentions: Jimmy Howard, Detroit Red Wings and Jaroslav Halak, New York Islanders
Who are your Studs and Duds for the month of March?
Corey Spina lives in Wayne, New Jersey. He is a senior at Centenary College, and is majoring in Communications/Journalism. Corey is in his second season covering the New Jersey Devils for The Hockey Writers, he completed a sports journalism internship with TAPinto, and he is the Host/Producer of the Sports Buzz on WNTI.org.