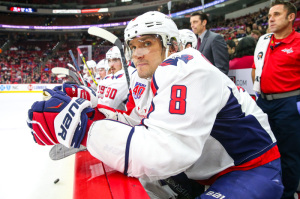 Hello, hello, and welcome once again to my now sixth edition of Fantasy Hockey: Studs and Duds. This edition will be for the month of February, but if you'd like to read last month's edition, it can be found here.
February, as it usually always is, is trade central time. Teams have identified themselves as sellers, and blockbuster deals have happened left and right. However, there have still been studs that have helped their teams reach the post-season, and there have still duds, who have let down their respective teams.
Here are my studs and duds from the month of February!
Studs:
Forward: Alex Ovechkin, Washington Capitals
This was an absolute war. I have gone back and forth all month on Alex Ovechkin, and Rick Nash, but in the end, I decided on Ovechkin.
Ovechkin has been everything for Washington this season. With the help of new head coach Barry Trotz, Ovechkin has rounded out his game, and is a plus player. The original theory, was that because Trotz would focus on Ovechkin's defensive game, that his offense would suffer, not the case. If anything, Ovechkin is scoring at an even higher rate than last year, and he still ended up with the Rocket Richard Trophy.
There was no doubt that taking Ovechkin with your third-fourth pick was the right thing to do. The problem was that the skepticism had to have been there because of the way he played last year. However, if you took the chance on him, then he's not only leading his Washington Capitals into the post-season, but your fantasy squad as well.
Honorable Mentions: Rick Nash, New York Rangers and Jamie Benn, Dallas Stars
Defensemen: P.K. Subban, Montreal Canadians
We all know what were getting in P.K. Subban. He's one of the most exciting players in the league, is incredible with the puck, and has a wicked shot from the point. This month he is tied with Roman Josi for the defensive lead in scoring, but if anybody's been watching the Canadians phenom, there's something else that's stood out in his game. His ice time.
With Sergei Gonchar already injured, one of the team better defensemen, Alexei Emelin, is out for six weeks with a shoulder injury. So who picks up all those extra minutes? Well naturally Subban, and Andrei Markov. Subban specifically, has played at least 26 minutes in every game of the month, except when he played 23 minutes in the 5-2 win over St. Louis on Tuesday. What stood out more than anything though, was his colossal 35-minute night against Toronto on February 14th.
While the ice time doesn't have much relevance in fantasy hockey, this is more about real-life than online. Most likely Montreal will trade for a depth defensemen at or near the deadline, but even if they do, it's still Subban, and he's a game changer.
Honorable Mentions: Roman Josi, Nashville Predators and Travis Hamonic, New York Islanders
Goaltender: Devan Dubnyk, Minnesota Wild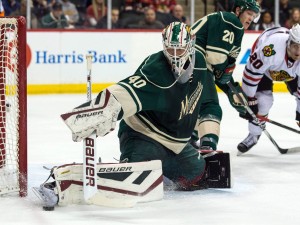 If you don't know about what Devan Dubnyk has done up in Minnesota for the past month and a half, then you have lived under a rock. This month alone, Dubnyk has amassed a 10-1-2 record, a .935 Sv%, a miniscule 1.69 GAA, and has almost single-handedly gotten the Wild back into a playoff spot.
It's been a tough road for the former first-round pick back in 2004. He was drafted by Edmonton. Enough said right, but in all seriousness, Edmonton is the worst place for goaltenders period. He was traded last year to Nashville, and then Montreal, where he played with their AHL affiliate, the Hamilton Bulldogs. He then signed a 1-year deal with Arizona, and boy has it worked out.
Arizona's goaltending coach, and former most notably New Jersey Devils, and Phoenix Coyotes goaltender, Sean Burke, has helped Dubnyk's game tremendously. Dubnyk had almost supplanted Mike Smith for the starting job, but was then traded to Minnesota for a third-round pick. Safe to say the Wild made the right move.
If at all possible, acquire Dubnyk in your fantasy league, and don't trade him away like I did in mine. Bad things happen, like when your 15-2, and now your on a two-game losing streak, and threatening to not make the playoffs, but that's different story. Point of the matter is, get out from under your rock, and watch this guy play.
Honorable Mentions: Carey Price, Montreal Canadians and Cory Schneider, New Jersey Devils
Duds:
Forward: David Clarkson, Columbus Blue Jackets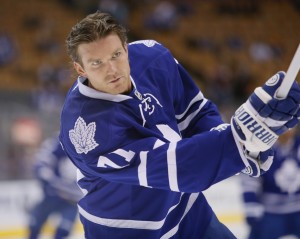 This is where I like to poke fun at players, not just because they aren't producing, but because of a story that may circle around the player at the time. There's nothing better now than David Clarkson. He left the New Jersey Devils to sign a seven-year deal, worth $5.25 million per season with the Toronto Maple Leafs, where he was now traded for a player in Nathan Horton, who will most likely never play another game in the NHL.
#CBJ GM Jarmo Kekalainen on newly acquired David Clarkson: "He plays our way. Gritty, hard. He's a heart-and-soul player, a net-front guy."

— Aaron Portzline (@Aportzline) February 26, 2015
From a financial point of view, which is why the trade was made, it makes perfect sense for both sides. Toronto is trying to tank, and Columbus wants an actual player playing if they are going to shell-out that kind of cash. However, for David Clarkson, this is simply embarrassing.
From a fantasy perspective, Clarkson went from a guy who scored 30 goals with New Jersey, to a player who can't produce to save his life. Heck, Clarkson doesn't even have a goal in the month of February, and he's been a healthy scratch four times! The only hope now is according to the Columbus Dispatch, Clarkson will play on the top-line with Ryan Johansen and Nick Foligno. To top it all off, the first team Clarkson gets to face in his new uniform is, you guessed it, the New Jersey Devils.
Not-so-Honorable Mentions: Curtis Glencross, Calgary Flames and Travis Zajac, New Jersey Devils
Defensemen: Zach Bogosian, Buffalo Sabers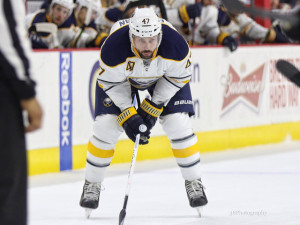 Zach Bogosian is a guy I feel terrible for. Bogosian hasn't ever gotten a sniff at the Stanley Cup Playoffs, and with the Winnipeg Jets in a playoff position, he thought this would finally be the year. Whelp, guess again, because you're headed to play in the Connor McDavid sweepstakes with the Buffalo Sabers!
Fantasy wise, he's barley produced at all. He only has two assists in the month of February, and he hasn't scored since January 16th against the Blackhawks. While he's becoming more of a stay-at-home type of defensemen, lets not forget here that Bogosian was a third-overall pick by Atlanta then back in 2008 entry draft. Lets also not forget that Bogosian was taken right after Steven Stamkos and Drew Doughty, and in front of Alex Pietrangelo. Tough crowd, I know.
Hopefully this guy gets a shot at the playoffs soon, I certainty hope so. However, for now, have fun in Buffalo.
Not-so-Honorable Mentions: Brent Seabrook, Chicago Blackhawks and Zdeno Chara, Boston Bruins
Goaltender: Mike Smith, Arizona Coyotes
Remember the good old days when Mike Smith was out to prove himself, and to do that, he signed a two-year, $2 million dollar deal with Phoenix? Remember when Mike Smith then led the Coyotes to the Western Conference Finals against Los Angeles? Well, I highly doubt anyone in Arizona remembers, because this season, Smith has been so bad, that he might as well pack it in, and try again next year. That also goes for all of his fantasy owners.
In 45 starts this season, Smith is rocking a 10-29-5 record, a .895 Sv%, and a 3.29 GAA. Those are absolutely not the statistics a teams expects out of their #1 goaltender. There are several problems with Smith. However, the main problem is the team in front of him as been terrible. Unfortunately there's simply no getting around it, and I feel bad that long-time captain Shane Doan has to go through this.
It could be that he finally got his money. Smith is making 5.7 million for the next six years, and after trying to get a contact like that for so long, maybe he's taking a bit of a break. If you haven't dropped Smith already, than do it now, or at least before the trade deadline on Monday. Arizona is rumored to be giving away several pieces, most notably Antoine Vermette, Keith Yandle, and Zbynek Michalek. Whatever the problem is with Smith, don't make it your problem anymore.
Not-so-Honorable Mentions: Jonas Hiller, Calgary Flames and Antti Niemi, San Jose Sharks
Did you have any Studs or Duds I didn't Mention?
Corey Spina lives in Wayne, New Jersey. He is a senior at Centenary College, and is majoring in Communications/Journalism. Corey is in his second season covering the New Jersey Devils for The Hockey Writers, he completed a sports journalism internship with TAPinto, and he is the Host/Producer of the Sports Buzz on WNTI.org.