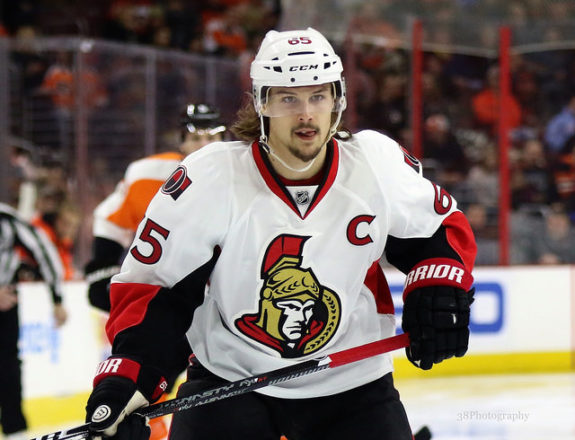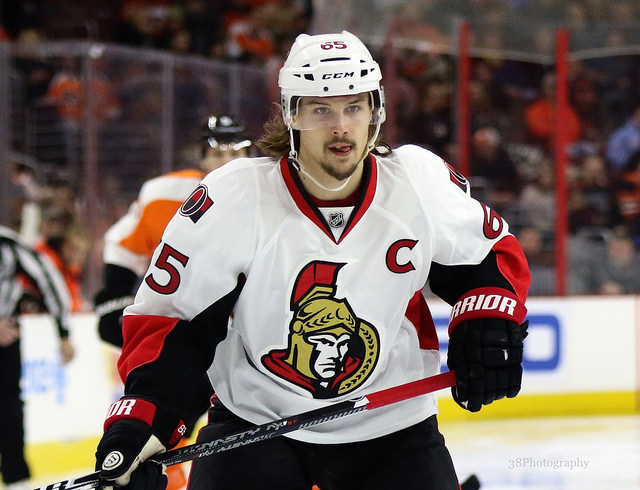 Your best players need to be your best players come crunch time. It's cliché, but more often than not, it's also true. Just look at the blow Jonathan Toews dealt to the Winnipeg Jets in Chicago's last-minute 4-3 win on Sunday.
Fortunately for my main fantasy team, my go-to guys — Sidney Crosby and Erik Karlsson — also came through in the clutch on championship Sunday. They were the difference-makers when I needed them to be. Karlsson, with a special-teams goal — a power-play marker in Ottawa's 4-2 loss to Florida — and Crosby, with an assist that wasn't as meaningful as his tripping minor penalty in the third period of Pittsburgh's 3-2 shootout win over San Jose. Ben Smith, of all people, scored a very important goal on Sunday too, but Karlsson and Crosby deserve the bulk of the credit as my team's co-MVPs. Their combined impact helped me hang on for a narrow 5-4-1 victory, and to salvage $60 from my $100 entry fee for winning third place in our playoffs.
The first-place showdown also lived up to its billing in a rematch of the top-two teams from the regular season. It was a back-and-forth barnburner that saw our league's kingpin prevail to prolong his unprecedented dominance. Through five seasons, he's yet to come away empty-handed, bookending his streak with playoff titles and celebrating three straight regular-season championships in between.
Dynasties don't typically exist in fantasy leagues, especially not in keepers that promote parity, but he's found a way to stay on top year in and year out. He's done so by putting in the time, first and foremost, but also by drafting well, winning the majority of his trades and never missing a beat. He maximizes his games played by scouring the waiver wire, which has resulted in some lucky additions over the years, but like they say: You've got to be good to be lucky and lucky to be good. And he's definitely good, so I tip my hat to you, Matt Gunn. Well played, sir.
Now, we are into next-year mode, with the trade freeze lifting within the week and everybody preparing their scouting lists for our annual rookie draft in late June. There will be plenty of wheeling and dealing between now and then as our current top teams look to shed contracts and salary in exchange for prospects and picks.
Matt's team will be hard-pressed to add another trophy, but I've been doubting him for a couple seasons already and he keeps defying the odds and growing his legacy, so time will tell whether 2015-16 is finally the year he'll be dethroned. There are 19 other GMs chomping at the bit to knock him off and pocket his prize money.
The buyers from this past season, including Matt and myself, were forced to go 'all-in' and mortgage most of their future to make a title run. So those eight teams won't have the assets to acquire expensive talent mid-season and will need to make 'hockey deals' for the most part to remain competitive. They will also need to make the most of their auction buys this fall, which offers them their best chance to reload in what is shaping up to be the most stacked auction since our inaugural draft in 2010.
My team alone is losing Crosby, Tyler Seguin, Taylor Hall, Evander Kane and Oliver Ekman-Larsson to expiring contracts. They will be available to the highest bidder come October, along with the likes of Carey Price, John Tavares, Patrick Kane and Jakub Voracek. Alex Ovechkin is also a strong bet to be released and Evgeni Malkin will almost certainly be bought out of his exorbitant contract.
We are replacing the much-maligned plus-minus category with shots for next season — a long-overdue transition — so the value of Phil Kessel, Jamie Benn, Jeff Skinner, James Neal and James Van Riemsdyk will be on the rise on the open market. There will be high-end playmakers like Nicklas Backstrom and Joe Thornton too, plus a plethora of decent defencemen headlined by the Blackhawks tandem of Duncan Keith and Brent Seabrook. John Carlson, T.J. Brodie and Alex Edler are destined for auction, along with Crosby's wingmen Chris Kunitz and David Perron, and Colorado young guns Matt Duchene and Ryan O'Reilly. Beyond Price, it's looking pretty thin in goal, with Brian Elliott and Craig Anderson among the next-best options.
Overall, there is a lot to look forward to and plenty to celebrate. I also pocketed $20 in my other keeper for getting out of the first round of playoffs as an underdog seed. That league costs $40 to play, so all total, I now only owe $60 — rather than $140 — for another 365 days of entertainment. Win or lose, it's a great bang for your buck and adds a lot of excitement to every season.
In the event that not all 20 of our current GMs return for next season — by committing their $100 entry fee between now and June 1 — we may have room for some replacements. If you're interested in joining one of the best leagues going, please leave a comment below with your email address and a brief fantasy bio of your past experience and accomplishments. Once we know how many, if any, replacements are needed, we will reach out to those we determine to be the best fits.
Larry Fisher is a sports reporter for The Daily Courier in Kelowna, British Columbia, Canada. Follow him on Twitter: @LarryFisher_KDC.
Larry Fisher is a senior writer and head scout for The Hockey Writers, having been an at-large contributor for THW since August 2014. Fisher covers both the NHL and the WHL, specializing in prospects and NHL draft content, including his annual mock drafts that date back to 2012. Fisher has also been a beat writer for the WHL's Kelowna Rockets since 2008, formerly working as a sports reporter/editor for The Daily Courier in Kelowna, British Columbia, Canada from 2008-2019. Follow him on Twitter: @LarryFisher_KDC.