As the clock approached 3:00pm on April 3rd, 2013 the Washington Capitals and the Nashville Predators seemed to have put the entire hockey world on hold, while they attempted to finalize a deal that saw Martin Erat and Michael Latta traded to the Capitals in exchange for Filip Forsberg, the 11th overall pick in the 2012 NHL Entry Draft.  While the Capitals picked up underrated forward Martin Erat that will help accelerate their playoff push, have the Predators hit the jackpot with the acquisition of the young Swedish forward?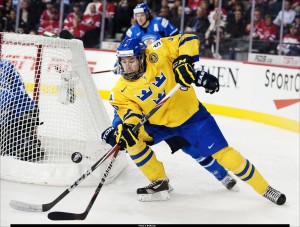 The Predators Next Great Forward, Filip Forsberg
There's no doubt that Martin Erat has been the definition of a Nashville Predator in his time with the team.  In 723 games with the Predators, Erat has scored a total of 481 points, good enough for second all-time for the franchise behind teammate David Legwand.  Since being drafted in the 7th round in 1999 (191st overall), Erat has been a mainstay in Nashville and one of the most offensively gifted and generally underrated forwards on the Predator's roster.
To put it simply, Filip Forsberg is not Martin Erat, he has the potential to be better.  In 38 games with Leksand in HockeyAllsvenskan (the second-highest league in Sweden), the 18 year old managed 33 points (15 goals and 18 assists).
To get a better idea of Forsberg potential, here's what some scouting reports had to say about the prospect:
"A leader who shows by example — I would compare him to Anaheim's Corey Perry a little bit. Has a nose for the net, and often scores the big goals. He's a creative playmaker, good skater with fine straight-ahead speed. He's a right-handed forward with an excellent shot and an effective two-way player with a great winning attitude. Filip's a solid puck carrier with very good puck-handling skills; mature, good size and physically strong. On top of that, he'll sacrifice himself to make the play."
– NHL Director of European Scouting, Goran Stubb

"A highly skilled two-way player. Forsberg is blessed with first class hockey sense and puck skills. He is a creative player, somewhat flashy, and can do the unexpected. In addition to being a great stick handler, he has also a very powerful shot and overall the tools to become a high scoring player. Furthermore, he skates well and takes care of his defensive responsibilities. Has good size, but could use more strength. Could also be more consistent."
– Elite Prospects 2012

"Filip is a blend of high end skill and indomitable will. Skill that allows him to produce offensively and a will that makes it very challenging for opponents to stop him. He's a very strong skater with power in his stride and combined with speed, he's capable of opening up ice for himself and backing up defenders. Possessing very good agility, he uses this to maneuver in the tight areas around the net and make himself dangerous. His shot is hard and accurate and he can score from 35-40 feet. His release is outstanding which doesn't allow goalies to get an accurate read on it. He can shoot off the pass as well as being able to shoot in stride. He recognizes opportunities and he has a hunger to score. He's not one-dimensional though and is capable of making plays and creating offensive chances with his passing. He gets involved in the physical game and while he may not be punishing, he's assertive in establishing his presence and gaining valuable space for himself. With a playmaking center, he could be a prolific scorer in the NHL.
– TSN Scout Craig Button
Forsberg has the potential to become a star on a team that typically lacks stars of the offensive type.  Not to mention, the best part is that he already plays Predators hockey, in the sense that he never gives up on a play and comes to work every game.  Nobody should confuse him with becoming the next Wayne Gretzky or Sidney Crosby, but Forsberg could end up making a name for himself in Nashville in a far greater way than David Legwand, Martin Erat, or Patric Hornqvist.
Forsberg's Path to the Predator's Lineup
Prior to Forsberg's trade to the Predators, the Capitals had planned on assigning the young Swede to their AHL-affiliate, the Hershey Bears, later next week.  For Forsberg, it seems that although the young forward is extremely talented and a hard-worker, that there will need to be a period for him to better transition to the North American game.
In his first year with Leksand in Sweden, he only scored 17 points in 43 games, but as previously mentioned, tallied 33 points in 38 games this year with games remaining on the calendar.  While the Predators could certainly use Forsberg's offensive capabilities immediately, the team would be smart to take their time with him and let him fully develop for some time in the AHL.
The earliest most scouting reports have placed Filip Forsberg in an NHL lineup has been around mid-year next season, but with an offensively-challenged Predators club, Forsberg could find himself competing for a spot out of training camp.  The young winger will most likely find himself with the Milwaukee Admirals for at least the rest of this season and to start next season.  When he finally reaches the NHL, the Predators can most likely expect to find that they've made a tremendous deal for a promising prospect.
If you're still doubting that Forsberg's potential, check out these highlights below: