By Mike Miccoli, Boston Bruins correspondent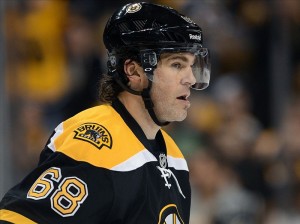 It's been awhile since the Boston Bruins acquired a player of this caliber.
You know, the type of player that people take notice of from the minute they step on for a change. The type of player who gets an ovation whenever he touches the puck. The type of player who has to be the last player to hit the ice, even after the back-up goaltender (yes, this happened).
That's the type of player Jaromir Jagr is and that's kind of what it was like in his first game as a Bruin on Thursday night.
Jagr joins an already tight-knit Bruins roster with 13 games left in the regular season. Although known for his stellar play, the 41 year-old winger carries a stigma around that could have clashed with the Bruins team-first mentality. Strange, since his first quotes after the game were remarking on how he has to get better for his new linemates, Brad Marchand and Tyler Seguin. Clearly, Jagr has done some research on the Bruins Way.
In reality, I didn't know what to expect for Jagr's first game in a Bruins uniform. I've seen notable Bruins make their debut before, but Jagr is different. This isn't just another mid-season, trade deadline acquisition. Jagr's a future hall-of-famer on multiple top ten all-time lists. The Bruins traded for a player that was idolized by his new teammates when they were younger. It's not often that you could say that.
I tried to temper expectations. The Bruins weren't getting Jaromir Jagr from 1994 but rather a 41 year-old, gray-bearded veteran on his third NHL team in less than two seasons. Jagr is a rental for the Bruins; a hired gun whose sole purpose is to push the team to the next level.
But by the end of the night, Jagr would be the Bruins leading goal scorer, purely by accident.
Jagr's team-leading 15th goal of the season came less than two minutes into the second period when Marchand's shot redirected off of the winger's foot and past Martin Brodeur. It was the only goal the Bruins needed to pick up the 1-0 win. There was no salute, no grandiose celebration, but a shy smile as he embraced Marchand. After the game, a tired Jagr joked that if he knew good things happened when he drove to the net, he would have 100 goals by now.
He has 680.
Although the chemistry between Jagr, Seguin and Marchand was still fresh, it was obvious that Jagr knew where to be at all times. While he wasn't the fastest on the team, he was continuously moving his feet, attempting to find open spots on the ice. Jagr's big frame made it difficult for opponents to try and push him off the puck. What he lacked in speed, he made up for in what looked a lot like grit. His hockey IQ is quite high, too. Take a look at any open-lane passes Jagr made and try to find other players who can replicate that. They can't.
The fact that Jaromir Jagr, one of the greatest players to play the game, is a Bruin should be exciting for fans. Of course there's going to be fanfare, evident by the hoards of reporters waiting for Jagr to speak after his first game as a Bruin. The expectations will be there that Jagr is the solution to all of the Bruins' problems. Playing for the full two minutes of the Bruins' only power play of the game probably doesn't help those assumptions.
Bruins coach Claude Julien said it well on Tuesday night when he noted that Jagr isn't going to be a savior, but rather a player who could help the team down the stretch. I couldn't agree more.
For now, Jagr becomes another piece to the puzzle. The Bruins needed to go out during the trade deadline and try to add a piece that could really be a difference maker. On Thursday, even if it was unintentional, Jagr's goal was the difference.
Jagr mentioned that he wasn't aware that Boston loved its hockey team as much as they did, saying it was a different level than Dallas. For a team that needed a jolt of energy, Jagr could be the one to provide it. With 12 games remaining, some gas left in Jagr's tank and a head filled with motivation, Boston could be in for something big.
Follow Mike on Twitter for more Bruins updates, news and commentary