The EA Sports NHL franchise is finally taking their video games to the next level. As NHL 17 nears the halfway point of its game life, one thing is very clear: They are working to make the best game possible. Although the NHL developers may not do things effectively all the time, this year's additions have been a breath of fresh air.
While the current edition is better than NHL 16, there are many features that need to be added to the next edition. If these following additions show up in NHL 18, it will be one of the best NHL video games to date.
NHL 18 Improvement: Revamped HUT Draft Champions Mode
Draft Champions was the biggest addition to NHL 17. In this mode, you can draft a team of the best players in the world and play online to earn draft collectibles. These collectibles can be used to unlock high-overall players to be used in regular Hockey Ultimate Team seasons. Even though the mode was well received, Draft Champions wasn't updated in the first four months of the game's cycle. That's not only a major waste of time but a huge letdown for NHL fans everywhere.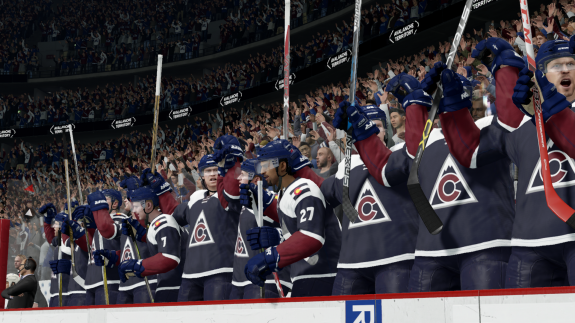 In NHL 18, fans will be looking for constant updates. In both FIFA and Madden, their Draft Champions modes are constantly updated as new HUT cards come out. This helps players figure out who they like to use to build their own Hockey Ultimate Team. As long as Draft Champions is updated on a weekly basis it will be a home run.
On top of the updates, Draft Champions needs a more competitive side. The EA NHL developers will need to add a pay-to-play side to help advance the mode. Madden's recent "Madden Bowl" was a $250,000 Draft Champions tournament that garnered significant attention. If NHL can add on a ranked section of Draft Champions that requires coins to enter, that could be their first big step into making it onto the eSports scene.
Remove Desyncing, Looping, Booting
If you're not particularly familiar with the NHL series, desyncing and looping are the biggest problems within the game right now. Desyncing and looping are both major glitches within the gameplay that come after stopping play and overwhelming the game's inputs. If someone desyncs your game, it could be hours until you can get back online to play NHL 17. It's extremely frustrating to play an entire game only to get thrown off of the EA servers due to a glitch in the mechanics.
Booting is an even bigger problem across video games. With peer-to-peer connections, the IP addresses are easily retrieved by anyone with certain software. In NHL 17, your opponent can boot you offline and leave you with a loss and Internet problems. While this issue isn't overly prevalent in NHL, it's easily avoidable. If the EA NHL 18 developers could access dedicated servers for games, there would be no fear of being booted offline anymore.
Improved Puck Pickups, Player Switching
One of the single most frustrating things on the gameplay side of NHL 17 are the puck pickups. As improved as this year's gameplay is, being able to pick up the puck effectively and smoothly is still hit or miss. The issue comes up annually and still hasn't improved over the last two or three editions. Gameplay this year has been hampered by the inability to play loose pucks. This is one of the biggest fixes needed in time for NHL 18's release.
The video above is just one of many instances of bad or even nonexistent puck pickups. It hampers gameplay and makes the gaming experience frustrating and  annoying. People play video games to have fun and to win. If you constantly get stuck due to poor programming, it can get frustrating quickly.
Fewer HUT Packs, More Offline Attractiveness
NHL 17 HUT is fairly mundane. While the additions to HUT throughout the year have been good, the only constant has been the special HUT packs. Instead of focusing on constantly selling packs, the NHL developer team needs to worry about giving the game depth. No NHL game in the last half-decade has had depth and playability. If NHL 18 includes offline features such as Solo Challenges (from Madden), it will have a much lengthier shelf life.
With Solo Challenges being the best offline feature in any major sports game, how could it be added? Older NHL players will remember Moments Live. If the developer team added back Moments Live with rewards including packs and coins, they'd be doing themselves a favor. Nobody likes to play a game that revolves around spending money. If they make a more grind-friendly game, NHL 18 could be the highest-selling NHL game in years.
Finally, Fixing Random Error Codes
In NHL 17, there is a slight chance that you can be thrown off the servers at any time without doing anything wrong. After being stuck on a "Waiting For User" screen, you'll be teleported back to the menus and given an error code. These error codes have yet to be noticed or explained, leaving it a likely possibility that they will reoccur with the next rendition of the game.
Imagine going to the grocery store and shopping for a week's worth of food. As you're getting ready to check out and move on with your day, your cart vanishes into thin air. It may be a stretch but, feels like an equal waste of time to get an error code during a game. For the people that don't play the game very often, this is just another reason not to buy it. If casual fans stop purchasing the game, the NHL franchise will see fewer sales than this year.