The #IsItOctoberYet hashtags are starting to get annoying, which means we're at the end of August and finally getting into some real hockey news. Prospect tournaments, training camp, and preseason games are on the horizon.
While that horizon approaches too slowly through the heat haze on the highway, we take a look at five Minnesota Wild storylines that are worth keeping an eye before the season opens next month.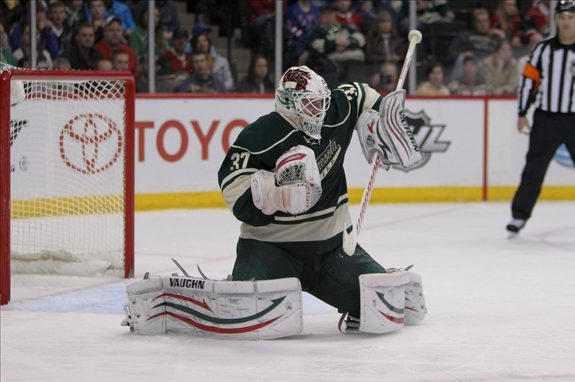 1. Who will be between the pipes?
There are a lot of opinions and very little information to help unravel this knotted ball of twine.
In a recent interview at the Minesota State Fair with Star Tribune beat writer Michael Russo, coach Mike Yeo said that Niklas Backstrom, Josh Harding, and Darcy Kuemper will all get equal playing time in the first three preseason games and after those they're going to lean toward getting more ice time for the goaltender they believe will be the starter to open the season.
Who that will be is anyone's guess. General manager Chuck Fletcher has said that he's already talked to Harding and Backstrom and they're both healthy and ready to go, which hurts Kuemper's odds.
Fletcher has said he's open to carrying three goaltenders and they've got three who could plausibly start. They've also got health issues with Harding, two straight injured years from Backstrom who is getting up there in years, and Kuemper's contact (we'll get to that) to consider. There's also the issue of the future, which looks like it's Kuemper, especially with Harding being in a contract year and Backstrom's contract coming up next season.
Oh, and Ilya Bryzgalov says he wants to play for the Wild too. That seems like a crazy proposition, but don't forget that the Wild had four goaltenders last season who played in at least 12 regular season games. They also had John Curry play in two games and suited up two other goaltenders who didn't see any ice time.
2. Which rookie defenseman will earn a spot in the lineup?
The Wild's strength in the current prospect pool is young talent on D and it's nearly a certainty that the Wild will start opening night with at least one rookie defenseman in the lineup. For D depth to not be a weakness at the NHL level, they'll need at least one of these guys to step up and perform above their age the way Jonas Brodin did two seasons back.
Among the players contending, the favorites are former first round draft pick Mathew Dumba and much sought-after undrafted free agent signee Christian Folin. 2013 2nd round draft pick Gustav Olofsson is also a contender for the position though, if he can impress at the Traverse City Prospects Tournament and in camp.
The dark horse candidate is Guillaume Gélinas, an undrafted free agent signing this summer. Gélinas was a standout as an offensive defenseman last season in the QMJHL and was awarded the Emile Bouchard Trophy as defenseman of the year, scoring 23 goals and 69 assists for 92 points in 67 games. Working against him is his small stature on a blueline that needs to get bigger. Gélinas looked great at the Wild's development camp in July, scoring a few times in the scrimmages. Though, it should be noted that Dumba, Folin, and Olofsson all stood out during development camp.
3. Restricted free agent contracts in limbo
Of the Wild's restricted free agents this off-season, only Nino Niederreiter and Darcy Kuemper remain without contracts. Both are expected to sign, they are restricted after all, but both are completely different stories.
Niederreiter should sign, but stories about the cause of delay surround term. Fletcher has said he's open to signing Niederreiter long-term, which I think is a great idea as he showed flashes of being a top six talent last season. It's possible that Niederreiter's agent also feels that Nino will be a big talent and is looking for a bridge deal so they can cash in when he does become that top talent. Expect him to sign before camp opens, but the term on this deal will make a big difference on what happens next season when contracts for Charlie Coyle, Mikael Granlund, Erik Haula, Marco Scandella, Christian Folin, Jonas Brodin, Jonathon Blum, Michael Keränen, Brett Bulmer, and Johan Gustafson all come up.
Kuemper is a different story, partly because his agent has a reputation for being a tough negotiator and partly because you can imagine that his agent and Fletcher are looking at some very different stories. Fletcher has said that Kuemper was great, but he's only really played a handful of games in his career. Sample size is a problem if Kuemper is looking for a big deal. Kuemper's agent surely sees a team in desperate need of a goalie of the future and a player who took huge strides forward last season.
On the other hand, Kuemper already has a new Wild-themed helmet for this season, so the writing is on the wall. (Mostly because he's a RFA and his rights are really limited, not because of the helmet.)
4. Do any un-drafted free agents crack the lineup?
This one might be for the more line-up and future obsessed, but the Wild have signed a lot of un-drafted free agents in 2014. In that group there are intriguing players who have some high upside if they work out and could help restock the prospect cupboard much faster than you might have anticipated.
We've touched on two of these players already in Folin and Gélinas. Folin is probably the most likely of these players to see significant time in St. Paul this season. He was signed after the trade deadline last year, which made him ineligible to play in the playoffs. Nonetheless, the Wild gave him a regular season game with the club and hope that he'll continue to develop and earn a roster spot this season.
Other players that fit the bill here include Brady Brassart and Zack Mitchell. Both could easily make their NHL debut this season. The most intriguing player on forward though, to me, is Michael Keränen. Signed to a one-year deal, he'll be making his North American debut this season. Last season he played in Finland, scoring 17 goals and 35 assists in 52 games for Tampere. He was awarded the Golden Helmet (voted for by the players) as the best player in the Finnish League, the Lasse Oksanen Award as the best player during the regular season, and was an All-Star. He's got a lot of potential, but has to cash in on it now, since he's already 24.
5. What happens with the power play?
Before the season starts? Really? Yes.
The Wild proved that they have the potential to contend last season. This summer they've made a big effort to address one of the biggest issues they had last season: scoring. They finished 24th in the league with an average of 2.43 goals per game. On the power play they finished 17th in the league at 17.9%. They didn't score enough.
The addition of Thomas Vanek should be immediate help there. They are also counting on the continued development of young players like Charlie Coyle, Justin Fontainue, Erik Haula, Nino Niederreiter, and Mikael Granlund. But where the Wild can make great strides forward is the power play. It was bad last year and they have too much talent for it to be that bad. Not only was it bad, their second PP unit was not a threat in most games.
Yes, Zach Parise's 14 power play goals were fourth in the NHL, but it's him and Jason Pominville's seven power play goals, then there's a steep drop off. Dany Heatley (who is gone now) had four, then Ryan Suter and Jonas Brodin both had three.
The addition of Vanek should make their power play units deeper. As will the late season emergence of Granlund as a serious offensive threat. Granlund gives them more versatility and a proven puck mover for the second unit, should Mikko Koivu stay on the top unit.
In addition, last season they brought in former Wild forward Andrew Brunette to work with the team on the power play. This summer, they made him an assistant coach and you have to assume that he's going to be focusing on the power play.
Another way they're addressing the issues is on defense. The top unit featured Jason Pominville and Ryan Suter on the point. Pominville will likely stay and Suter's obviously a smart player and great defenseman, but he's not a scoring defenseman. Dumba, Folin, and Gélinas are all offensive-minded defenseman — something the Wild have needed and tried to find for years (remember failed experiments with Cam Barker and Tom Gilbert?) — who could make a vie for a spot on the power play. They may not be on the top unit, but a unit, if they make the team.
Jared Spurgeon is also emerging as an offense possibility and Jonas Brodin has shown flashes of that kind of play, especially at the outset of last season, before his scoring slowed considerably.
There are a lot of possibilities and the team needs to do something to shake things up. Aside from Vanek, they're lineup and talent poses the possibility that they do nothing and hope that their talent overcomes whatever was stopping success last season. But that's not a great option, so it will be interesting to see how this starts to shape up during camp and if a forward or defenseman emerges as someone who can turn the second unit into a threat.
There are five stories to follow as players start to strap on the skates again. What stories are you following?
Dustin Nelson writes about news and the Minnesota Wild for The Hockey Writers.