Not every player is capable of being a star the moment they step onto NHL ice like Sidney Crosby or Alex Ovechkin. It takes most players two or three seasons to get used to the rigors of the NHL before they have a substantial impact for their team. The Sedins struggled to put up points their first four seasons in the league before starting to light it up after the lockout and Joe Thornton only had 19 goals and 48 points in his first 136 games before beginning to blossom into a Hart Trophy winner in his third season.
Last season Keith Yandle unofficially got the title of Breakout Player Of The Year while Andrew Ladd and the Toronto trio of Clarke MacArthur, Mikhail Grabovski and Nikolai Kulemin all gave people reason to take notice. Here are the players likely to make the jump from potential star to elite talent this season.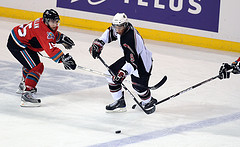 Evander Kane
While not overly big at 6-foot-2, 190 pounds, Kane plays a physical game that gives him plenty of room to produce on the scoresheet. He showed what he can do during his last season with the Vancouver Giants in the WHL with 48 goals and 96 points to go along with 89 PIM in 61 games. The move to Winnipeg should give him energy and he certainly has the speed to annually produce 25-30 goals while playing a gritty game.
James van Riemsdyk
Like linemate Claude Giroux did last year, leading the Flyers in assists and points in both the regular season and playoffs, van Riemsdyk is set to become a star in Philly. The 2007 second overall pick spent two years at the University of New Hampshire before turning pro. After getting used to the speed of the NHL and gaining excellent chemistry with Giroux, van Riemsdyk had a solid 21-goal season before exploding for seven goals in 11 playoff games and was the Flyers' best player. It was that scoring explosion that allowed GM Paul Holmgren to trade both Jeff Carter and Mike Richards this summer. He will surely get increased playing time (he played 14:31 last season, 1:19 on the power play) and responsibilities, likely leading to the first 30-goal season for the budding power forward.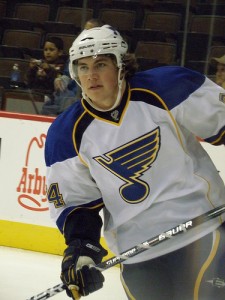 T.J. Oshie
Injuries have kept Oshie from reaching his potential in his three-year career so far. Various injuries, mostly to his ankle, have caused him to miss 64 games, limiting what he is capable of. He has power for a player only 5-foot-11 and excellent vision. The Blues have a solid core of forwards, though David Perron is still out with a concussion, which will give him plenty of targets to hit with his slick passing. Chris Stewart scored 15 goals for the Blues in only 28 games after being acquired in a trade with the Avalanche and his goal-scoring prowess will go a long way towards helping Oshie explode.
Erik Johnson
Johnson went the other way in the Stewart trade after he was unable to find his niche in St. Louis. Defense is considered the hardest position in hockey to master, but a superb skater like Johnson will get it going eventually. There is no better time than the present as he is the best defenseman on a rebuilding Avalanche squad. They have Paul Stastny and Matt Duchene to lead the way up front and Johnson to work the blueline. This is his fifth year as a pro and he is playing for a new contract, so there will be no better time to reach his potential. As he grows, so will the Avalanche.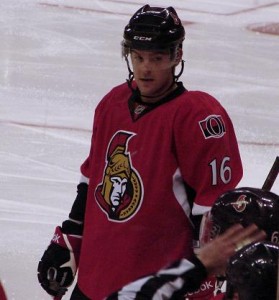 Bobby Butler
The native of Marlborough, Mass. played well after being called up from Birmingham of the AHL, scoring 10 goals in only 36 games, a 23-goal pace. The Senators don't have much in the way of offense so Butler will continue to be called upon to give the team a much needed spark. Just two seasons ago Butler had 29 goals in 39 games for the University of New Hampshire so its obvious he knows how to find the back of the net. It won't be long before his is a top goal scorer in the league.