by Jas Faulkner, senior correspondent, Nashville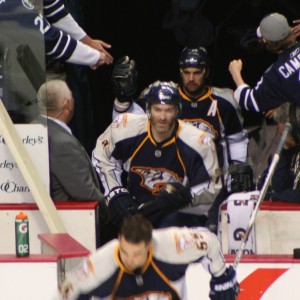 Seasoned fans are only too aware that this is the time of the year when owners and GMs will assure everyone that old favorites are being sent out to live on a farm where they can be happy and run free.  With the totality of every heart that beats in a sweater (be it NHL issued or an eBay knockoff) we want to believe that there is a hockey Nirvana where everyone gets to be Gordie Howe forever.  The truth is that time, injuries and salary caps take their toll and names are removed from above the wooden benches in locker rooms all over the continent.
Nashville is no different. Every summer becomes a waiting game to see how much the roster will change before the start of the season in October. Last season brought minimal changes and some welcome surprises with the addition of Shane O'Brien and Sergei Kostitsyn to the Predators roster.  When Shea Weber returns for training camp,  it will be to a team that has undergone some radical changes since they walked the ramp to the event level concourse following their hard-fought series against Vancouver in May.
Who won't be wearing the new gold sweaters this Fall?  Let's take a few moments to doff our hats and pay tribute to those who made the 2010-11 season what it was and have now moved on.
Shane… Shane… SHANE!
Having been remiss in noting Shane O'Brien's exit from the Big Cats' roster earlier this summer, it's time to make up for that oversight.  O'Brien's entry to Nashville was looked upon by some with the same misgivings that met the front office's decision to sign Sergei Kostitsyn.  Like Kosty, O'Brien was considered a problem child.  There was concern that David Poile had overestimated the rehabilitative skills of his coaching staff and had taken on a player who might be too much even for them.
However, O'Brien was to prove them wrong.  After a slightly rocky start, he learned to rein in the energy that often landed him in the penalty box and became an asset to the lineup both on and off the ice.  Over the course of the season, he refined his talents, moving from a known quantity as a feral force from the Great White North to a mindful, aggressive and yet at times circumspect member of the team who had a strong developing sense of when to twist the knob off at eleven and when to wait and watch.
What do Avalanche fans have to look forward to?  O'Brien is fan-friendly, good with the press and not afraid to speak his mind.  He doesn't mind chirping from the bench and for better or worse, he's usually entertaining.  Who's going to miss him most at game time?  He was always at Pekka Rinne's side at pregame skate, chattering and stretching, so the Great Wall of Finland might find things a bit quiet this season.
Mr. Ward Goes To Washington
Joel Ward took the side door into the NHL.  Starting out as an undrafted development hopeful with the Wild, his career seemed to stall until he was picked up by Nashville in 2008.  Ward worked hard to prove his worth to the team and  became one of the breakout stars during the Predators' two-round playoff run.  Ward's metamorphosis from supporting player to a beast unleashed on the ice should come as a surprise to no one who has watched his progression over the seasons.
The Capitals will soon discover that "The Delivery Man's"  knack for finding the sweet spot behind the opposition's goalie isn't all Ward brings to the Kremlin on the Potomac.  During his time in Nashville, he made a positive impact on behalf of the organisation both on and off the ice. He was a familiar face at nearly every event that entailed working with children and was an active member in the Metro-Davidson County chapter of Big Brothers/Big Sisters. Caps fans with a bent for social justice and doing unto others will find JW to be a perfect fit for the culture in Washington.
You Don't Know What You Goc 'Til He's Gone
When David Poile stated during a press conference this summer that  his number one priority would be keeping Shea Weber, it seemed that many players on the cusp of seeing  Nashville getting smaller in their rear view mirrors took his words to heart.  Marcel Goc was one of those players who departed the Barn on Broad for other places to play.  When the former San Jose Shark made it known that he was willing to skate in the direction of the right money,  the Florida Panthers came calling with an offer of 5.1 million for the German center.
An early phenom in the international arena, Goc has gone on to build a professional career marked by his ability to balance creative, cerebral play with the need to be utilitarian in the name of being an effective team member.  A fan favourite on the ice, Goc also appealed to those who wanted to know more about the life of a player beyond the dashers. The Panthers Front Office would  be smart to set this man up with a blog. His thoughtful,well-written accounts of his travels are good reading.
 Nashville Hockey De-Cody-ed
As a junior, Franson won multiple awards collectively as part of the Vancouver Giants  and for his individual performance.  As a member of the Milwaukee Admirals,  he made the dev to pro to dev and back again commute between Wisconsin and Tennessee enough to be considered a fixture in both markets.   The talent is there.  So is the drive.  The problem is that he has too often been relegated to being "the other D-man from Sicamous."
Cody's departure for Toronto might not have been precipitated by a need to jettison this dependable player on his own merits. It could have been a necessary measure that was taken to make a trade with the Leafs for Brett Lebda and an in-development Robert Slaney more attractive. After all, Franson isn't coming alone.  He will be accompanied by a still out of commission Matthew Lombardi. There were times when it seemed like Nashville wasn't quite sure what to do with Franson. The move to Toronto could mean Franson finding a more fitting role, so to speak.  Let's hope the Canadian Puck Mojo that worked so beautifully for Ryan Jones when he trekked north of the 49th Parallel has the same effect for Cody.
Dumont Ask, Dumont Tell..
Once considered an integral piece of the heart and soul of the Predators, J-P Dumont was relegated to six or seven minutes per game, some of which included serving bench penalties.  This might have been appropriate for a player who had exhibited physical liabilities on the ice and was possibly aging out of the game, but neither was truly the case for J-P.  Even during what was a decidedly off year,  J-P always managed to add some assists or goals to his stats.   Sadly, the engineers behind the Smilodon were in the process of building a perfect beast that did not include Dumont.  As of this writing, he remains unsigned.
It is arguable that there are some players who have simply peaked or have incurred so many injuries that they would be better off retiring.  However, Dumont is young and still has some good years left. What would a franchise stand to gain from hiring him?  He's a devoted husband and father whose quiet, gentlemanly demeanor has always been a great reflection on his team. He's an unselfish player who was often the support behind people like Joel Ward when they were working to build up their stats and confidence on the ice. Kids Come First, the foundation he started with Steve Sullivan (more on that in a minute) was the jewel in the crown for charitable efforts from the Predators roster.   Somebody needs to get smart and sign him.
Ladies and Gentlemen, Sully Has Left The Building
Nashville's loss is Pittsburgh's gain as Masterton Trophy winner Steve Sullivan will be wearing a Penguins sweater this Fall.  Sully's style is dynamic and aggressive during play and he's the sensei when it comes to negotiating with officials before and after those calls to the NHL Home Office are made.  Off the ice, he devotes much of his time and energy to his family and his personal mission: encouraging children to stay active and healthy through hockey.   The foundation he created with J-P Dumont, Kids Come First, provided a club-level suite for children who were in treatment at Monroe Carroll Pediatric Hospital at Vanderbilt so they could take in all the excitement of the game without the risk of sitting among the crowd at Bridgestone. For the families of these children, it was a chance to have some fun  away from the worries they often associated with trips to Nashville.  KCF also provided nights out for children who were involved in local hockey groups so they would have a chance to see a pro team in action.
In signing Sully, Pittsburgh has gained someone who handles himself with maturity on the ice and in the locker room.  They have someone who is media savvy and someone whose life  stands as an example to younger players. Reporters are going to enjoy Sully's no-nonsense style and willingness to allow them to see the hockey mind at work. Coaching for Steve Sullivan might still be a few years down the road, but the flashes of who he's going to be on the other side of the dasherboards are already showing.
And the rest…
Wade Belak had already traded his stick for a microphone by the time the season had wound down.  Already a seasoned veteran when it came to navigating interstitials and features, Belak has been a great fit along with Predators Radio Czar, Tom Callahan. The high point of his career as an announcer so far has to be his commentary during the playoffs.  Situated at the glass with Callahan,  the two of them managed to put Predators fans who had been blocked from seeing the game right there with them.
And finally, there's  Wisconsin to Nashville frequent flyer Andreas Thuresson, who  was sent to the Rangers earlier this summer.  Like Franson, Thuresson is a personable, talented player who has simply never found a foothold in the Predators' system.  Here's hoping a new sweater and a change of scene will give him the boost he needs in the NHL.
To all of these gentlemen, I raise my Mason Jar of stevia-sweetened iced tea in your honour and wish you happy journeys and continual blasts from the goal sirens where ever you play!  Slainte and skål to all of you!
Coming up next: It's all over but the shouting as we take a hard look at what Shea Weber's deal could mean for the Predators.
Until then, this is Jas Faulkner wishing everyone some mercifully cooler weather.  Personal to Nanette in Hamilton:  81 degrees in August is not a heat wave, that's a cold front! (Of course you get to laugh at me when I'm complaining about people buying up the milk and toilet paper as Nashville is shut down by that deadly .75 cm of snow.)
Jas Faulkner is a minimally socialised writer and artist who lives and works in Nashville, Tennessee. She hearts her attitude problem.