If you are a Columbus Blue Jackets fan that has been living under a rock since the middle of June I hope this article will give you a complete overview of all of the moves the organization has made since then. Also, if you have been living under a rock prepare to be shocked. If you have been keeping up on the team hopefully this article will serve as a nice reminder. On June 23rdGeneral Manager Scott Howson made the biggest move of his career landing center Jeff Carter from the Philadelphia Flyers in exchange for right wing Jakub Voracek and the Blue Jackets first and third round picks in the 2011 entry draft. Although talks had been rumored to be going on for a few weeks before the trade happened it was a shock to most fans and experts. Jeff Carter had signed an eleven year $58 million extension with the Flyers in November, a contract that typically keeps a player on the team for the remainder of his career. The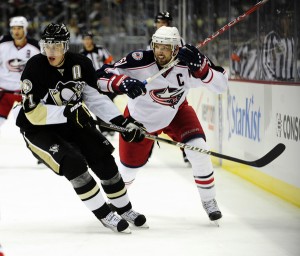 move truly seemed to blindside Carter who justifiably took a weekend to clear his head before speaking publicly. Howson believes that he has found the number one center to play with All-Star left wing Rick Nash that the Blue Jackets have never had, and he paid dearly for him. Voracek, who Howson drafted seventh overall in 2007 has shown flashes of the player he was projected to be, but has never seemed to put it all together. He was criticized both in the media and on fan message boards for his lackadaisical attitude with the puck, his poor shooting percentage (7.7%), and poor conditioning. Blue Jackets Head Coach Scott Arniel even went so far as to scratch him in a game in December. That being said he has put up decent numbers, and he could finally break out in Philadelphia. It remains to be seen whether the combination of Nash and Carter will be a good match as both players are shooters who enjoy having the puck on their sticks. Whether they mesh immediately or not, Carter is an excellent two-way player and is easily the most talented center the Blue Jackets have ever had and will help improve the team overall.
The excitement over the NHL Entry Draft was pretty low among Blue Jackets fans and media heading into the event as they had traded their 1st and 3rd round picks to the Flyers in the Jeff Carter trade. In fact this was the first year in the history of the franchise that they did not have a pick in the first round. With his first pick Howson selected Oshawa Generals center Boone Jenner, a player many experts ranked as a first round talent. Not wanting to wait until the fourth round to select again Howson made a stunning move and traded enigmatic prospect Nikita Filatov to the Ottawa Senators for a third round pick. Since being drafted sixth overall in the 2008 draft Filatov has played in the AHL, scored a hat trick in the NHL, and been loaned to the KHL. That doesn't begin to scratch the surface of the saga that was Nikita Filatov in Columbus. I wish Filatov the best of luck in Ottawa, but his great skill was offset by his lack of desire to play defense and his slight frame. With the pick he received from Ottawa Howson selected right wing T.J. Tynan. Standing a mere 5'9" 170lbs. Tynan wasn't drafted in 2010, then promptly scored 54 points as a freshman at Notre Dame. The other players the Blue Jackets added were defenseman Mike Reilly, forwards Seth Ambroz and Lukas Sedlak, and goaltender Anton Forsberg.
On June 29th Howson made his next bold move, acquiring the rights to pending unrestricted free agent Montreal Canadiens defenseman James Wisniewski. In exchange the Canadiens received a conditional seventh round draft pick. Somewhat of a journeyman,Wisniewski had spent time with the Blackhawks, Ducks, Islanders, and Canadiens before the Blue Jackets acquired his rights. At 5'11" 205lbs the slick-skating Wisniewski isn't the largest defenseman, but he packs a cannon of a slapshot and has plenty of grit to go with it. Between the Islanders and Canadiens last season Wisniewski put up 51 points in 75 games, the sort of production the Blue Jackets have never had on their blueline (franchise record for points in a season by a defenseman – 45 by Jaroslav Spacek in 2002-03). Two days later, just before the free agency period was set to open the Blue Jackets announced that they had signed Wisniewski to a six year $33 million contract. While many experts criticized the Blue Jackets for overpaying, the bottom line is that he is an experienced defenseman coming off a 51 point season, good for the fifth highest total by a defenseman in the NHL, and every player above him makes similar money. Wisniewski will have plenty to prove over the course of his contract, and he seems eager to do so, saying "I'm the kind of guy, I want to earn the contract. I feel even more pressure this year than I did going into my free agent year – and that's one of the biggest years of your life. For those critics who say I'm a No. 4 at best, I'm going to prove them wrong."
The moves made by Howson energized the fan-base of the Blue Jackets, something that was clear during the team's development camp. The camp started June 28th and concluded July 2nd with a scrimmage that ended up with a standing-room-only crowd. The camp is held every year for prospects that have not yet made the jump to professional hockey and included many standout performances. Former Boston College star and Hobey Baker Award finalist right wing Cam Atkinson showed off plenty of speed and skill including notching a hat trick in the scrimmage. One of the most highly touted prospects in all of hockey, Portland Winterhawks center Ryan Johansen looked very good himself, winning almost every faceoff he took and scoring two goals. Even though he was just drafted, center Boone Jenner quickly became a fan favorite, drawing hearty cheers of Boooooooooone every time he made a nice play, which was seemingly often. Allen York, formerly of RPI was easily the best goaltender in camp, giving hope that his excellent college career would translate to the pro game.
After development camp Howson turned his attention to the Blue Jackets AHL minor league affiliate Springfield Falcons. Seemingly going out of his way to ensure Springfield would be a contender for the Calder Cup next year Howson signed a bevy of AHL veterans to fill out their lineup. Included in the signings were Curtis Sanford an AHL All Star goaltender, Alexandre Giroux a former AHL MVP, Martin St. Pierre an AHL All Star, and Cody Bass a gritty leader and AHL Man of the Year. The Blue Jackets also announced a new East Coast Hockey League (ECHL) affiliation with the Chicago Express. With a bit of a logjam at defense in Springfield, it appears Howson is looking to Chicago as a place to get some lesser prospects some playing time as opposed to sitting in the press box in Springfield. Criticized for not having an assistant coach dedicated to the group of young defensemen in Springfield, the Falcons hired former NHL defenseman Nolan Pratt to do just that. The moves to strengthen the farm team comes as a pleasant surprise to Blue Jackets and Falcons fans. Many see it as an indication by Howson that the organization wants to instill a winning attitude not only at the NHL level, but at all levels.
Rounding out the rest of the Blue Jackets roster was addressed with Howson's next series of moves. It started with the signing of goaltender Mark Dekanich to a one-year one-way contract to backup Steve Mason. A former draft pick of the Nashville Predators who was a standout in the AHL, Dekanich will get the opportunity to show he belongs in the NHL. Given Steve Mason's struggles over the last two seasons it remains a possibility that Dekanich could even supplant Mason as the starter should he falter. Howson next re-signed defenseman Marc Methot to a four-year $12 million contract. Although sometimes shaky and not very gifted offensively, Methot has proven to be a steady shutdown defenseman for the Blue Jackets, and he is only 26, so he should be entering the prime of his career. To round out the defense corp Howson signed former Islander Radek Martinek to a one-year contract. Although he has never played a complete season in the NHL, Martinek is an experienced, gritty defenseman with an excellent first pass out of the defensive zone. If he stays healthy he will provide excellent leadership and a stout defensive presence, if he doesn't it should give the opportunity to showcase one of the Blue Jackets defensive prospects like John Moore or David Savard. It seemed that Howson was happy with his moves and was done until left wing Kristian Huselius tore a pectoral muscle working out in Sweden. With Huselius expected to miss four to six months, the Blue Jackets found themselves needing another top six forward. Just over a week later the Blue Jackets made their last significant move of the off-season signing former New York Rangers forward Vinny Prospal to a one-year contract. Though somewhat inconsistent, the play-making Prospal seems to be a good fit to join Nash and Carter on the Blue Jackets first line.
Going into the off-season last year, Scott Howson seemed to think that a coaching change was all the team needed to compete for a playoff spot again. Unfortunately he was proven wrong, and he was determined to not let that happen again. The major holes on this team have been filled, a number one center, a power play quarterback, and scoring depth. At the very least Scott Howson has shown that he understands that the team was missing important pieces, and he finally showed a sense of urgency in acquiring those pieces. If goaltender Steve Mason has an average NHL season this team should be in contention for a playoff spot, and could possibly find itself in the later rounds. However, if Steve Mason plays like he has the last two seasons, and Mark Dekanich can't supplant him as the starter, it could be another long season for the boys in Union Blue.
Alex is a credentialed reporter covering the Columbus Blue Jackets. He is currently attending Western Governors University. He lives in Columbus with his wife and five children.