The Rangers are off to their worst start since Wayne Gretzky was in their lineup.  That's right, kids, you have to go all the way back to 1998-99 to find a Ranger club start the season in worse shape.  That team went 0-4-1 en route to missing the playoffs.
This team can do much better. And they will.  Here's five reasons why the Garden faithful shouldn't panic just yet: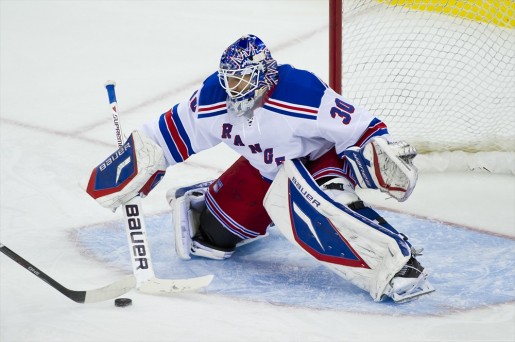 1. Henrik Lundqvist is at his Worst in October
The Rangers have allowed a league-worst 25 goals in their five games thanks to some horrendous goaltending by King Henrik and the recently-waived Martin Biron.
NYR expected to promote goalie Cam Talbot to take Marty Biron's place. Biron, of course, is on waivers. Talbot has been playing well in AHL.

— Bob McKenzie (@TSNBobMcKenzie) October 14, 2013
Lundqvist's 4.21 goals-against average is trumped only by those of Florida's Tim Thomas (5.02 GAA) and Edmonton's Devan Dubnyk (5.43 GAA) among goaltenders with at least three starts.
His save percentage is nearly as bad, though other top-flight goaltenders like Martin Brodeur (.878), Braden Holtby of the Capitals (.873), and the Wild's Niklas Backstrom (.849) are even worse. Those are ugly numbers for sure, but Henrik seems to get better as the season rolls on. Last season, Lundquist allowed three or more goals in three consecutive games just once – in early October.  Expect him to improve as the year goes on, just like he's done for the past four seasons.
[table id=236 /]
* Olympic year
You have to go back to 2009-10 to find the last time Lundqvist started the season with a winning record. His play, while solid, tailed off towards the end of the year, likely due to the additional workload of the midseason Olympic tournament. Hopefully, he can handle the extra games better this time around.
This season also ushered in some rule changes, including some tweaks to goaltender equipment. One can't help but wonder if the reduction to goalie leg pad dimensions has factored in. While Henrik hasn't been allowing more five-hole goals, perhaps he's a bit less comfortable in his equipment.  The newly-introduced shallower nets have also changed the dynamic below the goal line.  For a keeper that plays deep in the crease, as Lundqvist does, you wouldn't expect him to be affected as much, though the Rangers have been beaten on quite a few low-high plays where the puck moves from behind the net into the slot.
---
Related:  Net Changes – Will New NHL Nets Impact Scoring?
---
2. Starting the Season on the Road
The painfully long road trip to start the season has been rough.   Head coach Alain Vigneault hasn't even seen the ice at Madison Square Garden since joining the team. Thanks to the continued billion-dollar Garden renovations, the team is yet again faced with a lengthy campaign-opening road trip. Starting the season with nine games on the road – three in the Pacific Time zone – is never optimal.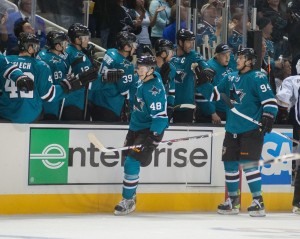 The travel was tough, but the level of competition was even tougher. The Rangers' opponents all have winning records, going a combined 21-5 on the season. Two of those teams – the Sharks and Blues – are undefeated. (Unlike Monday's debacle in San Jose, at the Rangers had a chance against St. Louis.)
Mercifully, the Blueshirts will at least be returning to the Eastern Time Zone for the remaining four games of the trip. They'll get to sleep in their own beds. They'll be able to practice at their own facility. They'll also get to face lesser opponents, like the Devils, Capitals, and Flyers, three teams who have combined for just two wins on the season.  These upcoming divisional matchups will be huge, as they have the potential to see the club return to .500.
3. The Metropolitan Division is Terrible
The teams in the newly-christened Metropolitan Division are a mess. Only the Pittsburgh Penguins, at 4-1-0, have a winning record.  The rest of the division is mired at .500 or worse. The hole that the 1-4-0 Rangers need to climb out of isn't that deep – yet. Those games against their bottom-feeding division rivals will be enough to move them out of the basement… or enough to drop them like Joe Murphy's skates to the bottom of Long Island Sound.
4. Playing Without a Full Deck
The Rangers have yet to ice their full lineup.  Captain Ryan Callahan missed the club's opener, still recovering from offseason shoulder surgery. He made his triumphant return against the Kings for the Blueshirts' lone victory of the young season.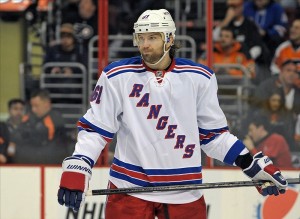 The very next night the Rangers lost Rick Nash to a possible concussion after an elbow by the Sharks' Brad Stuart.  Stuart will sit for three games thanks to a suspension by the league.   Nash will likely sit out even longer; there's no timetable for his return.
Carl Hagelin has yet to suit up.  The speedy Swede is still sidelined following offseason shoulder surgery. Because he was placed on long-term injured reserve, he's not eligible to return until the Rangers visit Long Island on October 29.
While he didn't miss a game, Derek Stepan did miss all of training camp and the preseason. He's still catching up on Vigneault's system and getting back up to game speed. With five games now under his belt, look for Stepan to start to find his game. Once healthy, this roster has the parts to be effective. Their depth though, especially under a new coach and new system, is not one of their strengths.
5. It's Still
Very

Early

We're only five games in. Unlike last season, the teams are playing a full 82 this time around.  There's plenty of time to catch up.  The club is still getting used to Vigneault's system and figuring out their assignments.  Every team will likely have a bad run at some point over the course of the season. They just have to learn how to dig their way out and to improve their play so it doesn't happen again.  Hopefully, the Rangers can build on this.

After their improved play in St. Louis, it looks like they may be doing so.  Of course, based on this quote from leading scorer Brad Richards, they're still struggling with some of the game's basic concepts (emphasis mine):
"We got a lot of information out of the game, because what we did actually worked, instead of giving the other team the puck all the time. No team likes to turn around and go get pucks with guys chasing on their back. It (had) been happening to us all trip, and we turned it around. We made a step forward. That's the good news." – Richards, via The Daily News.
Well, at least they've finally figured that out.
So, when do  we panic?
Take a deep breath.  There are 77 games left to play.  Hagelin and Nash will be back soon.  Lundqvist will return to form – or at least improve upon his miserable performance to date.
The Rangers have a nine-game home stand in December. If they're still this far down the standings,  then it's time to panic.
---
Follow Josh on Twitter – @joshsmith29
---
Josh is a life-long hockey fan. He grew up as a fan of the New York Rangers, but thanks to their general mismanagement and years of mediocrity, has developed a great appreciation for every team across the league.
He's been writing about hockey on various sites since 1995. In addition to his work at The Hockey Writers, he also keeps tabs on the referees over at ScoutingTheRefs.com.