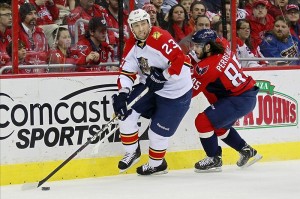 The Hershey Bears (0-1-1) dropped their first road contest of the year Saturday night in Wilkes-Barre/Scranton with a 3-1 loss to the Penguins. They went 0-5 on the power play and are 0-10 on the season, including their 4-3 overtime loss on opening night to the Adirondack Phantoms. Tomas Kundratek scored the lone goal for the Bears.
Last season, under the leadership of Mark French, the Hershey Bears averaged 26.42 shots on goal per game, worst in the American Hockey League (AHL). They managed only 19 shots on goal Saturday, with eleven of those coming in the first two periods of play. Hershey totaled 28 SOG opening night against the Phantoms.
Of their 76 games last season, Hershey was outshot 45 times. Although they finished with a 24-17-2-2 record last year, they spent big parts of hockey games in their own end, leaving it up to their talented goalies to keep them in the game. They managed only 204 goals last season, Hershey's lowest total since the 2003-04 campaign, where they recorded 203 goals and failed to miss the playoffs. However, AHL teams have played 76 games instead of 80 beginning with the 2011-12 season.
A team with forwards on their lower lines that have the ability to score 15 goals per season and a defense that includes numerous NHL experienced defensemen (Tomas Kundratek, Dmitry Orlov, Tyson Strachan) must be better than this. Bears head coach Mike Haviland voiced his concerns after Hershey's opening night loss, saying they need to be better in the own zone and be less "high-risk" offensively.
Being out-shot in their first two games quickly reminds you of last season which is a problem that needs to be addressed. Their power play should be able to bounce back after a slow start, even though they've struggled early on. Hershey had solid puck movement Saturday night, but couldn't beat the Penguins' net minder. There are too many weapons for their man advantage unit to be ineffective over a long period of time.
Next Up
Hershey heads to St. John's in Canada for two straight road games this weekend, set for October 18th and 19th. The IceCaps (1-2-1), 1-0-1 at home, sit tenth in the Eastern Conference with three points. Forward Jerome Sampson and rookie defenseman Brenden Kichton each have five points through St. John's first four games, placing both of them in the top ten for AHL scoring. Kichton has assists in four straight games, the best assist streak in the league to this point.
The Bears will likely use both goaltenders this weekend just as they did the first two games, splitting starts between Philipp Grubauer (1 GP, 0-1, 3.79 GAA, .867 save percentage) and David Leggio (1 GP, 0-1, 3.00 GAA, .893 save percentage).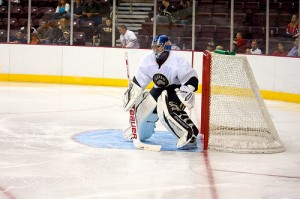 The IceCaps feature the best power play the Bears have faced through two games this season, fourth in the league. Hershey's penalty kill has killed off nine of their opponents' ten power play chances, good for 90% and sixth in the league. It will be important for Hershey to finally capitalize on their power play opportunities, something that should be done with all the talent they have on their man advantage. Getting more traffic in front of the goalie will be crucial.
St. John's has a solid group of forwards in their top six, including Eric O'Dell who already has a hat trick this season, on October 5th. O'Dell leads the IceCaps with four goals and 16 shots on goal through four games. Hershey Bears coach Mike Haviland will continue to rotate players into the lineup until he finds combinations that stick. Forwards Nathan Walker, Jeff Taffe and Dane Byers seem to be a solid fixture on the first line at this point in time.
 St. John's by the Numbers
Power Play: 29.4% (3rd in AHL)
Penalty Kill: 84.2% (13th)
Goals per Game: 3.25 (9th)
Goals Against per Game: 3.50 (23rd)
Shots per Game: 35.75 (4th)
Shots Against per Game: 33.50 (23rd)
In Goal: Eddie Pasquale (3 GP, 1-2, 2.68 GAA, .921 save percentage) and rookie Jussi Olkinuora (1 GP, 0-1, 6.03 GAA, .818 save percentage)
Chocolate Crosschecks
Bears Injuries: Dmitry Orlov (pink eye) and Josh Brittain
Hershey Healthy Scratches vs. Wilkes-Barre/Scranton: Defensemen David Kolomatis Tyson Strachan, John Mitchell, Ryan Stoa, Nicolas Deschamps, and Joel Rechlicz
Goaltender David Leggio made 25 saves in his Hershey Bears debut
Former Hershey Bears forward Andrew Gordon has two goals in four games for the IceCaps
Forward Derek Whitmore leads the Bears with seven shots on goal
Hershey went 2-2 against St. John's last season
You can follow Matthew on twitter @m_speck and email him at mspeck21@yahoo.com with any questions or comments.
Matthew Speck covers the Washington Capitals organization for The Hockey Writers. He provides coverage of both Washington at the NHL level and prospect related content. Matthew also covers local sports for the Lebanon Daily News in Central Pennsylvania. You can email him at mspeck21@yahoo.com with any questions or comments.