Once upon a time, hockey cards only featured only hockey players. Then, in the 1950s, coaches were sometimes included in card sets. That made sense, as a coach is an important part of a team. But as the card industry grew in the late 1980s to mid-1990s, the logic behind who should be included in a set of cards became ridiculous. Here are five totally unnecessary hockey cards that somehow got made.
5. The team's public relations guy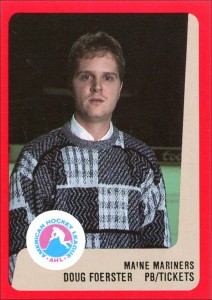 1988-89 ProCards AHL/IHL – Doug Foerster
In 1988-89, the ProCards company made card sets for American Hockey League and International Hockey League teams. The team set for the Maine Mariners included a card of their ticket sales and public relations guy, Doug Foerster, who resembles a deer in headlights wearing a Bill Cosby sweater.
Apparently, it was up to each team to decide who was included in their respective team set. Some just focused on players, while others also featured coaches, trainers and equipment managers. The Peoria Rivermen even included a card of their secretary, but at least she seems to be enjoying herself. Doug, on the other hand, looks like he was forced at gunpoint to have his picture taken. But if you had a moment back in 1989, I'm sure he'd did a great job at selling you a season ticket package for all Mariners home games.
4.  Morning radio talk show hosts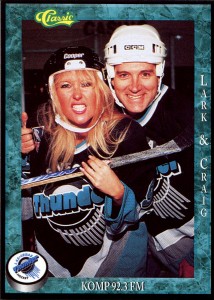 1994-95 Las Vegas Thunder team set – Lark & Craig
Team sets seemingly have no boundaries of who should be included.  Neither Lark nor Craig worked for the Las Vegas Thunder in any capacity–not as broadcasters and certainly not as players. Lark–if that even is her real name–looks pretty tough, and goaltender Manon Rheume was currently playing for the Thunder, so another woman on the roster isn't much of a stretch.
So, what's their deal? Lark & Craig were the hosts of the "Rock N Roll Morning Show on KOMP 92.3 FM in Las Vegas. The back of the card included their motto ("Shut up and rock n roll") and an exhaustive list of 45 different hobbies, including trampoline bouncing, hula-hooping, pinball, jumping, skipping, hopping and knitting. I hope this set was a game night giveaway, because I'd be pretty annoyed if I paid for this stupid card.
3. A bored crowd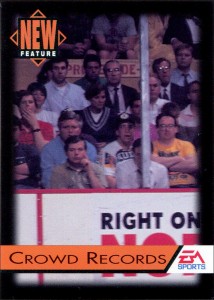 1993-94 EA Sports card  #198 – Crowd Records
Anyone old enough to remember the Sega Genesis vs. Super Nintendo debate will certainly remember the awesome video game "NHL '94." The game's manufacturer, EA Sports, released a set of 225 "hint cards" that featured the league's best players as well as tips and tactics on how to win.
Also included was a card for every new feature or upgrade in the game, such as "Hot/Cold Streaks," "Local Organ Music" and this card of "Crowd Records." The game kept track of how loud the crowd got during games. The more action your players performed (shots, hits, goals, saves), the louder the in-game crowd would become, which made your team play better.
So, EA Sports could have illustrated this point with a picture of hockey fans wildly celebrating a goal. Instead, they chose to use this photo, which shows us (from left) a man in a red shirt yawning, a man in the front row scratching his face, a man in a hat about to yawn and a pouting man in a yellow shirt. What record was this crowd setting?  Most bored fans at a game?
2. Sports card show promoters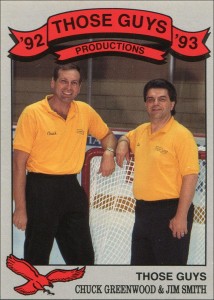 1992-93 Wheeling Thunderbirds
card #20 – Those Guys
You are probably asking yourself, who are "Those Guys"–those two middle-aged men clad in polo shirts. Are they the team's owners? Coaches? Equipment guys? Nope–they are the men who produced this set of cards.
Yes, this might be the most self-serving hockey card of all time. The Wheeling Thunderbirds were a minor league team in the mid-1990s, and it was "Those Guys"–real names Chuck Greenwood and Jim Smith–who produced this set. According to the back of the card, they are "recognized as the leading promoters of sports card shows in the Wheeling area." There probably wasn't an award big enough to commemorate such an accomplishment, so perhaps they saw fit to include a card of themselves in the team set they sponsored.
1. A hockey puck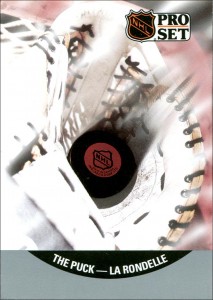 1990-91 Pro Set card #705 – The Puck
In 1990-91, Pro Set made a monstrous 705-card set–405 cards at the start of the season and a second series of 300 cards mid-season. Included were cards of virtually every NHLer at the time, as well as coaches, retired greats and on-ice officials. The very last card was dedicated to the puck – an integral part of every hockey game, but not exactly a card I wanted to get when I was opening up packs as a kid.
So why did the puck get a card? Was it really that deserving? Probably not. Originally, each NHL coach from the 1990-91 season was supposed to get their own card, but Mike Keenan of the Chicago Blackhawks did not want to be included. Pro Set likely added a card about the puck last minute to keep Series 2 at an even 300 cards.