Eyes will be firmly on the Calgary Flames crease over the next seven weeks as management contemplates what to do about their upcoming goaltending situation. Come July 1 the Flames crease will be empty, as Jonas Hiller and Karri Ramo will both become unrestricted free agents, while third-stringer Joni Ortio becomes a restricted free agent.
Ramo's chances to impress the Flames brass were cut short on Feb. 11 when he suffered a torn anterior cruciate ligament and meniscus damage to his left knee in a game against the San Jose Sharks. The injury will cause him to miss the rest of the season leaving the door open for Hiller and Ortio to seize the No. 1 gig and battle for contract extensions.
Which current goalie has the advantage? 
The main question GM Brad Treliving and the rest of Flames management have to answer is whether or not they want to resign Hiller, Ramo or Ortio. Are any of these three goaltenders part of the future?
Calgary's goaltending carousel has been spinning all season long with Ramo appearing in 37 games, Hiller playing in 19 and Ortio in five.
Before suffering a season ending injury, Ramo was the frontrunner of the group and most likely candidate to be signed this offseason. The 29-year-old leads the trio with 17 wins, a 2.63 GAA and .909 save percentage. He has started all 37 games he appeared in and has posted one shutout.
Now that Ramo is out for the rest of the season Hiller's tryout for a new NHL contract begins. The 34-year-old netminder, who fought the likes of J.S. Giguere and Frederik Andersen for the starting job in Anaheim, will have every opportunity take control of the No. 1 role in Calgary. While in the midst of the worst statistical season of his career, Hiller is 4-2-1 with a 2.53 GAA and .920 save percentage through nine games in 2016.
Hiller will really need to prove himself between the pipes down the stretch drive of this season for Flames management to even consider offering him a contract for 2016-17. If he falters, look for Calgary to give Ortio a look to see what he can bring at the NHL level.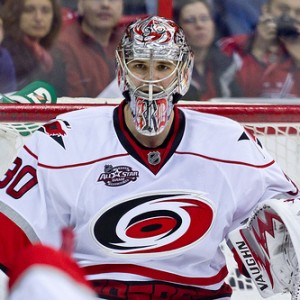 Few options in thin free agent market
If Treliving opts to let Hiller, Ramo or Ortio walk this offseason, which is a very realistic possibility, he won't have many decent options to replace them, as the upcoming free agent class of goaltenders is quite weak.
Cam Ward leads the group of UFA goaltenders, a small group that includes James Reimer, Ben Scrivens, Alex Stalock, and Jhonas Enroth just to name a few. Ward has been fighting for the starting job in Carolina with Eddie Lack and could opt for a change of scenery should the right deal appear. Having posted a 2.35 GAA and .909 save percentage through 36 games this season, Ward would offer the Flames some consistency between the pipes.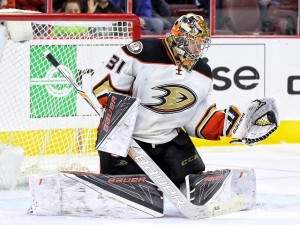 The most intriguing options for the Flames are Frederik Andersen in Anaheim and Petr Mrazek in Detroit. Both goaltenders are RFA's but find themselves on teams who have committed contracts to other starting netminders.
In Anaheim, the Ducks could easily opt to go with John Gibson between the pipes for the future and let Andersen walk. Meanwhile in Detroit, the Red Wings will have to decide if they want to offer up the money to keep Mrazek while still having to pay Jimmy Howard $15.2 million over the next three years. I expect many NHL teams to keep an eye on how both of those goaltending situations play out.
In the system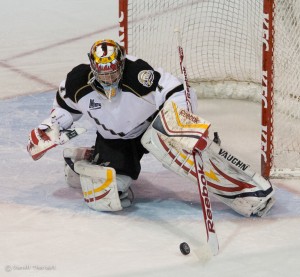 Prospects Jon Gilles and Mason McDonald are currently the only goaltenders Calgary has under contract for the 2016-17 season. Gilles is 2-3-1 with a 2.31 GAA and .920 save percentage in seven games with the Stockton Heat, while McDonald is 14-17 with a 3.66 GAA and .892 save percentage through 31 games with Charlottetown of the QMJHL.
Neither of these two goaltenders are ready to take over Calgary's crease any time soon.
Multi-media journalist with the Bonnyville Nouvelle. Back up play-by-play broadcaster for the Bonnyville Jr. A Pontiacs. Sports writer.