Drafting should be judged with calendars – often several of them – rather than with a stop-watch. Over the past few years, the Calgary Flames' scouts have had success drafting players and then sending them directly to the National Hockey League.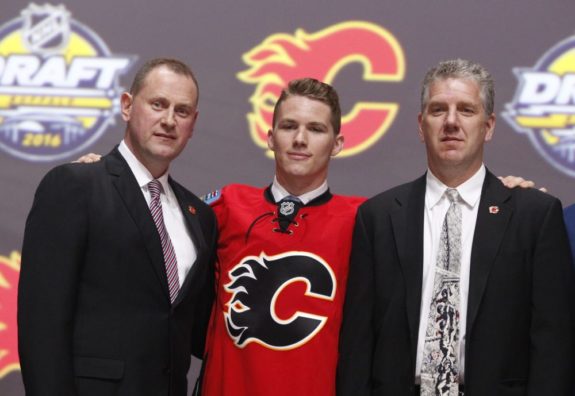 But beyond first rounders that made the jump quickly like Sam Bennett and Matthew Tkachuk, the organization has attempted to use the later rounds of the draft to both quietly accumulate assets for trades and provide depth for the team's affiliate clubs. Here's a quick snapshot at the first three NHL Drafts of Brad Treliving's general managerial tenure – it's way too early to look at the 2017 draft class.
NHL Regulars

Two recent draftees are already regulars in the Flames lineup.
F Sam Bennett (2014 1st round, 4th overall) was the Flames highest draft selection since moving to Calgary. He made the NHL right away and has established himself as an NHL regular, though it's debatable whether he's a center or not.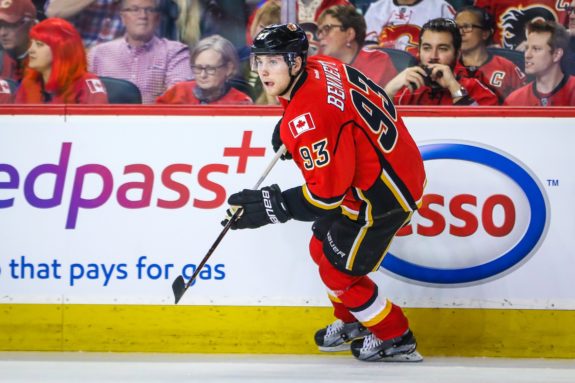 F Matthew Tkachuk (2015 1st round, 6th overall) fell to the Flames on draft day and they couldn't be happier with how it turned out. Tkachuk jumped straight into the NHL and has quietly been one of the most dynamic two-way players in the entire league. And he's only 20.
Big-League Bubble Guys
Three additional Flames picks have spent time in the NHL and could step into their lineup in a pinch.
D Rasmus Andersson (2015 2nd round; 53rd overall) was the first selection made by the Flames in 2015, the year likely best known for the Dougie Hamilton trade. Andersson was an offensively talented Ontario Hockey League defender who slid because of concerns about his conditioning. He's since improved his conditioning and has established himself as one of the top blueliners in the American Hockey League.
I've watched a lot of Stockton this season and after CGY fans have (quite passionately at times) been in my ear about Andersson I've definitely been sold on him after watching him this season. Very smart player. Kylington dynamic. Two quality pieces that are close.

— Corey Pronman (@coreypronman) February 17, 2018
D Oliver Kylington (2015 2nd round, 61st overall) was grabbed with the last pick of the second round after the Flames packaged a pair of thirds to move up. A bit raw in the defensive zone, he was lauded for his puck-handling and skating. He came over to North America right after the draft and at age 20 already has two full AHL seasons (and a one-game NHL stint) under his belt. There are few players as dynamic with the puck in the organization.
F Andrew Mangiapane (2015 3rd round, 166th overall) was selected in his second year of eligibility for the NHL Draft after a 100-point OHL season. He fell down the rankings due to his size, but the Flames took the "gamble" due to his offensive prowess. He's followed up his debut season in the AHL with several NHL call-ups as a second-year pro and not looked out of place.
Promising Early Returns
G Tyler Parsons (2016 2nd round, 54th overall) was selected after his goaltending heroics for the London Knights at the Memorial Cup. His post-draft season saw him win a gold medal for Team USA At the World Juniors. His first pro season has seen him battle some injuries, but also emerge as a very good ECHL starter and a capable AHL netminder. He'll be gradually relied upon more in the minors as he continues to develop.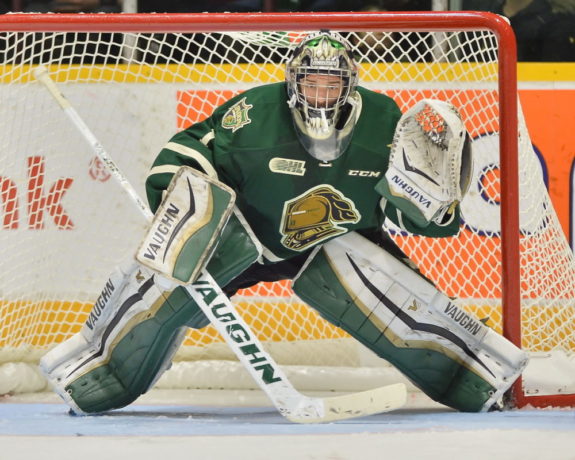 F Dillon Dube (2016 2nd round, 56th overall) is a product of the respected Kelowna Rockets organization. Originally projected as an offensive contributor only, he opened a ton of eyes with his performance on a checking line in the 2017 World Junior tournament where he was one of Canada's most effective players. He captained the 2018 edition of Team Canada to World Junior gold and has steadily increased his offensive production since being drafted. He'll play pro hockey in 2018-19.
D Adam Fox (2016 3rd round, 66th overall) set the single-season scoring record for defensemen in U.S. National Development Program history in his draft year. Then he went to Harvard and emerged as one of the most offensively-gifted blueliners in American college hockey. He captured gold and silver medals over the past two World Junior tournaments, as well. There will likely be a small degree of nervousness around him as an asset until he signs with the Flames, but he's a blue-chipper.
F Matthew Phillips (2016 6th round, 166th overall) was a point-per-game rookie in the WHL with the Victoria Royals in his draft year, but slid to the sixth round because he's quite small (145 pounds). He's amassed two seasons since then where he's been among the WHL's leading offensive contributors. He'll play pro hockey in 2018-19.
Minor League Depth, At Best
G Mason McDonald (2014 2nd round, 34th overall) was considered one of the two top goaltenders in the draft class, along with college star Thatcher Demko. The Flames opted for McDonald, who they were familiar with due to his time with Hockey Canada's program of excellence. He struggled a bit post-draft and has spent much of his past two seasons with the Flames' ECHL affiliates in Adirondack and Kansas City.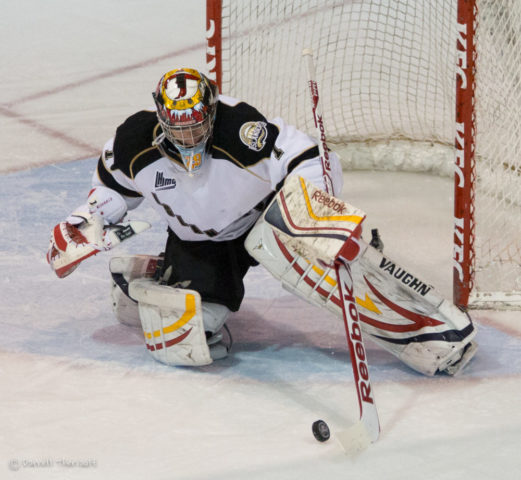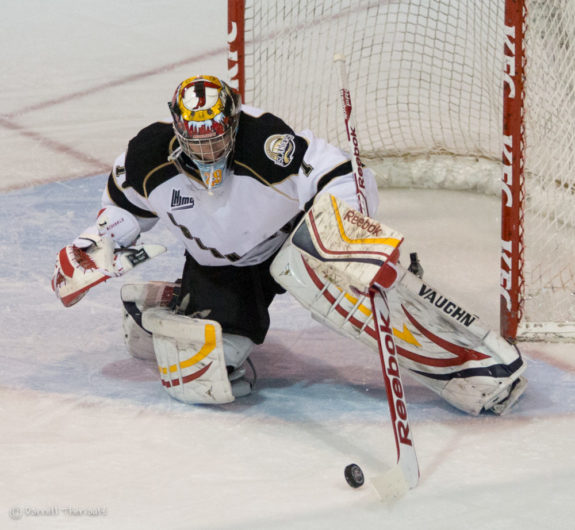 F Hunter Smith (2014 2nd round, 54th overall) was a big piece of a pair of very good Oshawa Generals clubs that made a lot of playoff noise, but he's failed to amount to much thus far as a pro. He's been a depth player in the AHL and occasionally dropped down to the ECHL. He's got physicality and size, but his offense from junior hasn't materialized as a pro.
D Adam Ollas Mattsson (2014 7th round, 175th overall) was a big teenager playing pro hockey in Sweden when the Flames drafted him. He's come over to North America on an AHL contact and been a depth defender for their farm team. It's not clear if he'll amount to much more than that given some questions about his skating and his skew towards a defense-first playing style.
F Austin Carroll (2014 7th round, 184th overall) was drafted as an overager. He put up decent offensive numbers as a crash-and-bang winger for the Victoria Royals. He's been playing that same role with the Flames' AHL affiliate with lesser offensive success. He's provided them with useful depth, but that seems to have become his developmental ceiling.
F Pavel Karnaukhov (2015 5th round, 136th overall) a Russian import who was playing with the WHL's Calgary Hitmen in his draft year, his combination of size and speed made scouts very curious as to his upside. Unfortunately, he had an injury-filled season after being drafted and then returned to Russia to play in the Kontinental Hockey League. His production overseas doesn't suggest he would've been much more than minor league depth, though.
Too Early To Say
F Linus Lindstrom (2016 4th round, 96th overall) has elicited comparisons to Mikael Backlund in terms of playing style, even though he probably won't have the same impact at the pro level. Lindstrom has been playing pro hockey in Sweden as a teenager and eating up big minutes for a good team. He's thought to have strong defensive upside but moderate offensive upside.
F Mitchell Mattson (2016 5th round, 126th overall) was selected as a long-term project. He was originally committed to the University of North Dakota and was playing in the USHL as preparation, but then plans changed. He spent another season in the USHL rather than going to college and his commitment changed from North Dakota to Michigan State. Until he plays in college it's hard to project him, but he seems like a long-shot to develop into much at the pro level.
F Eetu Tuulola (2016 6th round, 156th overall) was drafted out of Finland, played a year in the WHL as an import, then returned back to Finland. He plays a physical style and has a very good shot, but the defensive side of his game could use a bit of work. His offensive results in Finland suggest he might be able to translate that to North America, at the least at the AHL level.
Traded or Otherwise Cut Loose
D Brandon Hickey (2014 4th round, 64th overall) was traded to Arizona in Mike Smith trade. He had performed well at Boston University since being drafted, but with Calgary's defensive depth there were likely some concerns that he'd want to sign with the organization.
D Riley Bruce (2015 7th round, 196th overall) went unsigned after two years and the Flames lost his rights. His offensive numbers were sparse, which probably factored into it.
D Stepan Falkovsky (2016 7th round, 186th overall) was drafted as an overager and not tendered a contract offer after a year playing on an AHL contract, so the Flames lost his rights. He signed with Los Angeles as a free agent.
Ryan Pike has covered the Calgary Flames and the NHL Draft extensively since 2010 as a Senior Writer for The Hockey Writers and Senior Contributing Editor of FlamesNation.ca. A member of the Professional Hockey Writers Association, he lives in Calgary.