Jeremy Roenick was asked on the Spittin' Chiclets podcast whether he thought men like Darryl Sutter and Mike Keenan, both former Calgary Flames coaches, could be behind the bench in today's NHL. Roenick was categoric – "No," he said. full stop. When asked to elaborate, he said they couldn't coach because "you can't grab players by the throat anymore."  
Roenick told the story of how in a game in his rookie year he skated by an opponent without hitting him, and Keenan, then the Chicago Blackhawks head coach, stormed down the bench and grabbed him by the Adam's Apple and screamed, "If you don't finish your check, if you don't hit that guy next time, you'll never play a game for me again in the NHL." Roenick said, "I was so scared I almost cried on the bench."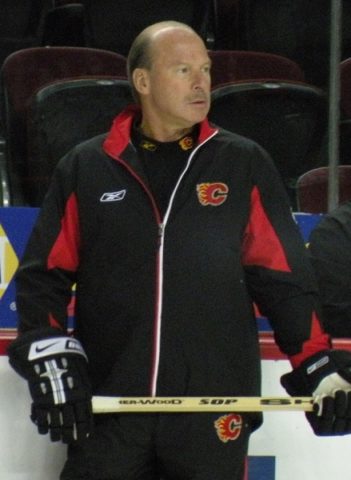 At that time Roenick was 18 years old and weighed just 159 pounds, yet he became what he called "a human missile" throwing himself at much bigger and tougher players. As much as Roenick said he feared the pain and possibility of getting hurt with that style of play, he dreaded more the power that Keenan had to end his career.
Calgary Flames' Old-School Coaching Tradition
The old-school style of coaching was based on the idea that human behavior could be manipulated based on administering either pain or reward – or a combination of both. The belief was that when rewards didn't produce high performance in an athlete, then discipline, humiliation, embarrassment, public shaming, anger and fear would. Players who were belittled and abused both verbally and even physically would eventually deliver results. And if they didn't they could be relegated easily to the minor leagues. 
Sutter is widely regarded as an old-school coach and he shared much in common with Keenan in terms of style. Interviewed on the Spittin' Chiclets podcast, the one time Carolina Hurricanes' captain Justin Williams, who also played during his career in Los Angeles on two Stanley Cup-winning teams coached by Sutter, said the coach had an "in your face style" and was "condescending to players."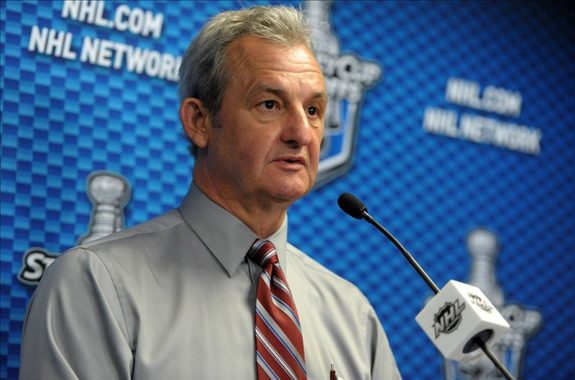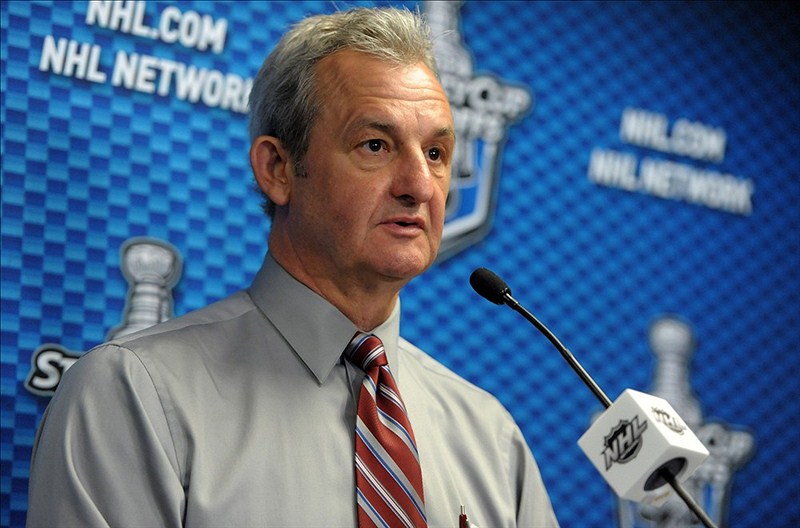 He also had a towering temper which erupted regularly, but perhaps in no more spectacular fashion than one time during a game against the Minnesota Wild. As Williams told the tale, after the Kings had put in a "so-so period", Sutter gathered his assistant coaches during the intermission into a small room adjacent to the King's dressing room. Suddenly the sound of him throwing aluminum chairs against a bathroom stall erupted. Terrified coaches started fleeing into the main dressing room seeking refuge from his rage.
Williams wasn't the only player to talk about Sutter's abusive style. Daniel Carcillo who played 26 games with the Kings said he was "the worst coach I've ever had in my life. He would demean people in front of the room, in front of everyone. It's just all about embarrassing guys."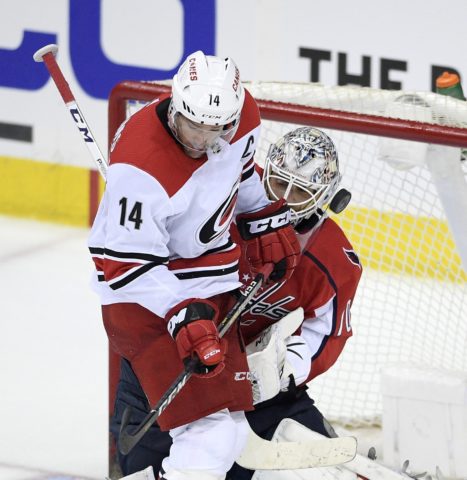 Carcillo said Sutter abused more than just his players. He alleged that on a team flight, the coach screamed at a female flight attendant to "f–k off" and remove the food being served because the team had lost.
The Flames seem to have a predilection for hiring coaches who are alleged abusers. Bill Peters who resigned as head coach in late 2019 admitted using a racial slur directed at Akim Aliu when he was his coach in the minors. He has been accused of kicking a player on the bench (Michal Jordan) and punching another in the head when he was the head coach with the Hurricanes. 
Since the 2003-04 season, the Flames have had eight coaches. Five of them –Sutter (2003-2006), Keenan (2007-2009), Brent Sutter (2009-2012), Bob Hartley (2012 – 2016) and Peters (2018 – 2019),  would be considered old-school. It seems to be the style with which Flames' management feels most comfortable.
Does Old-School Coaching Work?
The short answer is no, at least for the Flames.
In much of the hockey world, old-school coaching is still widely credited with having made ordinary players great and Stanley Cup champions out of teams with mediocre talent. It is both lauded and excused as being nothing more than "tough love" administered by coaches who care about their charges. In what smacks of Stockholm Syndrome, some players even credit their abusers with having imbued them with all kinds of qualities both as players and men that they did not possess prior to their mistreatment.
Apologists for the old-school style can often cite impressive statistics to support the approach. While that's difficult to do in the case of the Flames' old-school coaches, many Calgary fans continue to lionize hard-nosed bosses like Sutter and Hartley. The reality, however, is that since the 2003-04 season when the Flames made it to the Stanley Cup Final, they have won just one playoff series. Yes – you read that right. Just one. In 17 years.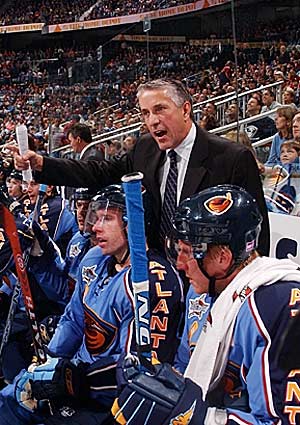 In seven of the 16 seasons the league has played since 2003-04, the Flames failed to make the playoffs. That's almost 50% of the time even though for most of this period old-school coaches have been behind the bench. Flipping a coin is a better predictor of the Flames' odds of making it into the playoffs than looking at coaching styles.
To win a Stanley Cup a team needs a 'points-percentage' (i.e. actual points as a percentage of total points possible) of well over .600 for the season. With the exception of one, the Flames' old-school coaches haven't come close to that number. Disgraced former coach Peters notched .614 during his tenure.
That is slightly better than the corresponding figure for current head coach, Geoff Ward – widely regarded as having a more progressive style, who registered .607 this year. Hartley, another of the Flames' no-nonsense bench bosses registered an unimpressive .498, Brent Sutter .557, Keenan .585 and Darryl Sutter notched .581. The league average last year was .564.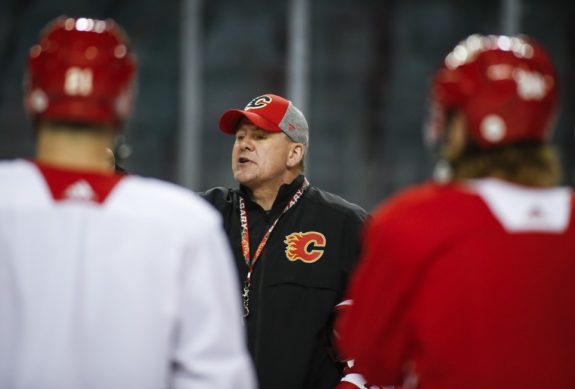 The data just do not support the tough love approach to coaching. There is a case to be made that teams that won the Stanley Cup and players who made it to the Hockey Hall of Fame managed that not because of old-school coaching, but despite it. There is no telling what those same teams and players might have achieved had they been coached by professionals with an understanding of modern coaching principles and sports psychology.  
Even if the old-school approach to hockey did work, it would not be accepted by today's players. The only reason coaches got away with hazing, abuse and trash talk – all things that would never be tolerated in any other modern workplace – is because there were so few jobs back in the early days of the NHL. With only six teams in the league up until 1967, there were spots on the NHL's roster for just 100 players. If a player wanted one of them, he did what he was told.
The balance of power between coaches and players began to change in 1967 when infamous player agent Alan Eagleson and NHL great Bob Pulford established the National Hockey League Players' Association. Over the decades, the power of players through the NHLPA grew relative to that of the league's franchise owners. Now, baby-faced players with millions of dollars lining their pockets wield formidable power. They are not inclined to tolerate abuse.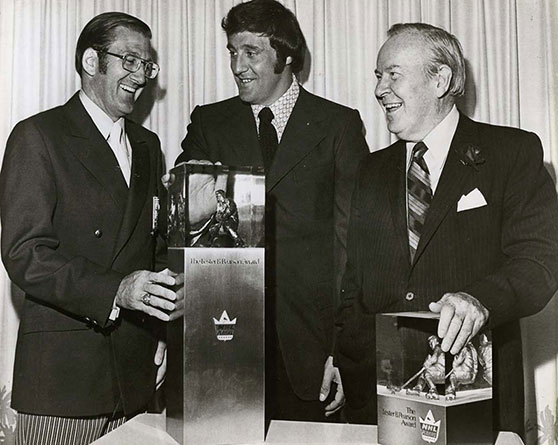 That does not mean that today's players expect to be mollycoddled. Most young professionals in any industry, hockey included, want to improve and realize their full potential. They want to grow as human beings and see their skills developed to the highest levels that their God-given talent allows. They do not look to their coaches to be their best friend and they expect to be held accountable for their play on the ice. However, they know what professional coaching looks like and are not prepared to accept anything less. They can no longer be motivated by fear.   
How Old-School Coaches Get Fired
The few old-school coaches who remain in the league abuse their charges at great risk to their jobs. Sutter did not lose his job in Los Angeles because he failed to bring home the Stanley Cup. He lost his job because his players were fed up with his style and quit playing for him, leaving Kings' management with no choice but to fire him. (from "Hickey on hockey: Old-school coaching clashes with new NHL reality" Montreal Gazette, 06/12/2019). 
The Kings' star defenceman Drew Doughty was vocal in his support for a coaching change.  After rattling off a few obligatory compliments toward Sutter, he explained ". . . if there is a problem with the team, or if you had a problem with Darryl, you'd be intimidated to go knock on his door and say, 'Hey Darryl, I don't like this or I don't like that."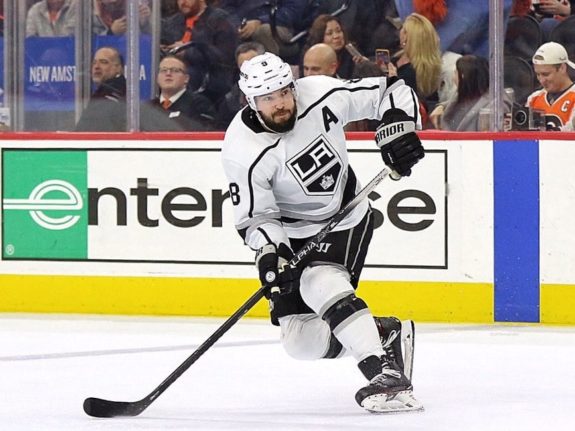 The first sign that an old-school coach is about to lose his job is when his players stop laughing. Old-school coaches have a reputation for being "all business." Even when they are winning the team is made miserable by the relentless pressure the old school coach puts on his players. That's a problem for today's players all of whom love to win, but insist on having fun while doing it. 
Doughty talked about the unrelenting seriousness that cast a pall on the Kings' under Sutter. Said he of Sutter, ". . . he definitely would have liked me to be more serious in certain situations, but I just can't play the game that way. I like that I have fun playing the game."
Peters set a sullen and staid atmosphere for the Flames, so much so that winger Milan Lucic was contemplating retirement just months after he arrived in Calgary. He spoke openly with Hockey Night in Canada's Scott Oake about how unhappy he had been under Peters. When asked what led him to reconsider retirement, he replied, "A coaching change." (from "Coaching change gave Milan Lucic reason not to retire after rough start in Calgary", Calgary Sun 19/02/2020) 
Lucic went on to explain that 'when you're not having fun and all that type of stuff, it doesn't matter how much money you make. When you're not having fun and you're not enjoying going to the rink, it's not a fun place to be.'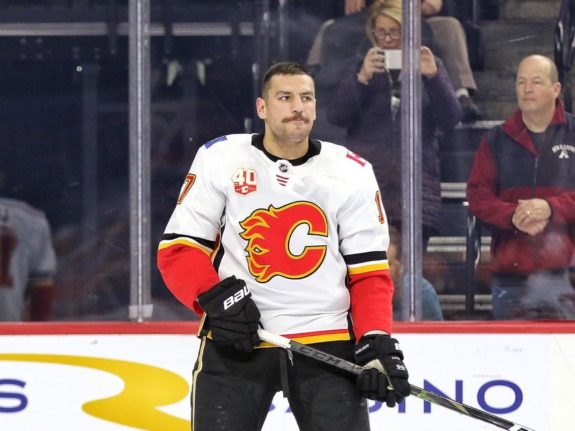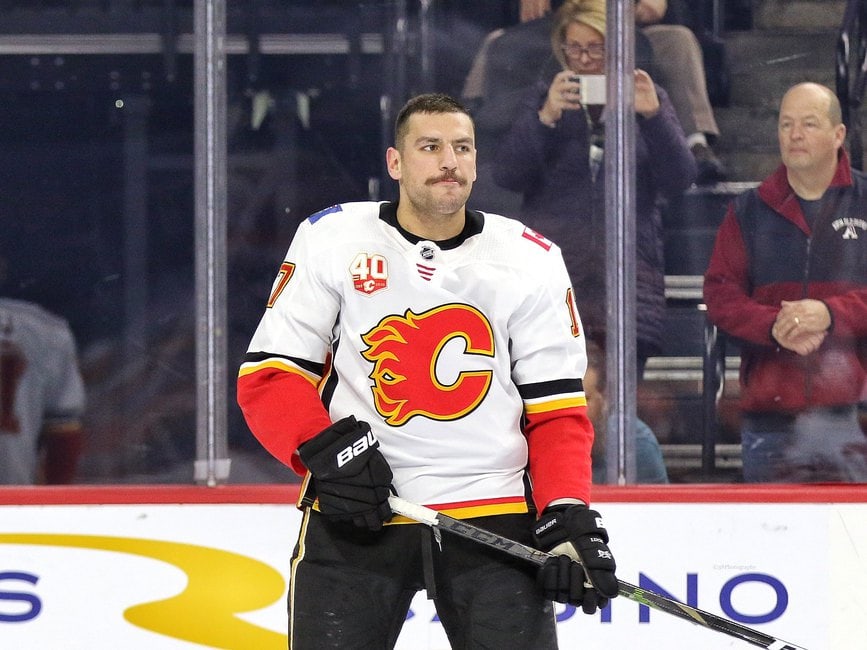 The old-school style is also tough on its practitioners. Scotty Bowman once looked back at the Hall of Famers who were part of the Montreal Canadiens' dynasty he coached during the 1970s and said he regretted not being able to tell them how good they were because he had to push them to be better.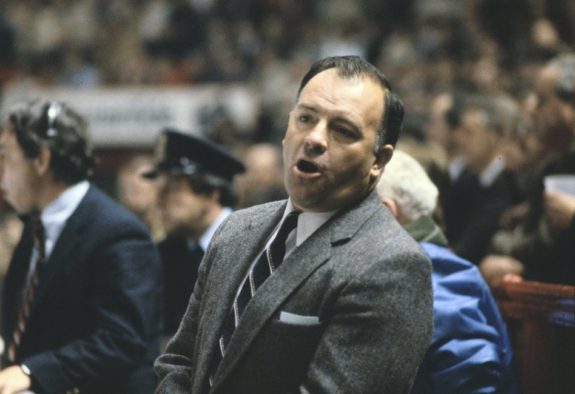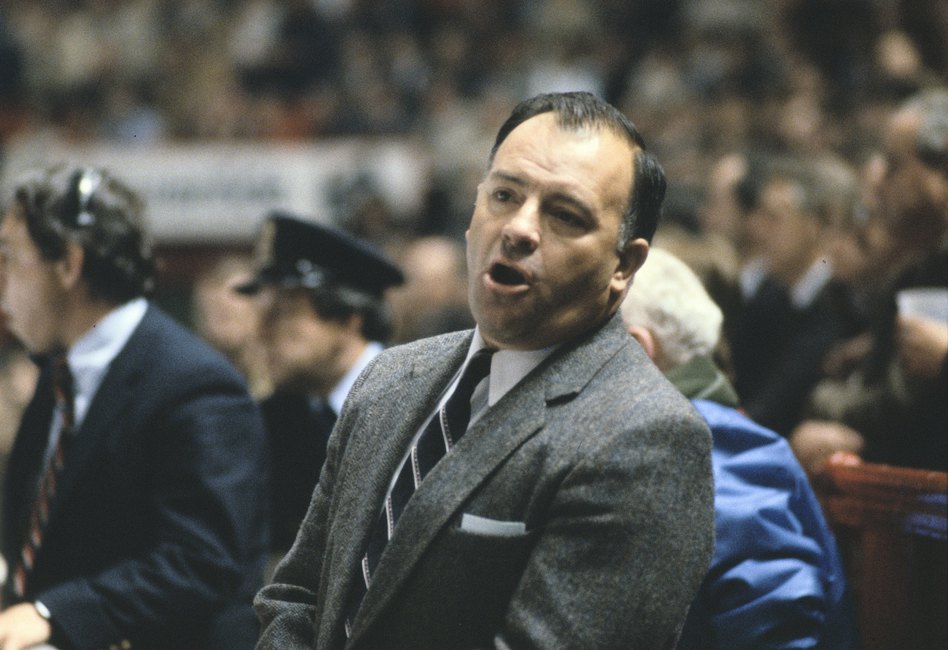 Imagine winning five Stanley Cups in the space of a decade with arguably the greatest team in history and not being able to exult in those victories at a human level with the players that delivered them. How hollow must those triumphs have felt for Bowman? How alone and apart from his team must he have felt?
Beyond Old-School Coaching in Calgary
The Flames are a young talented group with only three players who are older than 30-years-old. They are a highly skilled team that shuns the tough, defensive, grinding and cycling style of play often preferred by many old-school coaches. 
Ward will need to be patient with the Flames' younger players and rely on his background as a teacher to develop them. Young players will not be motivated by fear. He will need to adapt his style to the needs of each of his players as individuals to elicit the best from them.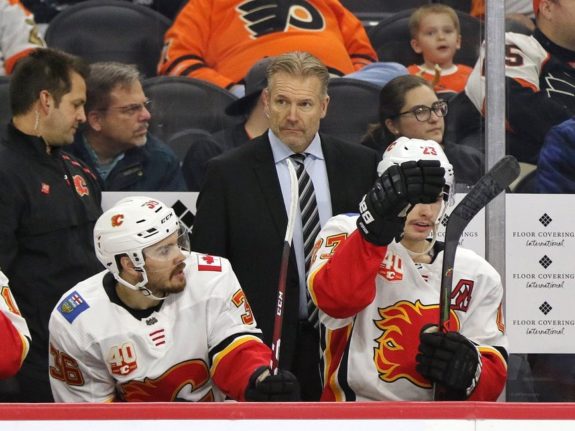 In today's NHL,  no coach can expect to succeed by insisting on a "one size fits all" coaching style. Ward will need to hold his players accountable and insist on excellence but ensure he does so in a style that gains the respect of the team. 
Related: Can Geoff Ward Help the Calgary Flames Rise from the Ashes
Todd McClellan, head coach of the Los Angeles Kings summed up the coaching approach needed with today's players explaining that "It's easy to be liked. You have to earn respect. That comes through a lot of different avenues. One, the player has got to know you care about them, and not just if they win games or lose games. But how can you help that individual?" (from "Kings Coach Todd McLellan weighs in on abuse allegations made against NHL coaches", L.A. Times 03/12/2019)
---
---