With the 72nd Pick in the 2020 NHL Entry Draft, the Calgary Flames Have Selected Jeremie Poirier From the Saint John Sea Dogs of the QMJHL.
About Jeremie Poirier
An offensive dynamo from the back-end, Jeremie Poirier is one of the most talented defencemen in the 2020 NHL Entry Draft. His combination of speed, hockey IQ, creativity, and slick hands make him an offensive threat and excellent player in transition. With the skill comes some risk, though, as Poirier can get caught cheating on offence, which hurts him on the defensive side of the game.
THW Prospect Profile Excerpt
"In a perfect world, all NHL prospects would be well-rounded and capable of playing in the NHL at 18 years old coming out of their respective draft teams. Unfortunately, this isn't a perfect world and certain players excel in specific areas while lacking in others.
For a player like Jeremie Poirier, there's no better example of a player who can be a force offensively from the back-end but who needs to improve his defensive game.
In a league that is always looking for more scorers and offensive threats, Poirier has all the makings of a top offensive threat as a defender who can not only contribute at five-on-five but as a prototypical power-play quarterback as well in the NHL.
Related: THW's 2020 Draft Guide
Looks could be deceiving with Poirier as his near-200 pound frame may catch some people by surprise. Make no mistake about it though, Poirier's straight-line speed is faster than the average defender and his ability to work in tight spaces with his stick-work and his edge-work is right near the top of the class.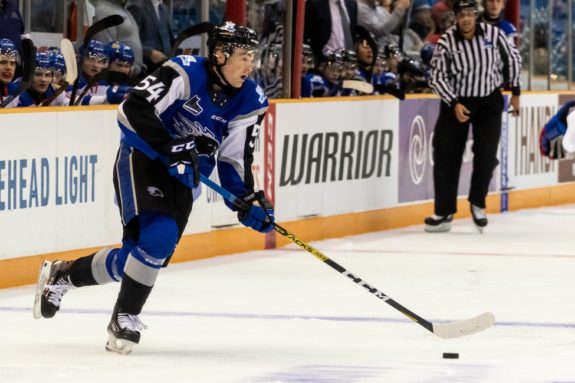 Possessing the ability to start a shift in his defensive zone and finish with a legitimate scoring chance in the offensive zone, Poirier excites on a regular basis with his skating as well as his high-end wrist shot which is emphasized by a quick release and accuracy.
His shot is only part of what makes him such a good option offensively and as a power-play option, however, as his passing shouldn't be slept on either. Creative plays due to his high hockey-IQ in the offensive zone make him a top-tier offensive option. In 64 games in the QMJHL this season, he scored 20 goals and 53 points.
With the good, however, comes the bad. The offensive instincts are there and his physical abilities match those instincts perfectly. Defensively, however, Poirier is prone to stepping out of position to better contribute offensively. While this works to his advantage at times, he's something that he'll have to work on if he ever wants to make it to the NHL."
Full player profile can be found here
How This Affects the Flames' Plans
The Calgary Flames get another really solid pick in Poirier. Having selected Connor Zary in the first round and adding defenseman Yan Kuznetsov in the second round, the Flames are adding some solid pieces for their future.
In Poirier, the Flames get a guy who will need some time to develop in the QMJHL but he will a solid player in a few years. He is a great puck mover and can set up teammates with ease. Flames fans should be excited to see him in the red and yellow in the near future.
---
---