The San Jose Sharks watched as the Ottawa Senators selected Tim Stuzle with the third-overall pick that they acquired from the Sharks in the Erik Karlsson trade. They had to wait all the way until the end of the first round to select, a pick they acquired from the Stanley Cup champion Tampa Bay Lightning in the Barclay Goodrow trade. A bit of a high-floor, low-ceiling pick, I would consider their selection of Ozzy Wiesblatt a safe pick.
Was it a Positional Need?
There is no question that the Sharks lack depth on the right wing. Even if recent acquisition Ryan Donato can indeed play his off side, they don't have much in the way of quality on the right. Timo Meier, who is naturally a left wing, has played a fair amount of right wing and when he does, he is obviously the class of that side. Other options are Kevin Labanc, who is a restricted free agent, Dylan Gambrell, and then a bunch of AHL caliber guys who might pan out in Danil Yurtaikin, Joachim Blichfeld, Vladislav Kotkov, and Jake McGrew.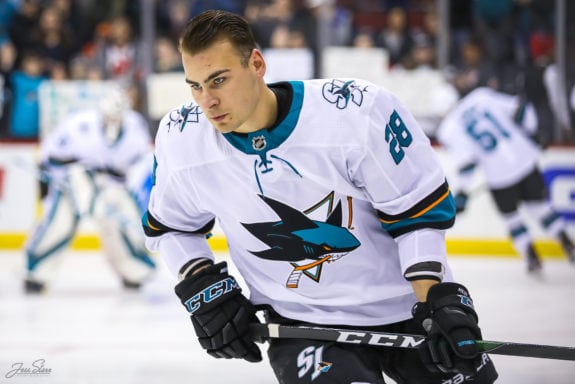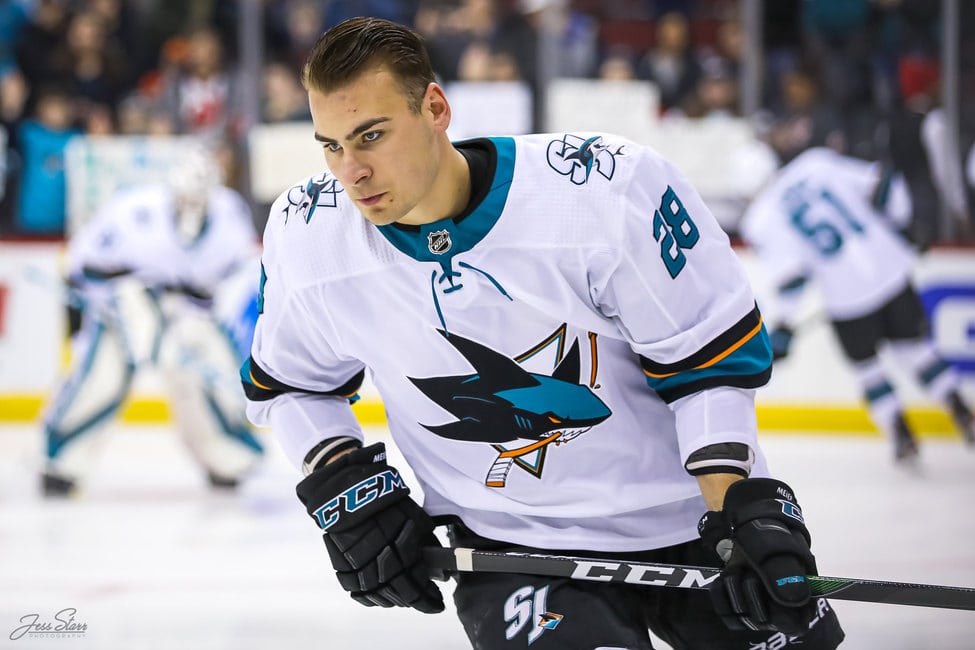 I doubt general manager Doug Wilson was actually thinking positionally, but I don't think the need on the right side escaped him. The Sharks have generally been a team who drafts the best player available from their list. I do think that the Sharks like how projectable Wiesblatt is to be an NHL player. There were certainly guys still on the board at this point who had a much higher upside, like Noel Gunler, Marat Khusnutdinov, Samuel Colangelo, and Alexander Pashin. These players also carry significant risk.
What Exactly Did the Sharks Get?
In Wiesblatt, the Sharks get a high-energy right winger who plays larger than his 5-foot-11, 187-pound frame would suggest. He is excellent in transitions, the best in the Canadian Hockey League (CHL) in fact. His skating is excellent and already NHL ready. This allows him to enter the offensive zone with ease and assist his team in generating offense. He is also adept at skating the puck out of danger from the defensive zone.
Related: Our Free NHL Draft Guide
The Calgary, Alberta native played for the Prince Albert Raiders of the Western Hockey League (WHL). The 2019-20 season was his second full season with the Raiders and he scored 70 points in 64 games, which was nearly double his rookie season of 39 points in 64 games. He represented Canada at the World Under-17 Hockey Challenge in 2019 as an assistant captain, scoring three points in five games for the "Black" squad.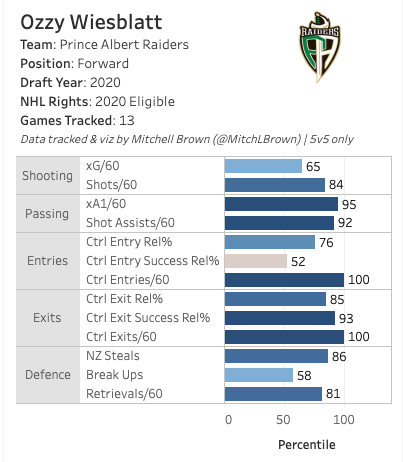 The tracking data from Mitchell Brown shows both Wiesblatt's controlled zone entries and exits were the best he tracked in the CHL all season. The other areas of his game are not bad, but his goal scoring is just above average for the CHL, suggesting his goal-scoring upside is modest at best. He is, on the other hand, excellent at generating assists, according to the expected primarily assists per 60 minutes (xA1/60) and shot assists per 60 minutes (shot assist/60). This suggests Wiesblatt is more of a playmaker and that is super valuable, boosting his offensive upside.
Were There Better Choices at Right Wing?
I don't think the Sharks took the best right wing still available. I had Wiesblatt eighth on my list of top right wingers in the draft. I'm sure the Sharks were hoping, as I was, that Jacob Perreault would keep falling, but the Anaheim Ducks selected him just four picks earlier at 27th. I could see why they didn't take either Colangelo or Pashin. Colangelo needs a lot of work with his skating and Pashin is tremendously undersized. I'm a little perplexed they didn't take Luke Evangelista, who seems to fit even better than Wiesblatt as a super high-floor player.
What Is Wiesblatt's Upside?
Normally, you'd like to say that your first-round pick rockets to the top of your prospect pool, but that won't be the case for Wiesblatt. Also, considering this was the very last pick of the first round, it is essentially like a second-rounder. He is unlikely to be a top-line player, but the middle-six is a reasonable destination for him. He also can likely slide up and down the lineup a bit due to his excellent skating and ability to garner the offensive zone.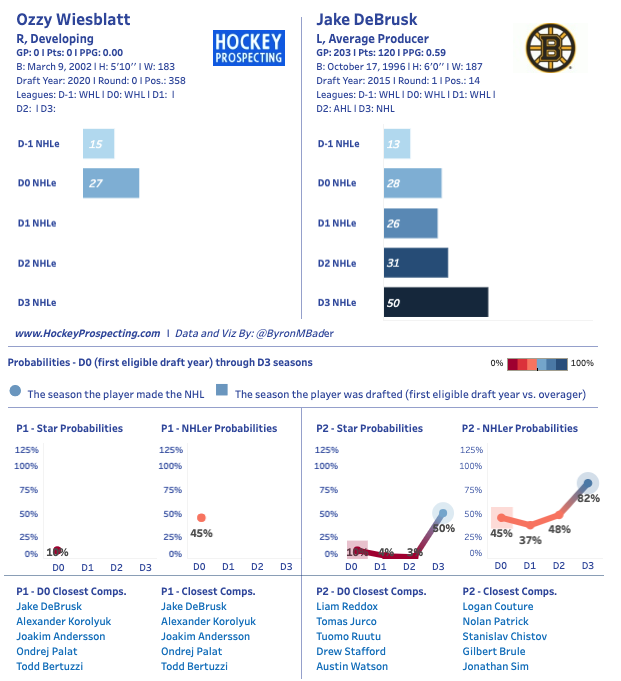 According to Hockey Prospecting, Wiesblatt has similarities to Boston Bruins' former first-round pick, Jake DeBrusk. DeBrusk enjoys time sliding up and down the lineup and is also a good skater. He has some offensive upside and is certainly a regular NHL player. It also doesn't hurt the comparison that DeBrusk similarly developed in the Western Hockey League, though he played for the Swift Current Broncos.
All Class
You have to recognize the class the Sharks organization exhibited in taking Wiesblatt. His mother is deaf, so when announcing the pick, Director of Scouting Doug Wilson Jr. signs the name so his mother can best enjoy the special moment.
The time it took Wilson Jr. to learn that and that he made sure he signed before he said the name out loud demonstrates pure class by the organization
Areas for Improvement
The biggest area Wiesblatt needs to improve upon is his offense, specifically, his in-zone offense. He is great off the rush and can create as well as finish in transition almost better than anyone in the CHL. But, once he enters the zone, if the offensive chance doesn't happen right away, he almost seems a bit lost. He's not very creative after his team sets up in the offensive zone and it's almost as if he figures his job of getting it in there is done.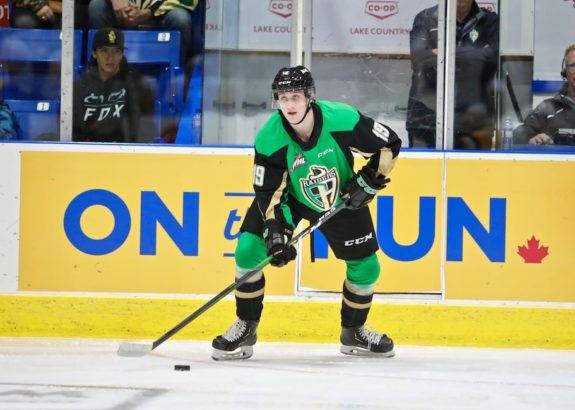 He needs to work harder to find the soft spots in the zone and open up for a shot. His movement in the offensive zone without the puck leaves a lot to be desired. His strong motor sees him rarely standing still, but it also rarely sees him reading the play correctly to find a spot from which he can shoot.   
He could also be better defensively. Similar to his lack of awareness in the offensive zone, he can have the same problems in his own zone. Players can slip by him and get scoring chances too easily. He has shown commitment to working on his game so it seems possible he could improve all of these areas and be an impact NHL player.
---
---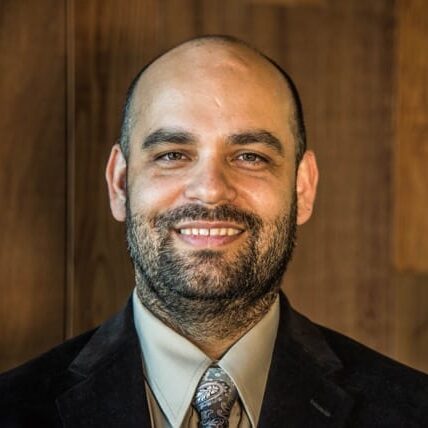 Victor Nuño is a physician in private practice in Santa Cruz and an associate professor of osteopathic manipulative medicine at Touro University in California. He is an avid hockey fan ever since the San Jose Sharks joined the NHL in 1991. He plays, watches, and consumes everything related to hockey, but especially the Sharks and AHL affiliate Barracuda. In addition, he is a father to two beautiful young girls and husband to a wonderful wife. Follow me @VictorNuno12