The 2020 NHL Draft is one of the deepest with first-round talent in many years. Several of those taken in the first round will likely be right wingers and we could see 10-20 taken by the end of the second round. I will be using NHL central scouting positions, since some sources list these prospects differently.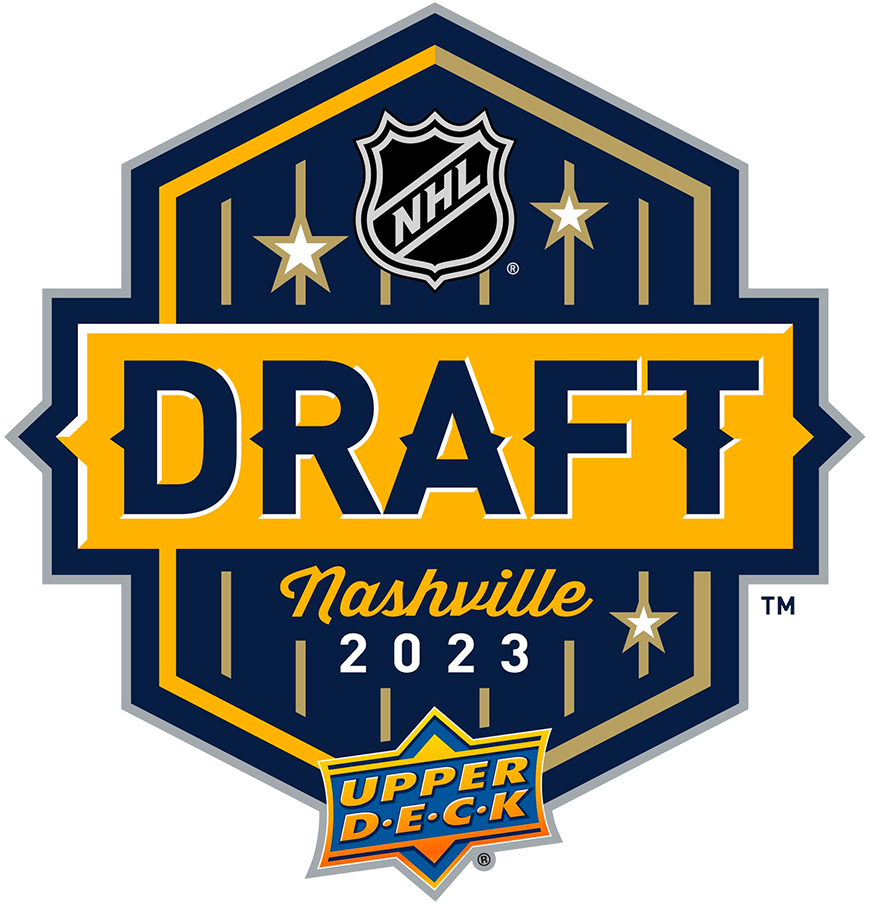 For the top-10 right winger list, I will be referencing data from Hockey Prospecting, which ranks both the star potential of the player and their likelihood of making it to the NHL. An offensive star is a forward who has a career points-per-game mark of .7. Here they are:
10. Bogdan Trineyev
2019-20 Team: MHK Dynamo Moskva – MHL
Date of Birth: March 4, 2002
Place of Birth: Voronezh, Russia
Ht: 6-foot-3 Wt: 176 pounds
Shoots: Right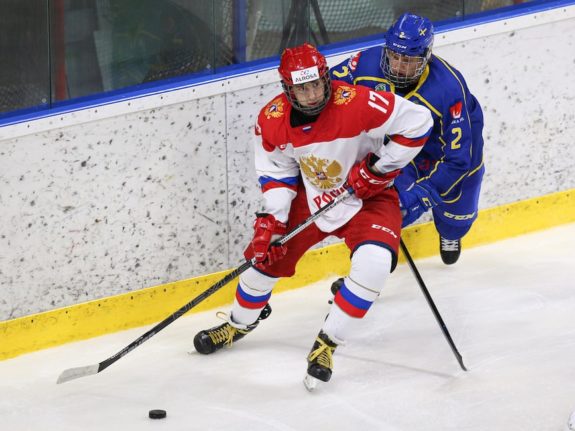 Bogdan Trineyev is likely a bit of a surprise on this list as he beats out Noel Gunler, John-Jason Peterka, and Martin Chromiak amongst others. Gunler's consistency, effort, and lack of defensive acumen are why he isn't on this list. Peterka has exhibited similar issues with consistency and that explains his absence. Trineyev's star potential is 10% and NHLer probability is 45%, higher than Gunler, Peterka, and Chromiak and tied with the next two players on this list. He has a large frame and projects as a power forward in the NHL with a nice skillset. 
For such a large man, his skating is pretty decent. Of course, it could be better, but it isn't as much of a red flag as it is for other power forwards in this draft. He generates power and can outrace competitors, but his agility and ability to turn quickly is not as good. He has a high complete level and plays an aggressive style. His defensive game doesn't seem to be a huge liability, but it isn't a major strength either. He is a player who can excel at puck retrieval and protection, dishing off to a teammate helping to generate offense.
His shot is a bit of a weakness, though he gets it off fairly quickly, it lacks accuracy when rushed. If he has time, he can score with precision. He doesn't have much in the way of puck-handling, favoring puck protection and using his body to shield smaller competition. That might work well in the MHL, but he will have to do more than that to succeed in the NHL. He also has pretty good hockey sense, but sometimes doesn't read the play correctly, especially when it develops quickly. Overall, there are no major red flags and plenty of tools to really like as a projected NHL-calibre power forward.
9. Brandon Coe
2019-20 Team: North Bay Battalion (OHL)
Date of Birth: Dec. 1, 2001
Place of Birth: Toronto, Ontario, Canada
Ht: 6-foot-4 Wt: 190 pounds
Shoots: Right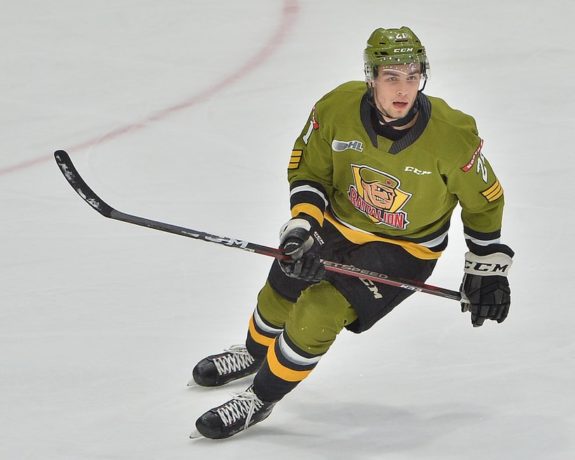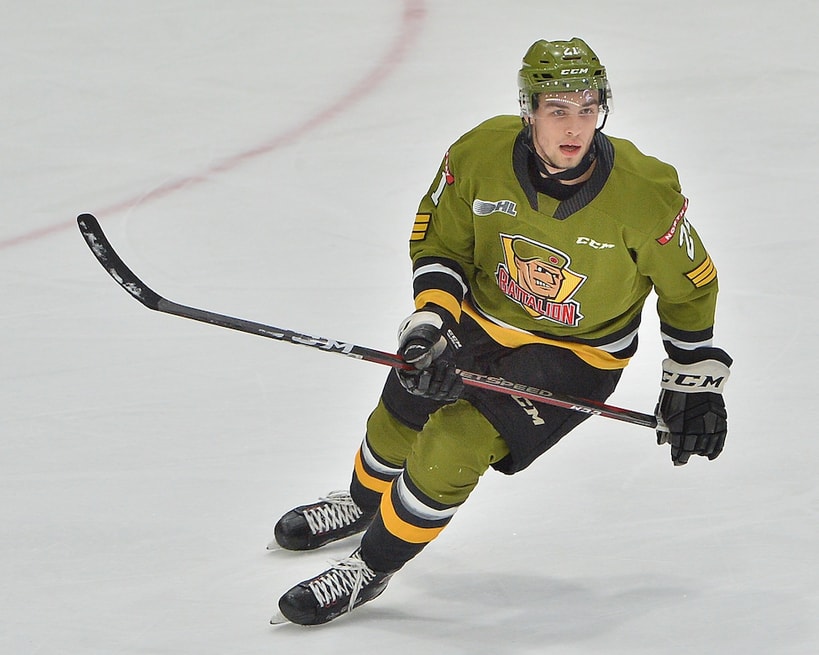 Brandon Coe is an exciting prospect with great physical tools to be an impact NHL player. He is a strong and fast skater, particularly for his size. He combines his size and speed, as well as a strong commitment to the defensive aspect of the game to generate offensive opportunities. He is excellent in front of the net, getting his stick on many pucks thrown his way. He didn't have much talent around him while playing for North Bay Battalion and it would be interesting to see how he would fare next to a top-end center or creative forward. Coe has the same star potential and NHLer probability as Trineyev.
This biggest problem with Coe is that he would disappear at times. He was very inconsistent, especially early in the season, and it is understandable considering the Battalion finished at the bottom of the Central Division of the Eastern Conference of the OHL at the time of the pause. Nevertheless, Coe finished second on his team in scoring just three points behind overager Luke Moncada in two fewer games. Coe definitely improved as the season went on and nearly brought his team to a playoff berth as they were just four points out at the time of the pause.
Coe will certainly garner interest from NHL teams and may go as high as the second round, but likely will be taken in the third or fourth. Wherever he goes, he will bring the necessary physical attributes to be a regular NHL player. He probably has some untapped offensive potential and lacks the defensive concerns of other wingers in this draft. Whether he can be as physical against larger and faster competition remains to be seen.
8. Ozzy Wiesblatt
2019-20 Team: Prince Albert Raiders (WHL)
Date of Birth: March 9, 2002
Place of Birth: Calgary, Alberta, Canada
Ht: 5-foot-10 Wt: 183 pounds
Shoots: Right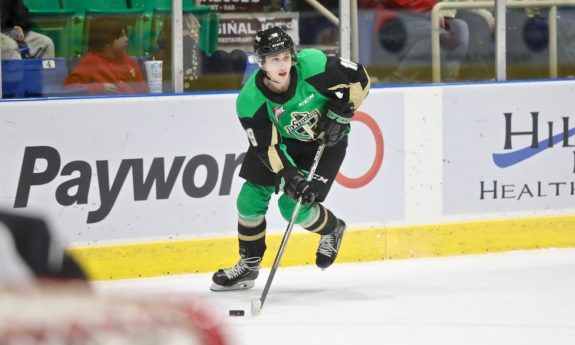 One of the best players in the 2020 NHL Draft off the rush, Ozzy Wiesblatt had a fantastic second season for the Prince Albert Raiders. One thing that helped him was that the Raiders graduated several of their top contributors giving him an excellent opportunity to show what he could do, and he delivered in his draft year. According to Mitchell Brown's tracking data, Wiesblatt excels in two main areas, 5-on-5 shot assists and expected assists per 60 minutes, which takes into account quality of shots generated. He is in the 92nd and 96th percentile of the hundreds of draft-eligible players tracked, which is fantastic as a playmaker. He shares a 10% star potential and 45% NHLer probability with Trineyev and Coe.
Wiesblatt combines great speed, motor, and feistiness to both retrieve pucks and beat players 1-on-1. He is extremely good at gaining offensive zone entries, in fact the best in the CHL according to Brown. He plays larger than his size would suggest, though he could certainly benefit from time in the weight room.
His two main weaknesses are his play away from the puck and play inside the offensive zone. Perhaps it is partly that his play on the rush is so spectacular or just that he gets a little lost when he fails to convert in transition, but either way, his play once set up in the offensive zone lacks creativity. It is not unusual for prospects at his level to lack commitment to positioning when they don't have the puck and I'm confident this is something he can fix. With good coaching, you can see his relentless forecheck being repurposed for backchecking and defensive posturing.
7. Luke Evangelista
2019-20 Team: London Knights (OHL)
Date of Birth: Feb. 21, 2002
Place of Birth: Oakville, Ontario, Canada
Ht: 5-foot-11 Wt: 165 pounds
Shoots: Right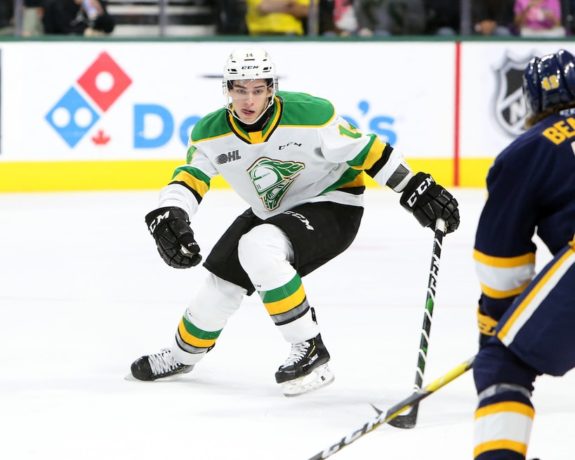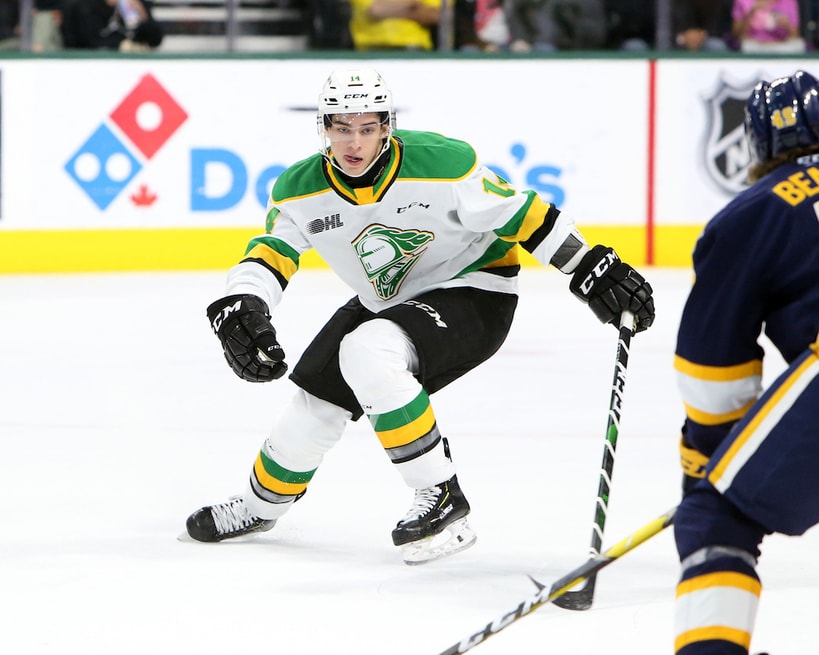 Luke Evangelista has some of the most divergent rankings in the 2020 NHL Draft. Some think he is a borderline first-round talent, while others have him as a third-rounder. Definitely count me closer to the former as I think he is a high-end talent with very few holes in his game. 
According to the Hockey Prospecting model, Evangelista, Wiesblatt, Coe, and Trineyev have the same 10% star potential and 45% NHLer probability. These players are obviously not the same and I like the floor of Evangelista in the sense that his two-way game is the most advanced of the four. While he might not have the highest offensive upside, he likely has the higher overall floor.
The detractors will point to a stacked London Knights team and his frequent play with top prospects Liam Foudy and Connor McMichael, which is fair. But Evangelista rose to that position from a fourth-liner as an OHL rookie and held that spot. That is not something that can be ignored.
Evangelista is a coach's dream in that he can be played in any situation, up and down the lineup, whether ahead or behind, he should earn the trust of any bench boss. Opponents will continue to be frustrated by his dogged checking in all three zones and his teammates will benefit from him generating space for them to work with. There is a clear path for Evangelista as at least a bottom-six winder, with the possibility of middle-six.
6. Alexander Pashin
2019-20 Team: Tolpar UFA (MHL)
Date of Birth: July 28, 2002
Place of Birth: Priyutovo, Russia
Ht: 5-foot-8 Wt: 154 pounds
Shoots: L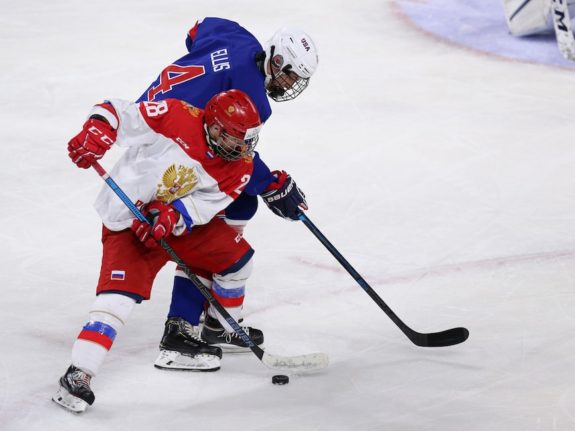 The only right winger who shoots left on this list, the diminutive Alexander Pashin is one of the most offensively creative wingers in the 2020 NHL Draft. What he lacks in size, he more than makes up for in hockey sense and puck skills. His international play, particularly the 2019 Hlinka Gretzky Cup, elevated his status. His eight points in five games and dismissal of Canada in the championship was particularly impressive.
His main drawback is not only his lack of size, but his refusal to engage physically. When he does, even at the MHL level, Pashin is pushed around, something that no doubt hurt him in some rankings. He could certainly stand to grow taller and get stronger, the latter of which he can certainly control. While his play away from the puck leaves much to be desired, his play with the puck is about as good as it gets at the junior level.
The undersized Russian has the 20th-most star potential overall, according to Hockey Prospecting at 25% and the third-most amongst right wingers (although four are tied at two). In addition, his NHLer probability is 68%, which is extremely high. Much higher than many young players currently playing in the NHL. Despite being considered as high as a late first or early second-round pick, Pashin is still underrated by many.
5. Sam Colangelo 
2019-20 Team: Chicago Steel (USHL)
Date of Birth: Dec. 26, 2001
Place of Birth: Stoneham, Massachusetts, United States
Ht: 6-foot-2 Wt: 205 pounds
Shoots: Right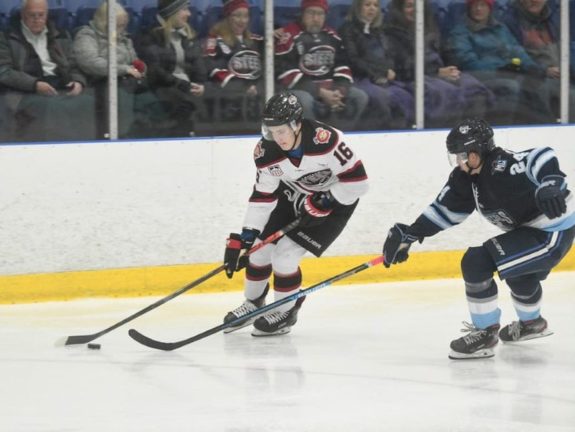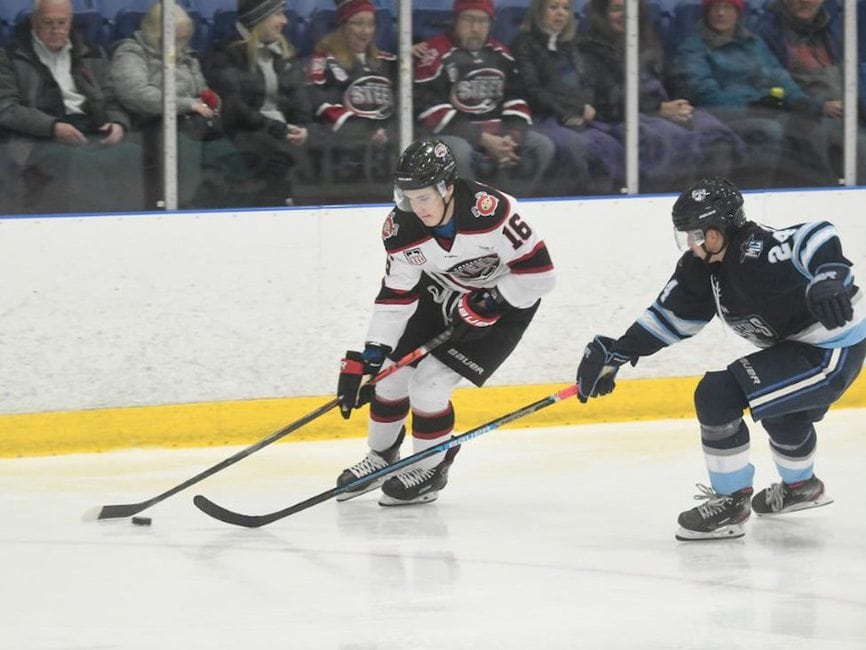 Regarded by most as the third-best American in the 2020 NHL Draft behind Jake Sanderson and Brendan Brisson, some rankings even have Sam Colangelo ahead of Brisson. He is certainly the best right winger of those born in the United States. The big physical forward excelled this season for the Chicago Steel alongside Brisson and Sean Farrell. That trio was dominant, absolutely tearing through opponents and a threat to score on every shift.
The three Chicago Steel players were so good together that it begged the question if Colangelo was really a top prospect in his own right. To answer that, I reached out to Clare McManus, who covers the USHL for Dobber Prospects. She compared Colangelo and Brisson to Jack Quinn and Marco Rossi who starred for the Ottawa 67's together and are both considered first-round talents on their own. She agrees that Quinn is talented independent of Rossi, and feels the same way about Colangelo with respect to Brisson.
Colangelo has a lot of skills that would translate well to the NHL. His best assets are his vision and hockey sense, but he also has great playmaking ability and a good shot. Where he is severely lacking is his skating. Not only is his stride awkward, he doesn't generate a lot of power. It has improved slightly over time, but he still has a long way to go before he can be considered NHL-ready. The Massachusetts native is returning home for college hockey at Northeastern where he will hopefully make tremendous strides on his skating.
I wanted to get a better idea of just how likely it would be for Colangelo to get his skating to the point he is NHL, so I reached out to managing editor at Dobber Prospects Cameron Robinson, who does not feel confident that it will happen. McManus, on the other hand, is still holding out hope and thinks it is somewhat likely. If Colangelo can improve his skating, since most of his other skills are near NHL-ready, he can be an outstanding power forward in the NHL. If you agree that his skating is fixable, he might just be a bit underrated, too. He's tied with three other top-five right wingers at 27% star potential and 55% NHLer probability.
4. Tyson Foerster
2019-20 Team: Barrie Colts (OHL)
Date of Birth: Jan. 18, 2002
Place of Birth: Alliston, Ontario, Canada
Ht: 6-foot-1 Wt: 194 pounds
Shoots: Right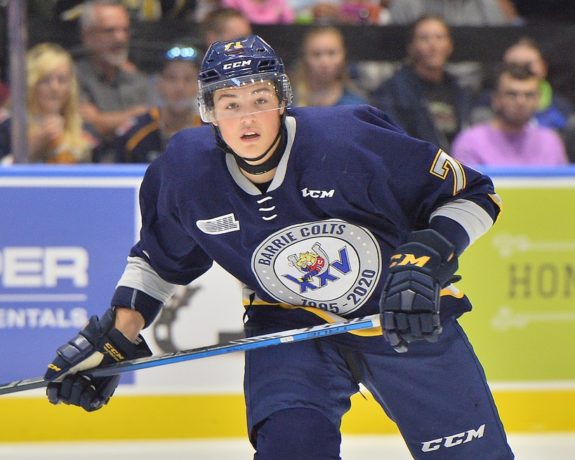 Tyson Foerster had a coming out party this year. While his first season for the Barrie Colts didn't go quite as planned with only 23 points in 64 games, his fantastic 80 points in 62 games don't tell the whole story. He had a 13-game point streak at the beginning of the season and outshined Alexis Lafreniere, Quinton Byfield, and Jamie Drysdale at the CHL Top Prospect game to win the MVP.
Foerster loves to set up in Alexander Ovechkin's office on the left face-off circle and show off his great shot. There were times the puck was in the net before the goalie even reacted. His shot isn't at the level of Ovechkin's, but is certainly of the calibre around which you can make a nice career. Foerster was certainly dangerous as a goal scorer, netting 35 total and 18 on the power play.
One of the concerns is that he is too reliant on the power play. In addition, he shot 25% with the man-advantage, which is a pretty high number, even for someone whose shot is so good. Another big concern with him is his skating. Though he has revamped his skating and made big improvements, it still remains a problem area.
Foerster is the kind of player who will need someone to gain the offensive zone for him as that is not a strength of his. He also won't be winning any Selke Trophy awards, but he may be able to dedicate himself more to the defensive side of the puck to earn more ice time. On the other hand he is an underrated passer and playmaker, especially considering how elite his shot is. Foerster is tied with Colangelo with 27% star potential and a 55% NHLer probability.
3. Jack Quinn
2019-20 Team: Ottawa 67's (OHL)
Date of Birth: Sept. 19, 2001
Place of Birth: Cobden, Ontario, Canada
Ht: 6-foot Wt: 179 pounds
Shoots: Right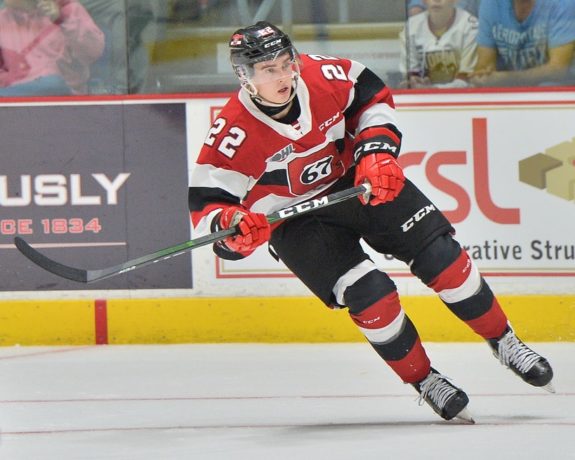 Quinn and Rossi tore up the OHL finishing eight and first in points respectively, while Quinn led the way in goals amongst draft-eligible players and second overall only to Nicholas Robertson. Though Quinn spent most of his 5-on-5 time away from Rossi, they were certainly together on the power play. However, only 15 of Quinn's 52 goals were on the man-advantage.
Quinn is a sniper, but he is also a smart player. He knows where to go to open up for his shot and reads the defense well. Even though he is listed as a right wing, he certainly spends a lot of time on the left face-off dot. It doesn't really matter though, Quinn can score from anywhere on the ice. He is tied with Colangelo and Foerster with 27% star potential and a 55% NHLer probability.
How good of a shooter is Quinn? According to the Elite Prospects guide, he outperformed his expected goals by 19. That is a huge number that only elite snipers can reach. To be sure, he is one of the best finishers in the class, which is part of why he is third on this list. The reason he is not higher is that the rest of his game is just about average. He is not the best skater, but is fine. His defensive game is okay and he can certainly read plays well. As a one-dimensional player, which is pretty fantastic, but it is also the reason he isn't second.
2. Jacob Perreault
2019-20 Team: Sarnia Sting (OHL)
Date of Birth: April 15, 2002
Place of Birth: Montreal, Québec, Canada
Ht: 5-foot-11 Wt: 198 pounds
Shoots: Right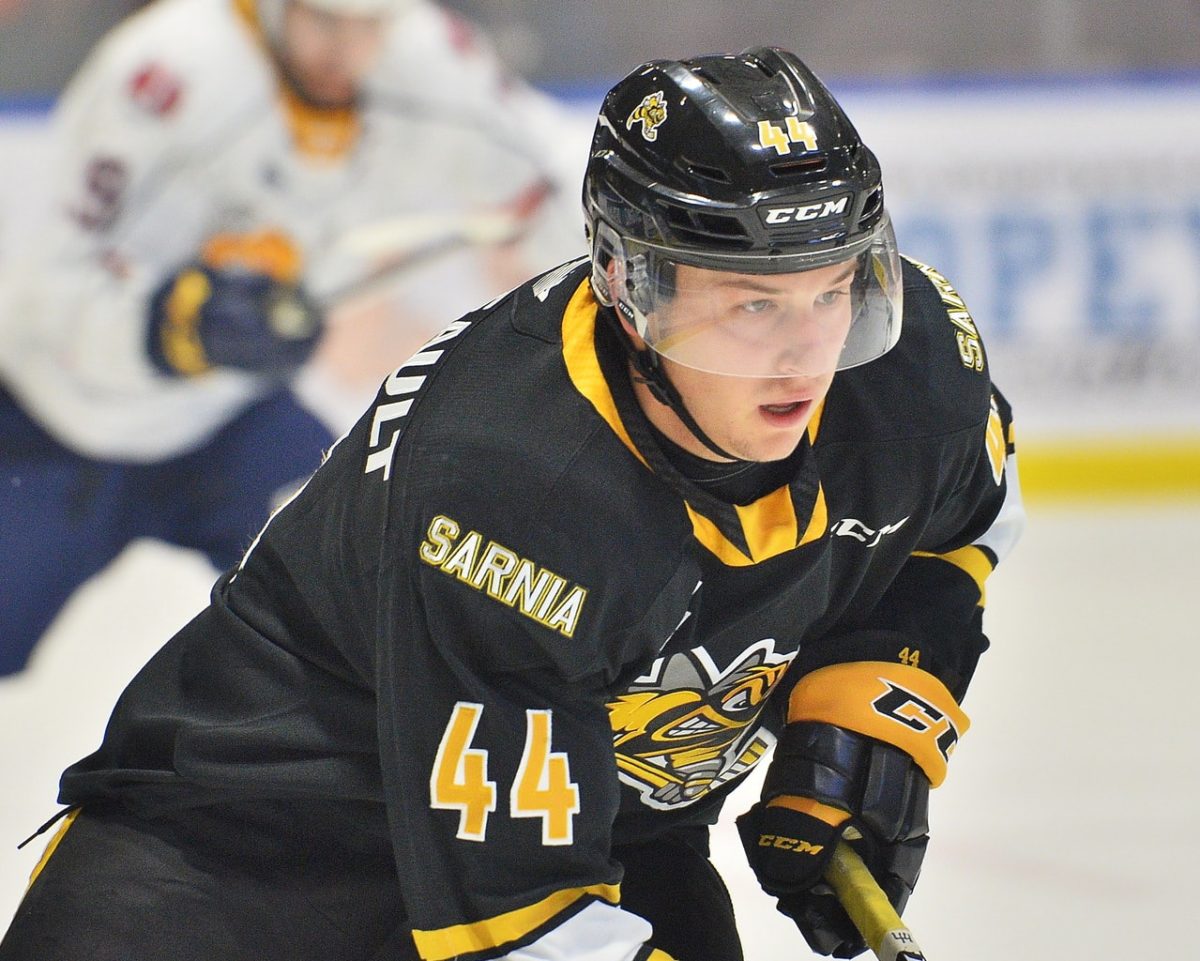 Jacob Perreault is the son of Yanic Perreault who played 859 regular season games in the NHL, though the two play a very different style. Perreault the elder was known as a two-way center who was tough to play against and could almost always win you a faceoff. The younger Perrault is a sniper and one of the best pure goal scorers in the 2020 NHL Draft. The reason he's ahead of Quinn and Foerster is that he has other great attributes as well. 
Perreault didn't have a Rossi type on his team to take the toughest matchups or help create on the power play. He did most of the heavy lifting himself and finished second on the team in scoring behind overager Sean Josling by eight points in three fewer games. The Sarnia Sting were not good in 2019-20 finishing last in the Western Division of the Western Conference of the OHL with a minus-55 goal differential.
The Sting's struggles help put Perreault's team worst minus-34 plus/minus into context. He was used in all situations and he was often overwhelmed, but it is not an indication that he is a poor two-way player. He certainly has room to improve, but he is not as one-dimensional as Quinn. A glimpse at the tracking data from Mitchell Brown comparing Perreault and Quinn is enlightening.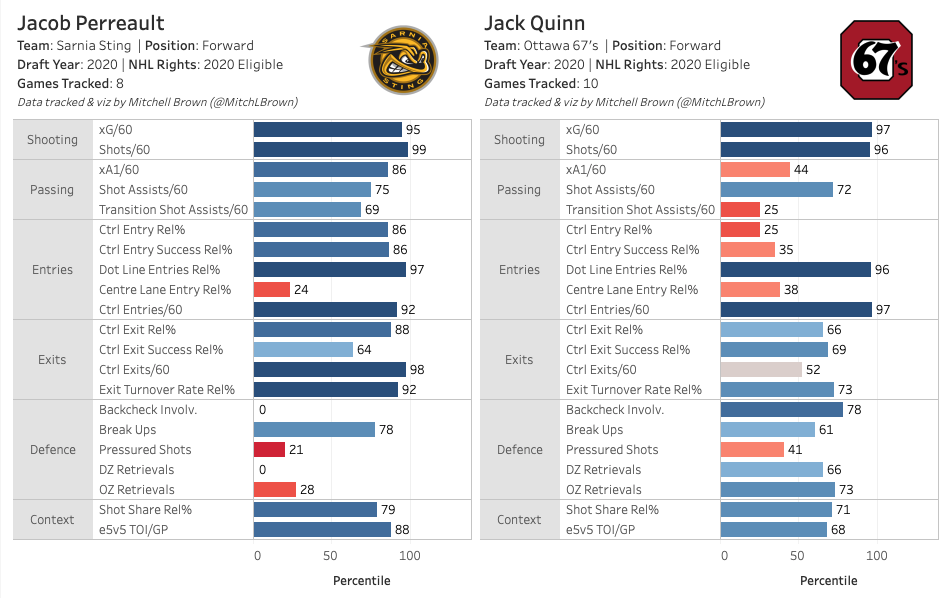 Through this viz you can see that the two are pretty similar in expected goals and shots per 60 minutes. They are also similar in dot line entries relative percent and controlled entries per 60 minutes. In just about every other metric, Perreault is ahead of Quinn. Passing, zone entries, zone exits, and defensive capabilities all favor Perreault. Ultimately, when ranking these two, I am going with the winger who has a more complete all-around game since their sniping and playmaking seems roughly equal. I'm sure some will argue Quinn is a better pure finisher and that may be, but he is much further behind Perreault in all other areas.
Another reason Perreault is second on this list is he actually has the highest NHL equivalency per Hockey Prospecting with 46% star potential and an 82% NHLer probability. Yes, that is higher than Alexander Holtz who is first on this list. That doesn't mean he will be better, but count me as one of those who think the gap between Holtz and Perreault isn't as wide as some might suggest.
1. Alexander Holtz 
2019-20 Team: Djurgårdens IF (SHL)
Date of Birth: Jan. 23, 2002
Place of Birth: Saltsjö-Boo, Sweden
Ht: 6-foot Wt: 183 pounds
Shoots: Right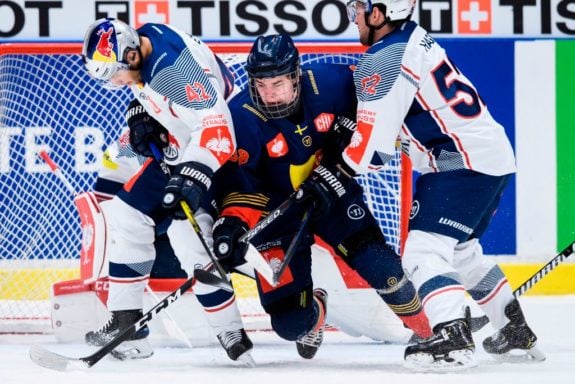 Holtz is the best pure finisher in the 2020 draft class. His best attribute is clearly his shot, which is already NHL-ready. Only two players in the history of the Swedish Hockey League (SHL) have scored more goals as an under 18-year-old player, Markus Naslund and Peter Forsberg. That is some pretty special company. He won't need an elite center to put up dozens of goals at the NHL-level, but if he gets one, he could certainly push past the 40-goal mark.
The rest of Holtz's game isn't bad, but it isn't elite. It doesn't matter though when you have a shot that is this special. He has vastly improved his puck retrieval, defensive reads, and backchecking throughout the 2019-20 season. There are no glaring weaknesses in his game and his best attribute is so special. He has the second-highest star percentage amongst right wingers at 32% to go along with a 55% NHLer probability.
That alone would probably be enough to get him the top spot on this list, but it gets better. Holtz improved all the other areas of his game this season more than probably any other prospect. His drive to constantly get bigger, stronger, and smarter is something that will reward him at the NHL level. He turned lack-luster backchecking into dogged pursuit and puck retrieval. The one area that probably could use more work is his passing. The trigger-happy Swede sometimes doesn't see or doesn't want to pass to wide open teammates. Since he sometimes converts the goal anyway, he is not always learning from those mistakes. That will come at the NHL level.
Final Thoughts
This draft is full of talented right wingers. It is important to keep in mind the impact each player will have on their team and how they might be used. While I think Perreault might end up being the most complete player, I couldn't put him ahead of Holtz because of his fantastic shot. The rest of Holtz's game is rounding out, but I don't think it will fully catch up to where Perreault will end up. Evangelista is another whose all-around skill will be very valuable, as he can slide around the lineup.
I really wanted to include Gunler, Peterka, and Chromiak, but there are just so many questions with them. If I was an NHL general manager, I might take them before one of the right wingers on this list if the situation was right. A lot certainly depends on what else is happening at the draft, which impossible to tell in a list like this. It will be fun to look back on this list in several years, I expect there might be some movement.
---
---