Flames Raging Without Explanation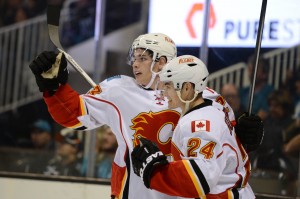 Despite being among the bottom Corsi teams in the NHL,  the Calgary Flames are in playoff position and just capped off a 4-1 season series over the San Jose Sharks. While many of us hockey followers believe in these so called "fancy" stats and what they indicate, there is, and probably always will be, a lot of hockey that simply goes unexplained. For whatever reason, a team with few big name players and poor possession numbers dominated the Sharks this season. San Jose was without top defenders Marc-Edouard Vlasic and Justin Braun in Monday's 4-1 loss to the Flames but neither bring a ton of offense to the table. The Sharks scored just two goals in the last two games against Calgary. One off a faceoff with three seconds remaining in the second period on Monday and one by John Scott in the previous loss up in Alberta. In some of the games the Sharks are getting their fair share of shots and possession, but they aren't creating much in terms of Grade A looks and aren't finishing when they do get them. The frustration and disappointment was obvious in the Sharks dressing room after Monday's defeat.
"It's always frustrating when you lose, especially when a team continually beats you" commented Joe Pavelski. "It's not fun, you know we expect more out of each other. We got it going there for awhile but then it got away from us. We came in wanting more out of this game."
Asked if the way the season series has gone is frustrating knowing they might see the Flames down the road in the playoffs, Brent Burns was succinct with his response.
"Obviously" responded the Sharks defenseman.
Sharks Kryptonite?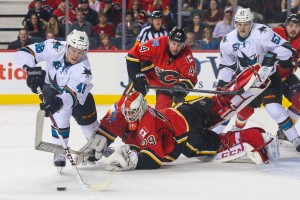 In Monday's loss it was a number of errors that led to the goals against. Neither the forwards, defense, nor Antti Niemi were good enough in this one. Calgary's first goal was an odd man rush that was a point blank wrister but also a goal that was very stoppable with no screen and no lateral movement required from Niemi. The goal was a simple wrist shot through the seven hole. The second marker came off a lost faceoff by James Sheppard who is probably better suited on the wing, and defenseman Mirco Mueller failed to tie up his man in front. As Sharks head coach Todd McLellan noted though, the defensive lapses shouldn't leave the offense off the hook.
"Tonight we made enough mistakes that they could capitalize…they in turn made mistakes and we didn't capitalize. So we have to look at our net intensity and what we're doing with the puck. Are we going to the right spots? We weren't winning with one goal tonight, so we can look at it from a defensive perspective and be disappointed in those mistakes but we also have to look at it from an intensity perspective offensively. We got nothing from our power-play again, which is disappointing. We have some individuals that want to go to the right areas and score and they are scoring a lot. Others, whether it is a sense of timing or not being involved, they are not there at the right time and they are not scoring."
In the season series the Sharks scored just eight goals in the five games. Injuries to defensemen in recent contests don't have much to do with San Jose's lack of scoring. It is a problem the Sharks have had all season, not just against Calgary but heightened even more against the Flames. A lot of Sharks fans harp on the lack of a strong blue-line group but the bigger problem is this team can't score at even strength. On paper the Sharks should be able to handle the Flames but it is hard to envision the Sharks having much success against them in a potential playoff series. For whatever reason, Calgary's team defensive game and Jonas Hiller in net have been San Jose's kryptonite this season.