The Calgary Flames and new general manager Craig Conroy are continuing on in the trek that is the NHL offseason. Lately, the team has decided to let the league's annual prospect signing deadline pass without signing five of their former draft selections. The young men in question are Jack Beck, Cole Huckins, Cameron Whynot, Cole Jordan, and Lucas Feuk. The first four players were all selected in the 2021 NHL Entry Draft, while Feuk was chosen back in 2019.
NHL rules dictate that any player aged 20 and under may re-enter the NHL Draft if not signed by their original organization. This means that the first four listed will be able to hop back into the upcoming 2023 Draft and hopefully get selected again, whereas Feuk (age 22) becomes an unrestricted free agent (UFA) and is now free to sign with any professional hockey club.
Related: Flames Should Draft Ritchie or Dragicevic In 2023 1st Round
---
Latest News & Highlights
---
While decisions like these can be seen as a waste of draft capital and/or player development, there is much more to the story. There are reasons for each young man's departure, and we can only theorize what those may be. For those unfamiliar with these individuals, let's spend some time looking at what the Flames are potentially missing out. In addition, we'll provide some thoughts as to why they may be letting them all walk.
Lucas Feuk, Forward
First up is the aforementioned lone UFA Lucas Feuk. The Stockholm, Sweden native was drafted by the Flames in the fourth round, 116th overall, in 2019. Interestingly enough, the New York Islanders originally owned this pick but surrendered it to the Flames in the trade that brought Travis Hamonic to Calgary in June 2017.
Since then, Feuk has primarily played in the Swedish HockeyAllsvenskan, the second-highest level of play available in Sweden, and scored just five points in 53 games. He most recently completed a season with the Flames' ECHL affiliate, the Rapid City Rush, putting up a meager 12 points in 45 games. Management probably saw it feasible to have a future without Feuk based purely on performance.
Jack Beck, Forward
Next is a more recognized name in Ottawa 67's forward Jack Beck. He was chosen in the sixth round, 168th overall, by the Flames in 2021. The 20-year-old left winger from Richmond Hill, Ontario, recently helped his team get to the second round of the Ontario Hockey League (OHL) Playoffs before they got ousted by the eventual champion Peterborough Petes. He had 12 points in 11 games to finish third on his team in playoff scoring. Before this, he finished the regular season with 53 points in 45 games and 44 points in 36 games the season prior.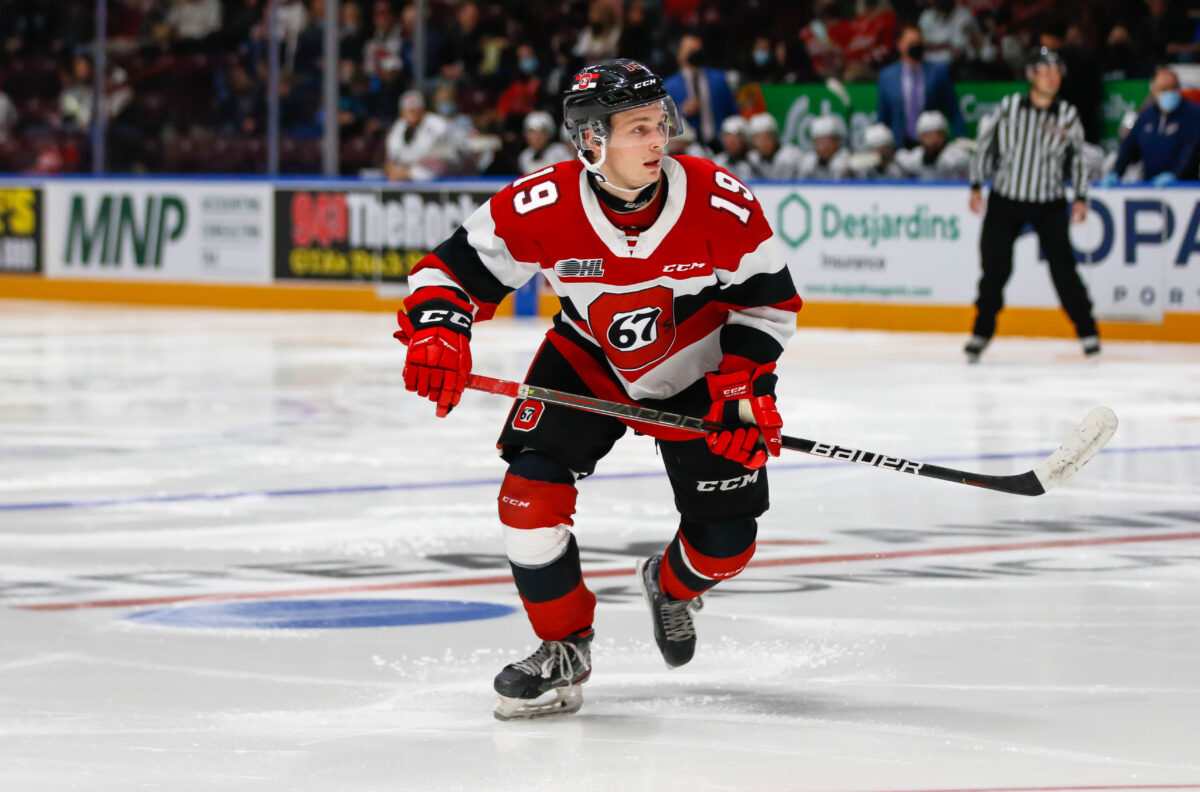 Those offensive numbers are pretty impressive at face value. However, the glaring problem that likely soured the Flames was Beck's injury concerns. The forward has played only 56, 36, and 45 games in his three OHL seasons, respectively. His list of health issues includes a kidney laceration, knee contusion, and a fractured thumb, among other things. The Flames essentially had to make a decision to sign Beck to a three-year, entry-level contract based on a relatively small sample size.
They obviously chose not to use one of their 50 contracts on him, and should he maintain health and continue on an upward trajectory, it could bite the team in the rear end in the future. The Flames could technically re-draft Beck, although such a rare occurrence hasn't taken place since the Columbus Blue Jackets drafted forward Trevor Hendrikx in 2003 and again in 2005.
Cole Jordan, Defense
Third on the list is defenseman Cole Jordan, who hails from Brandon, Manitoba, and most recently completed his junior hockey career with the Moose Jaw Warriors of the Western Hockey League. The Flames snagged him in the fifth round, 141st overall, in 2021 after he showed decent promise in the COVID-19-shortened 2020-21 season with ten points in 23 games. His defensive play was also quite respectable.
Unfortunately, he has also come down with the injury bug since then, skating in just 53 games and producing a measly 18 points. Again the team was forced to decide on his future with little information and opted to let him re-enter this year's draft.
Cameron Whynot, Defense
Kentville, Nova Scotia's Cameron Whynot was drafted by the Flames in the third round with pick number 89 in 2021. This came after an impressive sophomore-junior campaign in which he produced 23 points in 34 games in the COVID-shortened 2020-21 season. The 6-foot-2 rearguard played all of his four years with his local Halifax Mooseheads of the Quebec Major Junior Hockey League. Ironically, the selection used to select him was packaged with the pick used to draft Beck and shipped to Calgary via the Los Angeles Kings in a move to trade up in the third round.
Unfortunately for Whynot, he never again came close to the offensive numbers achieved in his draft year and was not solid enough defensively to make up for it either. Like Jordan and Beck, he faced his fair share of injuries, as he did not suit up for more than 48 games in either of the last two seasons.
Cole Huckins, Forward
Last but not least is fellow 2021 third-round pick Cole Huckins, who was selected 77th overall by the Flames. Originally hailing from Fredericton, New Brunswick, he was a relatively tantalizing young prospect due to his size and offensive capabilities. Standing 6-foot-3 and weighing almost 200 pounds, he used these gifts to his advantage to the tune of 27 goals and 70 points in 97 games throughout his first two seasons with the Acadie-Bathurst Titan of the Quebec Major Junior Hockey League (QMJHL). He followed the theme of injury issues, though, as he only skated in 41 matches during the 2021-22 season, scoring just 12 goals and 26 points.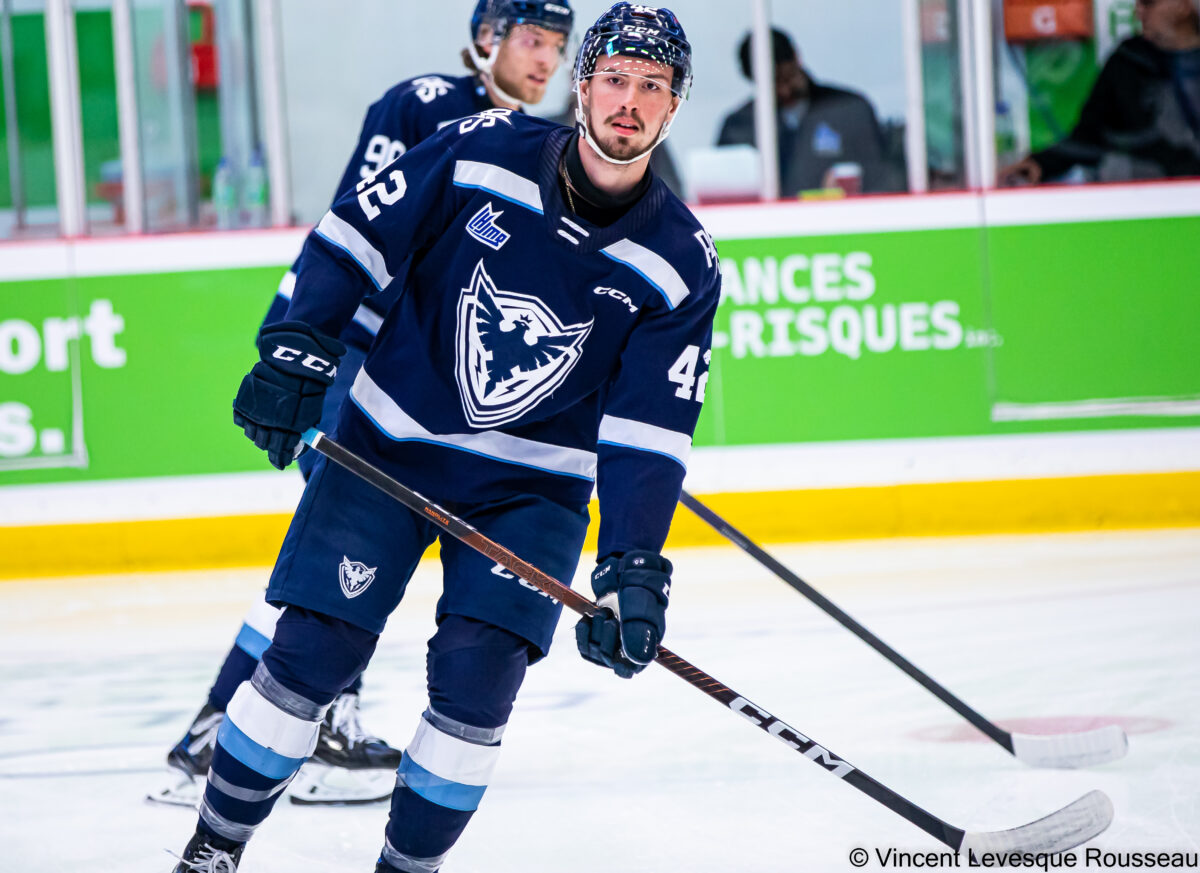 Huckins would get another chance with an offseason trade to the Sherbrooke Phoenix. He had a solid bounce-back year, putting up career-high totals of 28 goals and 58 points in 64 games. Nonetheless, the Flames likely got a tad picky and wanted to see even more before committing to the 20-year-old for three years. His 58 points were fifth on his team, and he was seemingly overlooked many times for more dynamic Phoenix forwards such as Joshua Roy, Jacob Melanson and Ethan Gauthier. Like Beck, the Flames could potentially look to re-draft or sign Huckins should he go undrafted in 2023.

At the end of the day, none of these five players appear to be groundbreaking losses. Of course, the potential exists that one or more of them could go on to tremendously successful NHL careers and make the Flames look a tad foolish. However, they have only 50 contract spots available, and in today's NHL, those spots cannot go to waste. Hopefully each of these players either get re-drafted by a team that can provide them opportunities or sign with an organization of the same nature in the near future.
---
---