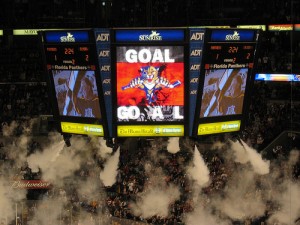 With training camps and pre-season hockey getting under way, what better time than now to take a pre-season look at what 2009-2010 might hold for the Florida Panthers. 
Only two other franchises in NHL history have spent more consecutive seasons on the outside looking in on the playoff picture.  The last time the Cats were in the postseason?  April 20, 2000, a full nine seasons ago, when they were swept out of the quarterfinals by the New Jersey Devils (the other two franchises are the California Golden Seals/Cleveland Barons/Minnesota North Stars of the 1970's, and the Colorado Rockies/New Jersey Devils of the mid 80's).   If the Panthers are hoping to avoid the dubious distinction of a full decade sans playoffs, they will need their rookies to have breakout years, their veterans to return to their prime form, and their offseason acquisitions to gel with their new teammates immediately.  Too much to ask for, you say?  Maybe, possibly, probably… but let's wait until November before we eliminate the Cats from playoff discussions.
The 2009-2010 version of the Florida Panthers will feature plenty of new faces.  Lost from the team that came up just one point short of the playoffs a season ago are 4 of their top 6 defencemen, including eater of ice time Jay Bouwmeester (Karlis Skrastins, Nick Boynton, and Jassen Cullimore also found other homes).  Brought in to play the blue line are Jordan Leopold, Dennis  Seidenberg, and Ville Koistinen.  Bryan Allen will also return after missing all but two games last season.  Upgrades?  Possibly as a whole, although clearly no one will be able to replace Bouwmeester, but the Panthers should still be able to put together a respectable stable of D-men, with veterans Bryan McCabe and Keith Ballard returning from a season ago.  Rookies to keep an eye on during the pre-season camps include Keaton Ellerby, Jason Garrison, and 2009 1st round draft pick Dmitri Kulikov.  All three could see NHL playing time during the season. 
Offensively, the story is not so much about who chose to play their hockey elsewhere, but more about whether or not the high draft picks that come with all those losing seasons will finally produce a consistent season.  The "Sunshine Express" line should be reunited, with Stephen Weiss (2001, first round), Nathan Horton (2003, 1st round), and David Booth (2004, 2nd round).  Throw in 2004, first round pick Rostislav Olesz, who has yet to score more than 14 goals in a season, and you have an amazing amount of untapped potential.   Booth has shown the most of this group, and was the only Panther to break the 30-goal mark last year in just his 3rd season.  Toss in Michael Frolik, who had a stellar rookie season (21 G, 24 A), mix in the veteran presence of Cory Stillman and free agent signee Steven Reinprecht, and there is definitely a solid balance up front.  Rookies who could find themselves playing with the big club include Michael Repik and Shawn Matthias, both of whom played NHL games last season, and KHL transfer Evgeny Dadonov.  The Panthers will be able to roll four lines with confidence.  They will not have a clear cut top line or an obvious #1 threat.  What they will have is depth and grit, a blue collar attitude that head coach Pete DeBoer made a staple in his first year behind a NHL bench.  
Returning to the Panthers' crease is 10 year veteran Tomas Vokoun.  Pushing him in what DeBoer calls the "1A" position on the depth chart heading into camp is Scott Clemmensen, who showed last season in New Jersey that he can and probably will be a starting goalie in the NHL in the not-too-distant future.  Should Vokoun slip, Clemmensen will be more than ready to fill in. 
Stealing a line from Herb Brooks, err… Kurt Russel, this team does not have enough talent to win on talent alone.  But four balanced lines, depth on the blueline, and a solid goaltending tandem can certainly go a long way.  And with the NHL schedule compressed as it is, thanks to the 2-week Olympic break, depth and fresh legs come March might prove to be more important than in most years.  The Florida Panthers' own schedule is daunting enough.  They opened camp in Port Hawkesbury, Nova Scotia, and will hold a few days worth of practice before opening the pre-season schedule with a game in Halifax against the Senators.  Then it's on to Ottawa, Montreal, Edmonton, Calgary, and Dallas, before playing their lone home game in south Florida.  The Panthers will play split-squads, so the players will play every other game.  But then it's across the pond to Finland, where the Cats will take on two Finnish teams before opening the NHL season against the Chicago Blackhawks on October 2nd.  That is a ton of travel for just two regular season games.  Looking ahead through the full schedule, the Panthers will play back-to-back nights 18 times, 9 of which are a home-and-home.   There are not any lengthy home stands or road trips, the longest of both is just 4 games.  And should these games matter, the Cats play 4 of their last 5 at home.  Here's hoping they are jockeying for a higher seed, and not for a higher draft pick.
Karl Selvig was born and raised in south Florida, and was introduced to hockey when the NHL came to Miami in 1993. It was love at first sight. After playing through college, he turned to the media side of the sport and has enjoyed writing about his beloved Panthers since 2007.