The Florida Panthers are relying on several high-end prospects to help bring the team around. Aleksander Barkov has been doing his part,  showing flashes of brilliance from time to time. Jonathan Huberdeau is currently regressing after his Calder-winning rookie campaign. There has been speculation that his lack of production is primarily due to his off-season hip surgery, but the young forward needs to find his game again soon.
On defense, Erik Gudbranson has been coming into his own, but the offensive numbers just aren't there yet. Dmitri Kulikov is in the same boat, but has shown his offensive skills in the past.  In 2011-12, Kulikov scored 28 points in 58 games. While injuries remain a concern, he needs to become more productive on the ice.
In goaltending, perhaps the biggest disappoint for the Panthers right now, is Jacob Markstrom.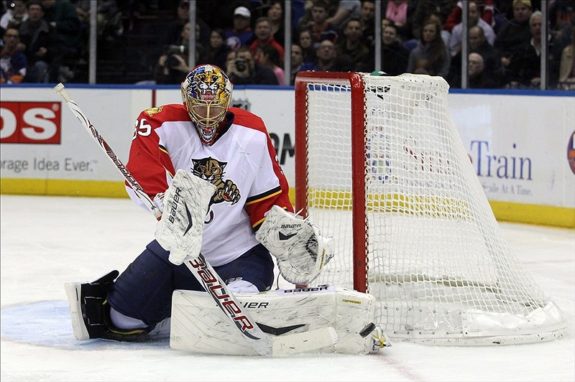 Tim Thomas was called upon simply because management did not believe Markstrom was ready, and they were right.
He has put up some pretty good numbers in the past, at least for his age, but has not been able to find a consistent level of production. The Panthers gave him a chance earlier this season, but Markstrom had his worst performance yet. In 11 games played, Markstrom currently has a record of 1-5-3 with a 3.36 goals-against-average and 0.877 save percentage in the NHL. He has played much better in the past but was not able to replicate anything close. He was demoted to the AHL for conditioning while Thomas and Scott Clemmensen handled the crease.
During his demotion, Markstrom has been playing much better for the San Antonio Rampage. In 10 games played, Markstrom supports a record of 4-5-1 with a goals-against-average of 2.46 and a 0.924 save percentage. These are his best numbers since 2011-12 but he still needs to transition that to the NHL.
This past weekend, Thomas re-aggravated a groin injury which forced Clemmensen to start on Friday and Markstrom to be called up from San Antonio.
Could this finally be Markstrom's time?
Thomas will not be out for too long, as of right now, and Markstrom should see at least one or two starts before his return. Clemmensen has played well during this time, which makes it a bit harder to give Markstrom more games. However, after taking a breather in the AHL, it seems time for Markstrom to step up.
There might not be a better time for him to turn it around either. Looking at the ageless duo of Thomas and Clemmensen, both players' contracts expire at the end of the season. Markstrom will be in a contract year in 2014-15, which will be a make-or-break season for the young Swede.
In his last NHL start, Markstrom lost an overtime heart-breaker to the Edmonton Oilers, where he gave up to fast break goals to help the Oilers back in to the game. (youtube video here)
Here is Markstrom's post-game interview from that night.  His attitude seems concerning after such a difficult loss but he is still young, and learning to build of such experiences will be a great asset for the future.
The organization has given Markstrom ample time to prove himself but they have been hoping for much better production. After spending time with the farm team, Markstrom must take his chances in the NHL very seriously, or continue to watch his opportunities diminish.
If he can turn it around this season, and show the Panthers he can play at the NHL level, they will not be so concerned about goaltending next year. Rather than take a chance on players like Thomas, the Panthers will have one of the league's up-and-coming tenders to man the net and just need to find a capable back-up. 
The Panthers are far from a playoff team and the returns of Thomas and Clemmensen seem unlikely next season. With such a youthful group of players, it would be in the Panthers' best interest to roll with their prized goaltending prospect. Signing aging tenders to man the crease while Markstrom finds his game is more of a sustaining move than a building one.
With that said, it is in Markstrom's hands to take the starting goalie position and run with it. If he does not prove himself by next season, the Panthers may very well go in another direction.