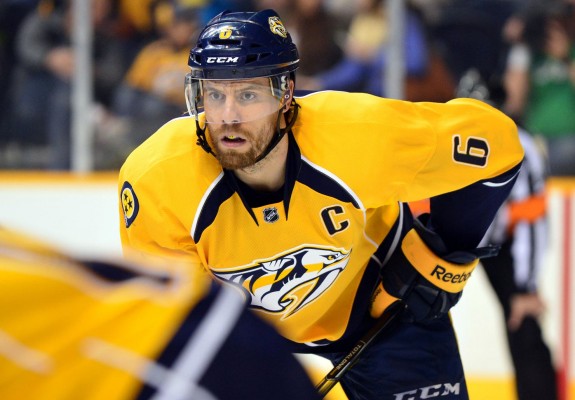 Paul Holmgren has made most of his big deals as General Manager of the Philadelphia Flyers in the summer. The last time the Flyers acquired a franchise defenseman, Holmgren did it at the 2009 Entry Draft, acquiring Chris Pronger.
You'll recall back in 2012, Paul Holmgren attempted to sign Nashville Predators star defenseman and face-of-the-franchise, Shea Weber. It was, and still is, one of the ballsiest contracts in recent memory. It put Nashville — a small-market team with a budget-conscious attitude– in a precarious position; lose your star player for four first-round draft picks, or pay $68 million dollars in signing bonus money over the first six years of the deal. $52 million of that comes in the first four years of the deal and $26 million of it was in the first year alone.
https://twitter.com/RealKyper/status/225949235579867136
Since it is signing bonus money, none of that would have been affected when the new CBA was constructed, making it all truly guaranteed money. Ultimately the Predators matched the deal. Whether they truly can continue to afford it is an entirely different question.
Fast forward to 2014 and Chris Pronger is, for all intents and purposes, done playing hockey — regardless of his "attempts" to return, which is simply a formality because of a poorly constructed rule in the previous CBA. That means the Philadelphia Flyers are in need of a new franchise defenseman — which is why they went after Weber the first time– which would be the key missing piece to a team with much youth, depth, and promise shown on the offensive side of the puck to go along with the revival of a solid young goalie.
The blockbuster trade deals are most often done in the summer. The NHL Entry Draft is ideal. Where is the 2014 NHL Entry Draft being held? Philadelphia. Do you think Paul Holmgren (or Ron Hextall) is going to want to make a splash in front of the hometown fans? You better believe it.
A trade for Weber would — and should — take a lot to pull off. The Flyers are one of the few teams in the league with enough pieces to do it. One would assume the Predators would command a return similar to what the Flyers gave up to get Pronger. Here are a few potential trade pieces.
Brayden Schenn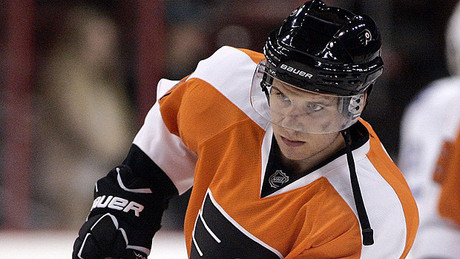 Brayden Schenn has shown the ability to be a number two center in this league, and could soon find himself in the running for an All-Star nomination. He has grown immensely this season and his numbers prove that as he is currently setting his career-highs in goals, assists and points. He has the physicality and the compete level that you would want in any player. Will he ever be a Ryan Kesler? No, probably not. Can he be a very nice complimentary piece among a team's top-six forwards group? Absolutely, and at only 22-years old who knows where his ceiling is. Luckily for the Flyers, they have a capable fill-in for him named Vincent Lecavalier who would probably prefer to make the move back to center. They also have Scott Laughton who all but cracked the roster this season and instead is in the process of tearing up the OHL. He currently sits 11th in the league in scoring, racking up 39 goals and 47 assists through just 53 games.
Matt Read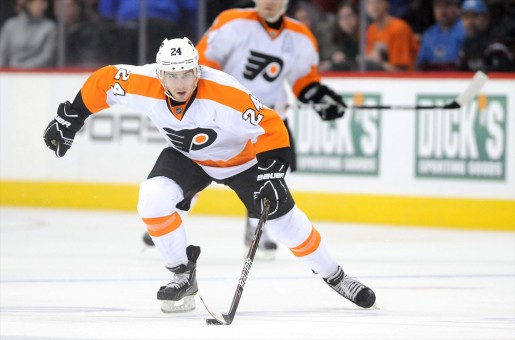 Matt Read is another interesting trade piece. He is playing third-line minutes in Philadelphia but has shown the ability to score goals. Could he play on the second line on a team with less depth than the Flyers? Certainly possible. The 27-year old Bemidji State product had a standout rookie campaign in 2011-12 tallying 24 goals and 23 assists. He is quietly enjoying another nice season with 16 goals and 15 assists through 57 games played. 
Scott Laughton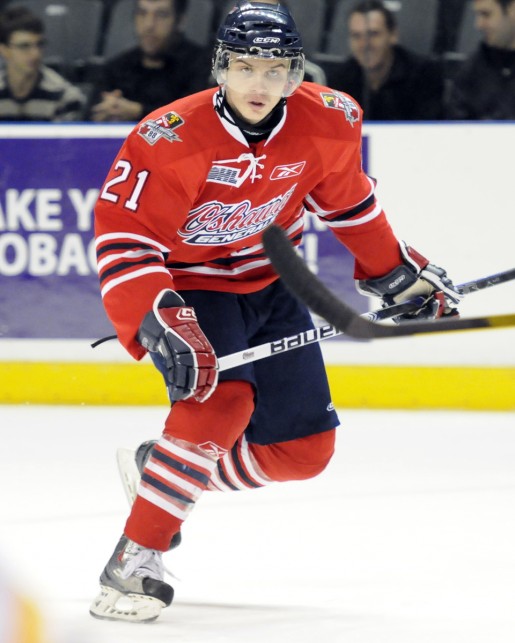 Speaking with Laughton back in January, it's clear the kid has the determination and mindset to be a big-time player in the league. He is currently tearing up the OHL with 39 goals and 47 assists in just 53 games played for the Oshawa Generals. Success in the OHL doesn't always mean it translates to the NHL, but Laughton impressed enough to have a very long look at making the team earlier this season, and seems almost a lock to be in Philadelphia next season. He captained the Canadian World Junior team which included future stars Jonathan Drouin and Matthew Dumba among others.
Samuel Morin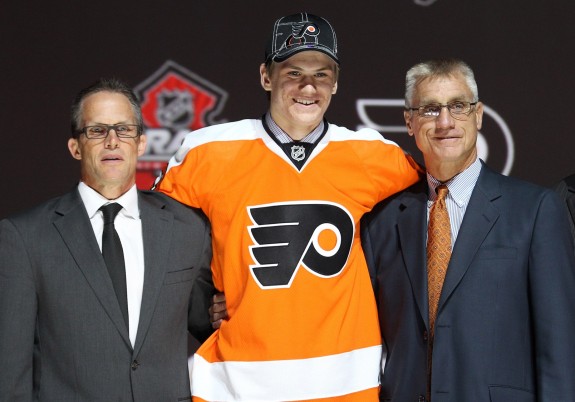 Possibly the most intriguing prospect in the Flyer organization, there is much debate over when Morin will contribute to the big club, and ultimately how high his ceiling may be. CSNPhilly's Tim Pinaccio reports some scouts see him "as a monster No. 1 someday." Philadelphia Daily News writer Frank Servalli did a two part piece on Morin over the Olympic break and spoke to a scout about Philly's most recent number one draft pick. "Philadelphia usually wants a guy that is NHL-ready, someone they can count on now," the scout said. "The NHL is a results business. Morin may bring real results, but it won't be right now. It's easy to see why they wanted him. You cannot buy his kind of size."
You can see Morin has huge potential. For a team like the Flyers, patience isn't always their forte, but Morin could be the key centerpiece in any potential deal for Weber. The Flyers may be hesitant to 6'6, 206 lb defenseman because of that potential, but he is only a 18-year old kid. He will take a few years before he is truly a shutdown defenseman. For a team like Nashville who is historically stockpiled on defense, they may not need him to make an immediate impact. For the Flyers, the tradeoff would be getting Shea Weber in his prime while the rest of the team's core is also either in their prime or just about to enter it.
Ultimately I would be willing to include any player on the Flyers' roster not named Claude Giroux, Sean Couturier or Steve Mason. It's entirely possible Nashville doesn't move Weber, considering they have already paid up a large amount of his signing money. However, they would be hard pressed to not at least listen to hear what teams may have to offer. The Flyers are one of the few teams in the league with enough depth and talent to offer something close to what Nashville would be asking for. Combine that with their very deep pockets, their need for a franchise defenseman that they have been trying to fill for a few years now, and the fact that the draft is in Philadelphia, and you have all the makings of a Paul Holmgren balls-to-the-wall offer that could cause a power shift in the Eastern Conference and the entire National Hockey League.