Unsurprisingly, the Philadelphia Flyers have been one of the NHL's quietest teams throughout the offseason and, especially, during the majority of free agency. To this point, Matt Niskanen's sudden retirement has probably been the most significant piece of news that's come out of Philadelphia since their 2019-20 season came to an end.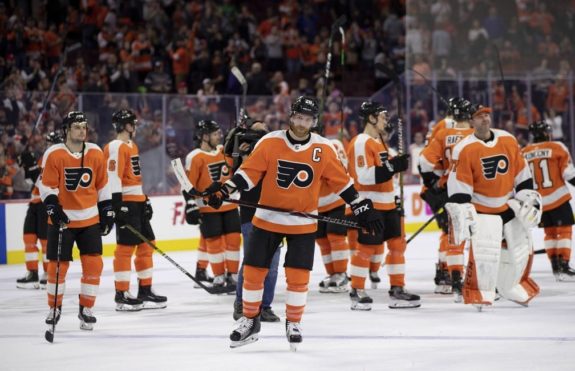 Aside from the addition of Erik Gustafsson, the loss of Tyler Pitlick, and a couple of key re-signings, the Flyers' roster really hasn't changed much ahead of next season.
The proposed Jan. 1 season start date is rapidly approaching and expectations for this Flyers team are steadily building. With no more significant moves left to make, here's what the roster could look like come opening night:
Top Lines Staying Put
Luckily for Alain Vigneault, his forward groups won't be changing much heading into the 2020-21 season.
There'll certainly be some adjustments to make on the third and fourth lines to account for the loss of Tyler Pitlick, Derek Grant, and Nate Thompson, but otherwise, things are going to look almost exactly the same.
When the new season rolls around, AV will probably roll out a top-six similar to what we saw last season. You can bet that his Selke-winning top centerman Sean Couturier will man the middle of the top line, with respected veterans Claude Giroux and Jakub Voracek likely by his side.
As you go through the next three forward lines, who fills in at which spot gets slightly more uncertain. Sure, Travis Konecny and Kevin Hayes are all but guaranteed for the second line, but almost all of the rest are still up for debate.
Defensive Shake-Ups
Matt Niskanen's retirement leaves a pretty massive vacancy on the Flyers' top defensive pairing. To this point, it's hard to say who's going to play alongside Ivan Provorov next season.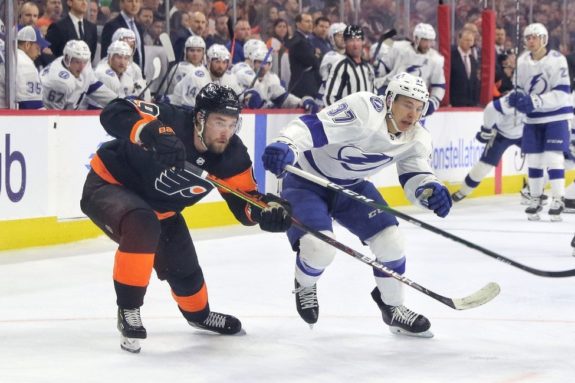 Either Phil Myers or Travis Sanheim would probably be next in line to fill the spot of Niskanen. There's no telling, however, if the Flyers would be willing to break up their solid second pairing. If they're not, then things get a little bit trickier.
If they plan to keep Myers and Sanheim together on the second pairing, that would mean that either the new addition Gustafsson or hopeful bounceback Shayne Gostisbehere would take the spot on the first pair. Neither are exactly first-pair material and would probably make for a better third-pairing defenseman alongside Justin Braun.
The Flyers have the assets to have a solid defensive group next season, but how they choose to construct it could dictate its success. They'll probably have to play around with some different pairings throughout the course of the year, but lineup changes are something Vigneault is no stranger to.
Prospect Chances
Last year, after the opening night lineup surprises of Carsen Twarynski and Connor Bunnaman, guys like Joel Farabee, Phil Myers, and Nic Aube-Kubel turned out to be the Flyers' real rookie stars.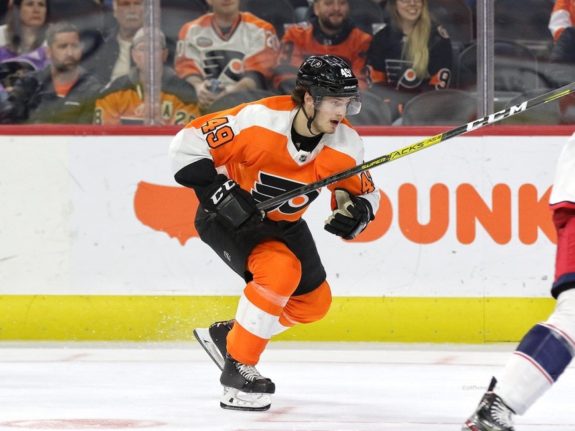 Next season, there'll be considerably less room for new names to crack the lineup. Though, there are definitely some prospects from the Flyers' loaded farm system that could make a case for open spots throughout the year.
One young forward who has a solid shot to find himself as somewhat of a regular next season is Morgan Frost. Frost saw action in 20 games in the 2019-20 season, but never truly found his footing with the team. With the status of Nolan Patrick still uncertain and Nate Thompson signed with the Jets, there'll be an open center slot on the fourth line that Frost should easily slide into.
Otherwise, there are only a handful of other prospects who could keep their names in the mix for any possible openings.
Tanner Laczynski, Wade Allison, Linus Sandin, German Rubtsov, or David Kaše could earn some legitimate time in the Flyers' bottom-six while Mark Friedman and Egor Zamula are likely the first few call-ups in the case of a defensive opportunity.
Projected Opening Night Roster:
With all that in mind, here's a decent guess at what Alain Vigneault's squad might look like on opening night:
| | | |
| --- | --- | --- |
| LW | C | RW |
| Giroux | Couturier | Voracek |
| Farabee | Hayes | Konecny |
| Lindblom | Laughton | Aube-Kubel |
| van Riemsdyk | Frost | Raffl |
| | Patrick | |
| | | |
| --- | --- | --- |
| LD | RD | G |
| Provorov | Myers | Hart |
| Sanheim | Gustafsson | Elliott |
| Gostisbehere | Braun | Lyon |
| Hagg | | |
As you can see, not much is changing from last year to next. The first line of Giroux, Couturier, Voracek will remain untouched as will the situation in between the pipes.
Farabee could get the initial start with the second line, depending on how Oskar Lindblom looks during training camp. Either could fulfill the second-line left-wing role and Farabee has certainly done enough to keep his name in contention.
Aube-Kubel could also easily earn the third line spot over Michael Raffl, who would fall back alongside unlikely fourth-liner James van Riemsdyk and Frost.
On the blue line, Myers seems like the most realistic option to fill in for Niskanen with Gustafsson taking his spot on the second pair. Who gets that start on the third pair alongside is still up in the air, but considering the faith the Chuck Fletcher has put into a comeback year for Gostisbehere, they could try to boost his confidence with a starting spot on opening night.
While Vigneault's roster is going to look practically the same as last year's, once the new season rolls around he could send out any variation of line combinations and defensive pairing.
He's known to frequently tinker with his combinations, so whatever he sends out for game one could be short-lived. No matter, the Flyers are poised to put out a solid and competitive roster for the 2020-21 season.
---
---