Last season, the Ottawa Senators farm system was ranked among the best in the league. Four of their top prospects regularly cracked the top-50 in the NHL and that was before the addition of two top-five picks at the 2020 draft. So, as fans wait for the 2020-21 season, attention has gravitated towards the talented group of young players in the organization and how soon they can turn the Senators into an Eastern powerhouse once again.
Related: Ottawa Senators 2019-20 Prospect Pyramid
While it's been a long, painful rebuild, some of the fruits of the Senators' labor are beginning to show. Several prospects will be competing for a roster spot in 2020-21, and several more are just a year or two away from breaking into the league. The initial reports are very promising, and it appears that the Senators' patient approach is paying off.
What is a Prospect Pyramid?
Originally created by YouTube personality and Sportsnet correspondent Steve Dangle, the Prospect Pyramid was designed to be a cleaner and less divisive model to rank an organization's prospects. Sometimes, finding the difference between the team's 10th and 14th best prospects is so minute that separating the two is a matter of splitting hairs. Hence, the pyramid, where prospects are grouped together into tiers according to their NHL potential.
Dangle's creation has since become the new standard for organizing prospects. Below is a brief description of the six tiers he created, which has been transcribed by THW's Brandon Share-Cohen.
Tier 1 – Elite talent (Rasmus Dahlin, Auston Matthews, Connor McDavid-level talent)
Tier 2 – Very, very good prospects with a real chance of being top-six forwards, top-two defenders or good starting goalies
Tier 3 – Good players who fall just short of Tier 2, perhaps due to lower ceilings, but who are distinctly better than tier's below them
Tier 4 – Distinct shot at making an NHL roster and being a contributor (top-nine forward, bottom-four defender, fringe starter or backup goaltenders)
Tier 5 – Players who likely don't project to be anything more than a role player in the NHL as their ceiling – these players' chances of making the NHL aren't very high compared to their comrades (sometimes due to being relatively unknown at this point)
Tier 6 – Players who are a longshot to make the NHL
Additions, Subtractions & Graduates
The Senators had a huge influx of talent from the 2020 Draft, but have recently started to shift gears in to building a team that can compete in the near future, rather than one with it's sights set several years down the road. Since August 2019, these are the prospects who have been added and left the organization.
Additions
Trades: Christopher Wilkie
Free Agents: Jonathan Aspirot, Artyom Zub
Draft: Tim Stuetzle, Jake Sanderson, Ridly Greig, Roby Järventie, Tyler Kleven, Yegor Sokolov, Leevi Meriläinen, Erik Engstrand, Philippe Daoust, Cole Reinhardt
Subtractions
Trades: Jonathan Gruden, Max Veronneau, Andrew Sturtz
Free Agency: Aaron Luchuk, Hubert Labrie, Andreas Englund
Graduates
Played more than 25 games: Erik Brannstrom, Marcus Hogberg
Played more than 50 games, overall: Filip Chlapik, Rudolfs Balcers
Tier 1: Empty
This might be a bit controversial as the Senators drafted twice in the top five in 2020 and have an excellent farm system. Both Stuetzle and Sanderson will be great players and likely core members that the team can build around, but they don't compare to McDavid, Matthews, or Dahlin. Among 2020 draft picks, only Alexis Lafreniere and Quinton Byfield could potentially fit into this highly esteemed tier.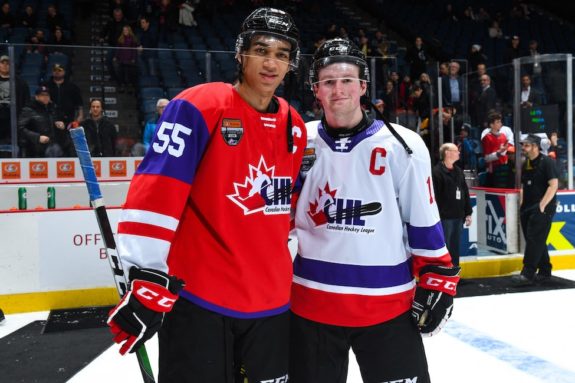 Remember, not having a tier-one prospect is not a bad thing; most NHL teams won't have anyone in tier one. These are players that everyone knew would be stars long before they were drafted. Sidney Crosby and Alexander Ovechkin were hyped for years before they joined the NHL, and they may retire as the greatest players of their generation. Those types don't come around all that often, so to have the top tier open is all but expected for most organizations.
Tier 2: Stuetzle, Sanderson, Brannstrom
I may be in the minority, but I think only three names are worthy of inclusion in tier two: Stuetzle, Sanderson, and Brannstrom. These are the three best prospects in the Senators' system and will likely, along with Brady Tkachuk and Thomas Chabot, become the faces of the franchise.
Stuetzle easily tops this group, as he's dominated the German DEL as a teenager and helped the Germans overcome huge odds at the 2020 World Juniors to stay in the tournament for another year. The Senators cannot wait to bring him into the fold, and while it has yet to be seen whether he joins the team in 2020-21, it doesn't change that when he arrives, he'll be looked to provide a significant boost to the offense, even as a teenager.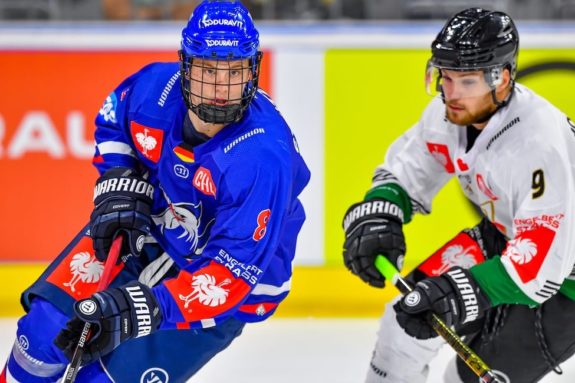 Sanderson, the fifth overall selection from the 2020 draft, was controversial at the time, especially with fellow defenseman Jamie Drysdale still on the board. Yet there's no question that he's one of the best defensive prospects in the NHL right now. In the second half of the 2019-20 season rocketed him into top-10 consideration, demonstrating not only dominance in his own end, but an excellent transitional game as well. He's a long-term prospect, but there's very little debate that he will make the league one day.
Brannstrom is the elder statesman of the second tier, and although he played 31 games last season and no longer qualifies as an NHL rookie, he still falls into the prospect category due to the fact he has yet to secure a regular roster spot. He's faced some criticism as he was underwhelming with the Senators last season, but don't let that fool you – Brannstrom is a top offensive defenseman. He had 23 points in 27 games in the AHL in 2019-20, and with the SCL Tigers of the Swiss National League this season, he has two goals and five points in as many games.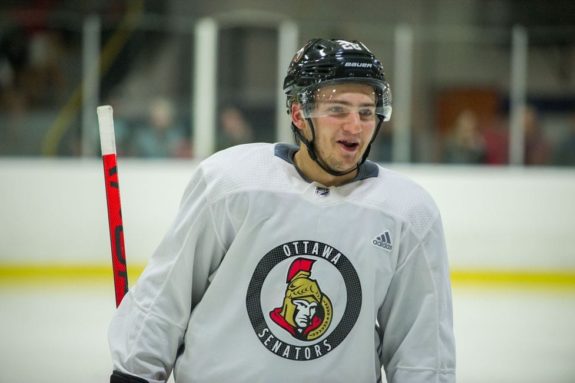 While he may not be the next Erik Karlsson – something Senators' fans hoped for when he arrived in Ottawa – Brannstrom still projects to be a top offensive defenseman in the NHL. Some of his struggles have come from a lack of confidence, but as long as the Senators are patient and continue to let him develop at his own pace, he should become one of the team's top offensive threats from the blue line.
Tier 3: Batherson, Formenton, Norris, Brown, Abramov, Bernard-Docker, Pinto, Thomson, Järventie, Gustavsson
Here's where the Senators really shine. Tier three is crammed full of highly-skilled prospects, many of whom are ready to play top-minutes right now. It's arguably one of the best third tiers of any NHL team, thanks to several years of high draft picks, smart scouting, and bold trades.
Drake Batherson and Alex Formenton headline this group and were the Senators' top prospects for several seasons prior to the arrival of Brannstrom and now Stuetzle. Both have been dominant in the AHL since turning pro and they have little left to prove at that level. Last season, Formenton was second on the Belleville Senators with 27 goals and third with 53 points, while Batherson finished second with 54 points in just 44 games and also led the team in assists.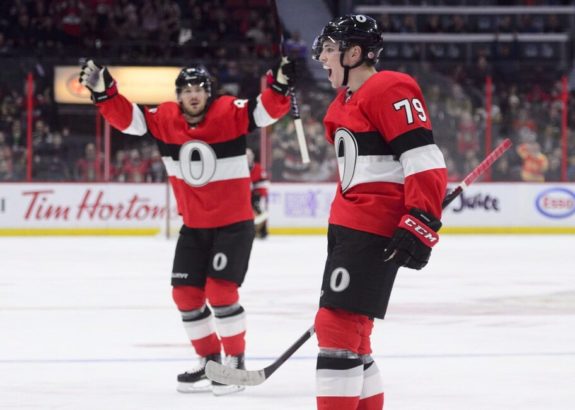 However, the two wingers were overshadowed by AHL-rookie Josh Norris, who took the league by storm in his first season. Acquired from the San Jose Sharks in the Karlsson deal, he far exceeded expectations, putting up 31 goals and 61 points in 56 games to lead Belleville in both categories. There's a good chance that he makes the Senators this season, too, despite having only a single professional season under his belt.
The one player that could prevent Norris from making the team in 2020-21 is Logan Brown, the Senators' 2016 first-round pick. The team has been very patient with their giant 6-foot-6 centerman, but they were hoping he would have already taken that next step. Unfortunately, injuries and inconsistency have relegated Brown to the AHL for most of his two seasons with the organization.
It almost looked like he was there last season, but after 23 games, he had just one goal and eight points, including a 13-game stretch with just three points. 2020-21 will be an important season for Brown to prove he belongs on the team; he has the skill, but so far, it hasn't translated to the NHL.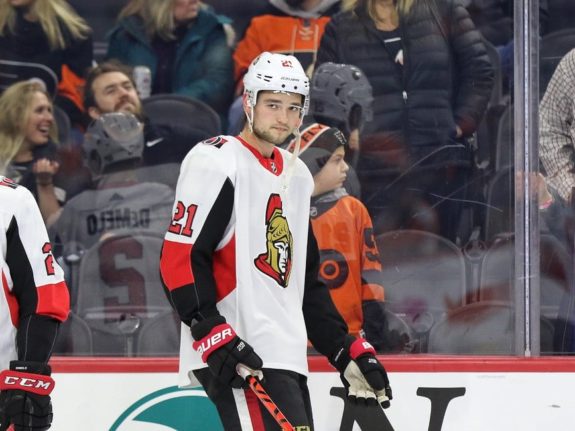 Shane Pinto is another center that will eventually be competing for an NHL job, but the college star is further away than either Brown or Norris. As a freshman at the University of North Dakota, he finished third in team scoring with 28 points and tied for first in goals with 16. He also came in second in penalty minutes with 46 in 33 games, showing a highly competitive side to his game that the Senators have been placing a greater emphasis on lately.
Roby Järventie is the newest addition to the tier and already the 2020 second-round pick looks like a steal. The lanky forward has seven goals and 13 points in 15 games this season while playing with Ilves of Finlands' Liiga, placing him among the most productive players so far this year.
Vitali Abramov, acquired in the Matt Duchene deal in 2019, has also been on fire in the Liiga, scoring five goals and seven points in six games. The pair have jumped up the organizational rankings thanks to their strong 2020-21 starts. Combined with their blazing speed, their futures with the Senators look very promising.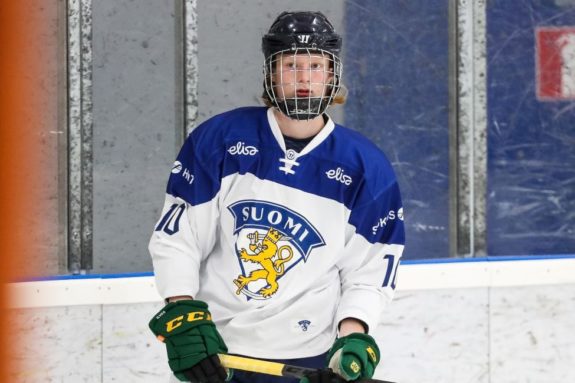 Lassi Thomson and Jacob Bernard-Docker lead the defensemen of this tier. Both project to be top-four defenders, and both possess a strong offensive game, but Bernard-Docker has a more well-rounded game that will likely see him earn more ice time on the power play and defensive-end starts. He jumped to prominence after a dominant 2019 World Junior performance for Canada and has since become one of the Senators' most promising defenders.
Thomson will need to continue to develop his defensive side, but his offensive upside is higher and, paired with his right-handed shot, could make him a valuable future member of the Senators. He's been compared to Ryan Pulock in terms of potential, which is great news for the future. Thomson has been playing alongside Järventie with Ilves this season, as well, and the pair have helped the team to a 12-3-0 record.
Related: Senators' Logan Brown an Important Piece if He Can Stay Healthy
Filip Gustavsson is the lone goalie on this list and he projects to be the Senators' future in net. The lanky 6-foot-2 Swede has the makings of a top starting goalie in the NHL and his recent performances in Sweden's Allsvenskan have been very promising. In 14 games, he has eight wins, one shutout, a 2.20 goals-against average (GAA), and a .925 save percentage (SV%). Only one other goalie in the league can boast a better stat line than him. After splitting duties with Joey Daccord and Marcus Hogberg last season, he'll likely be given the team's AHL starting job when the 2020-21 season begins.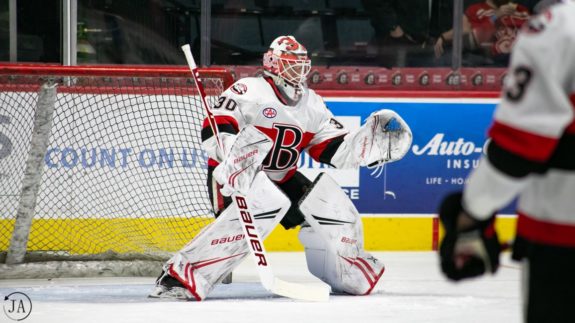 Norris and Batherson could be considered tier two, but I have them in tier three largely because, so far, they have performed above expectations so far in their careers, meaning they have been projected to have a lower ceiling than they are currently showing. Their stock has grown considerably since they were drafted, and if they continue to develop at their current pace, the Senators will have some incredible talent on their roster, but as of now, I'm choosing to be on the cautious side.
Tier 4: Davidsson, Tychonick, Daccord, Sogaard, Novak, Crookshank, Greig, Kleven
Tier four is another big group that could have some big stars hidden in its ranks, but their potential is a little bit less than tier three. To start is the newest arrival, Ridly Greig, the Senators' third first-round selection in 2020. He can play in nearly any situation, and he has some snarl to his game that have some comparing him to Brad Marchand. He could make it to the NHL relatively quickly, but there are some questions as to how high his ceiling is, which is why he sits in tier four.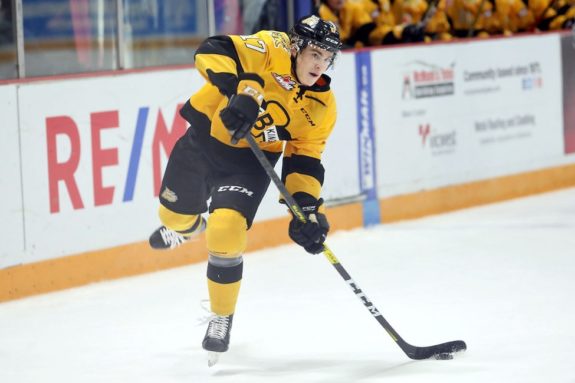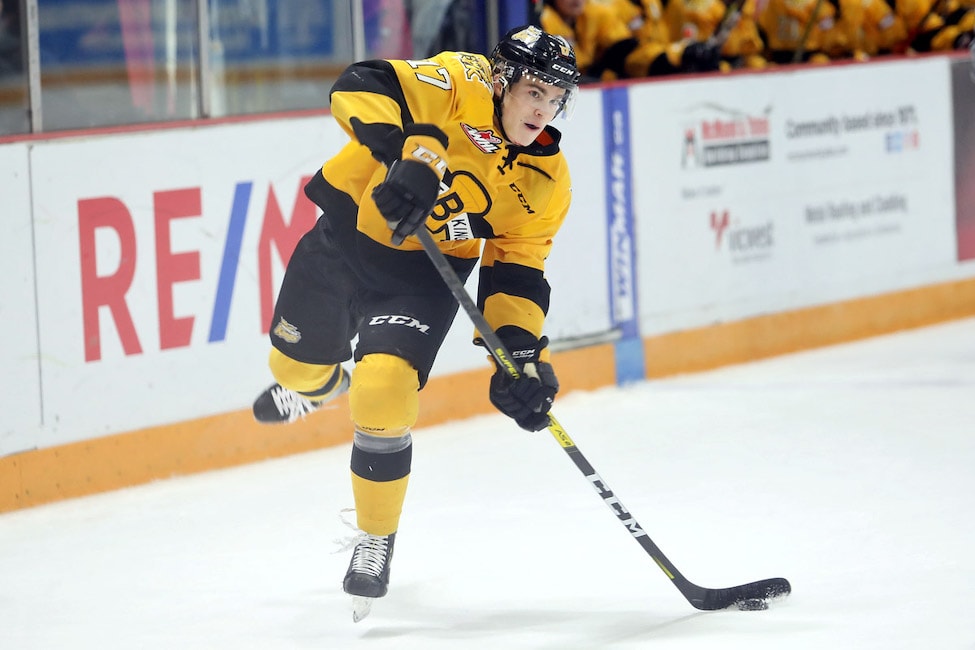 Goalies Joey Daccord and Mads Sogaard are in tier four for very different reasons. Daccord jumped up the Senators' depth chart last year and may have become the team's go-to call-up had they not acquired Matt Murray in the offseason. He'll have to prove himself once again to usurp Gustavsson for the title of the top goalie prospect, as his potential is thought to be somewhat limited.
Sogaard, on the other hand, has high potential but hasn't fully shown it yet with the Medicine Hat Tigers. He recently was loaned to his home nation of Denmark, which could help his development, but right now, he looks to be a long shot for the NHL.
Jonathan Davidsson had a tough first season in the AHL last year, battling injuries and struggling to adapt to the more defensive North American game. Still, he showed flashes of high-end offensive skills and he made his NHL debut, playing six games and registered one assist. However, he had just five points in 18 AHL games, and so far this season in Allsvenskan, he has just a goal and an assist. He has a lot of growing left to do, but also the talent to make him a productive NHL player.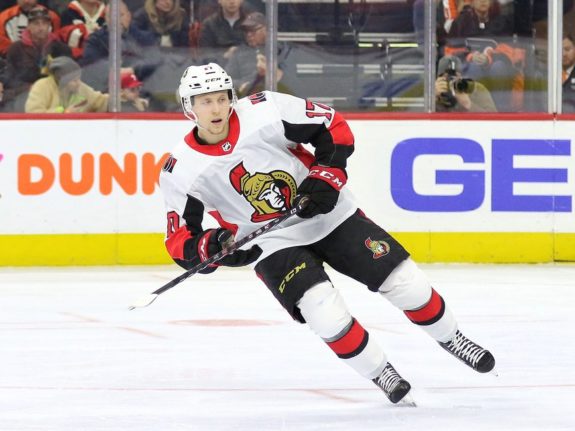 Jakov Novak and Angus Crookshank are both playing in the NCAA and have so far put up decent numbers over their careers. Novak had 30 points in his sophomore season with Bentley University, and Crookshank scored 22 points for the University of New Hampshire, 16 of which were goals. Both were late-round picks and will likely finish their college careers before they sign NHL contracts, making them long-term commitments. Crookshank has been called the Senators most underrated prospect, but as he projects to be a bottom-six forward, I can't place him in a higher tier yet.
Tyler Kleven is another interesting player who doesn't seem to have a very high upside, but was selected in the second round – the Senators even traded up to select him. His game has several holes, and currently, his best attribute is his 6-foot-4 frame. That's not a great description for a player. However, he could develop into a reliable shut-down defender, and the Sens have a good relationship with North Dakota, where Kleven is enrolled for the 2020-21 season. He's definitely a project, but one with some upside.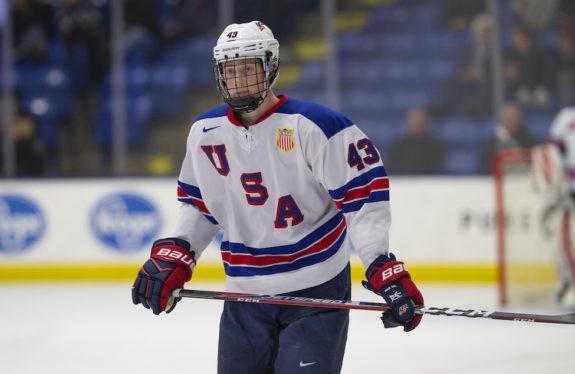 The final member of tier four is Jonny Tychonick. The defenseman was selected after AJHL teammate Bernard-Docker in 2018 and they both joined North Dakota in 2018-19. However, while Bernard-Docker has risen to one of the best two-way defensemen in the NCAA, Tychonick struggled to find ice time and assert himself on the team, causing him to transfer to the U. of Omaha-Nebraska.
Unfortunately, that means he'll have to sit out for the 2020-21 season due to NCAA transfer rules. Things haven't gone according to plan for the young defenseman yet, but the Senators are still hopeful he'll get back on track to becoming a future powerplay specialist.
Tier 5: Engstrand, Reinhardt, Guenette, Doaust, Mandolese, Kelly, Kastelic, Zub, Alsing
This tier is a mixed bag of players, most of whom I just don't know what to do with. They have the potential to surprise, but I'm just not that sold on them quite yet.
The first example is Yegor Sokolov. He's dominated the QMJHL, but at 6-foot-4, 240-pound frame and currently 20 years old, its easy to see why. That makes me skeptical of his long-term potential, and until he turns professional, I can't say how he'll fair against competition in his own weight class.
Cole Reinhardt and Erik Engstrand, also 2020 picks, strike me in a similar way – big, skilled, but may have unfairly benefited from their age and size in junior leagues. I think Sokolov has the highest potential of the three, but until he turns pro, I'm not confident about his long-term future.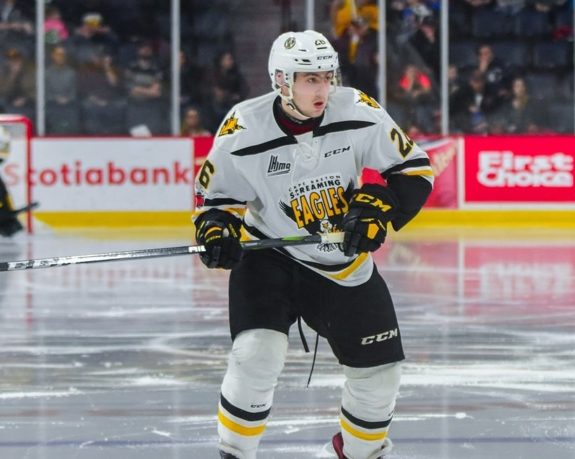 Maxence Guenette is an interesting defenseman. A late-round pick in 2020, he's been off to a hot start in the QMJHL, scoring nine points in nine games, following up a 40-point 2019-20 season. However, he's been stuck on a weak team and hasn't stood out, causing him to be passed over in the 2019 draft. This season, with Jakob Pelletier now on the Val-d'Or Foreurs, it will be interesting to see if Guenette can step up his game.
Philippe Daoust falls into a similar category as Guenette. A smaller forward, he's struggled to stand out and thus has been passed over in both OHL and NHL drafts. However, he's had a great start to the 2020-21 QMJHL season, scoring 13 points in 13 games, but only had 29 points in 2019-20. It will be a long road for him to make the NHL, but it doesn't seem like he can be counted out just yet, as there may be more to him than meets the eye.
Defensemen Artyom Zub and Olle Alsing were both acquired as free agents, and have yet to play in North America. They have shown dominance in their home leagues, and the Senators are hoping that translates to the NHL, but at 25 and 24 years old, respectively, they don't have a lot more potential left. If they remain with the Senators long-term, they likely will end up as bottom-pairing defenders, but they may not like that outlook and decide to remain in Europe.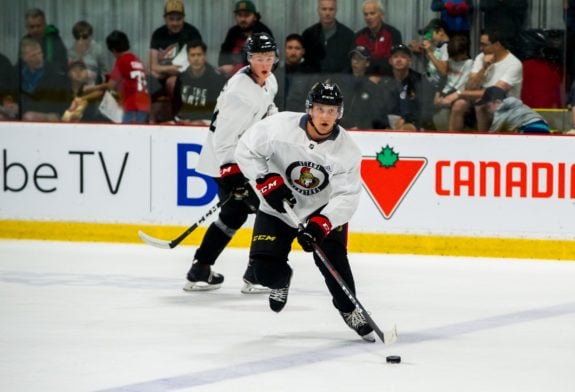 Parker Kelly is a fan-favorite wherever he plays, but he likely will have a tough time securing a spot in the NHL, as his potential is limited to a bottom-six role. However, his work ethic is one thing that could get him there. In 2016-17 and 2017-18, he was awarded the Prince Albert Raiders' hardest working player trophy and has been named the hardest worker at two Senators' development camps. The organization really believes in him, which means he'll be given a shot to crack the lineup when he's ready. He's one to keep an eye on in Belleville.
Finally, there's Kevin Mandolese. He had the lowest GAA among starting goalies in the QMJHL in 2019-20 and will be starting his professional career this season. He's a big goalie, standing 6-foot-4, and is good positionally, but at this moment, he's at the bottom of the totem pole in Belleville. He's a bit of a project, as most goalies tend to be, and will need time in the minors, but with the recent ECHL's announcement that the Brampton Beast, among others, will suspend operations for 2020-21, it leaves Mandolese's future up in the air. The best-case scenario is he returns to junior for another season.
Tier 6: Everyone Else
Players in this tier either are a long shot to make the NHL, or have limited data available.
This includes J.C. Beaudin, Mark Kastelic, Leevi Meriläinen, Victor Lodin, Todd Burgess, Luke Loheit, Christopher Wilkie, and Jonathan Aspirot.
Final Thoughts
The Senators have a great group of prospects. Tier two and three and packed full of potential impact players, and there's a lot of interesting prospects in the bottom half of the pyramid, too. But that doesn't mean they'll stay where they are. Different players develop at different speeds, and someone who seems to be lagging behind may just be a late bloomer. For potential risers, I'd keep my eye on Sokolov, Kelly, Järventie, Sogaard, and Greig.
Regardless, it will be fascinating to see how the 2020-21 season plays out. Several prospects will be looking to crack the Senators' roster this season, and several more will be ready next season. It seems that Ottawa will soon have a difficult time figuring out who to keep, which is a great problem to have.
---
---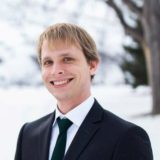 An elementary teacher by day and an avid hockey fan, Dayton joined The Hockey Writers in 2019 and currently covers the Ottawa Senators, World Juniors, and NHL Entry Draft.