The Philadelphia Flyers, in recent years, have been led by players, like Claude Giroux, Sean Couturier and Jakub Voracek. While they have been a critical part of the franchise, a new era is underway in Philadelphia. It's an era that is ushering in a talented group of young players.
At last season's restart, the average Flyer was just 27 years old. Among the 24 teams involved in the restart, the Flyers were the tenth youngest. They were also an average of 1.9 years younger than the oldest team, the New York Islanders.
This average age was amplified by 34-year-olds Brian Elliott and Nate Thompson, and 33-year-old Matt Niskanen. None of these Flyers played key roles in the postseason, and the latter two are no longer on the roster. By and large, the team was, and will continue to be, carried by its youngsters. Let's look at its five best under the age of 25.
5. Joel Farabee: (Age: 20-277d)
Joel Farabee made his NHL debut last season. Despite being the youngest player on the team, he compiled an impressive rookie season. The forward recorded eight goals and 13 assists in 52 games. During one stretch beginning in mid-January, he notched points in five consecutive games. He capped off this streak with his first career multi-goal game in a win over the Colorado Avalanche.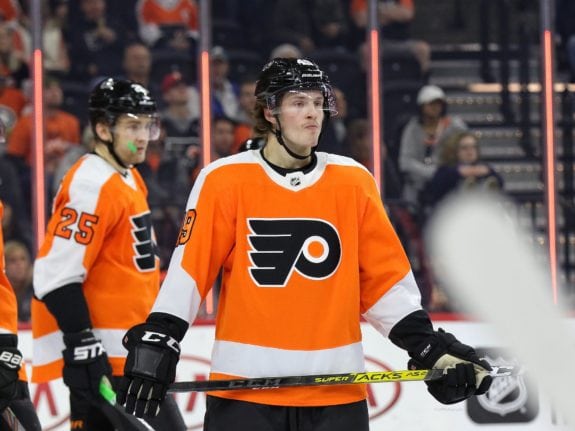 Farabee continued his scoring production with five points (three goals, two assists) in 12 postseason games. His five playoff points were tied for ninth most on the team. He will look to firmly establish his place on the team with a strong sophomore campaign.
4. Travis Sanheim: (Age: 24-244d)
The Manitoba native already has three years of NHL service under his belt. After back-to-back seasons with at least 25 points, Travis Sanheim has proven that he is a top-four defenseman. Last season, his 17 assists were third most among Flyer defensemen
Sanheim is a useful contributor in all facets of the game, spending time on both, the penalty kill and the power play. In 2020-21, he projects to be a member of the second power play unit, where he will skate alongside the newest Flyer defenseman, Erik Gustafsson. Thanks to his versatility, Sanheim eats up a lot of time on ice. Last season, his 20:09 average time on ice was third highest on the team.
2020-21 will be the final season on the two-year contract extension he signed in 2019. After, he will be due for a raise.
3. Carter Hart: (Age: 22-107d)
Though just 22 years old, Carter Hart has already established himself as the top goaltender in Philadelphia. This is due to two impressive seasons in the NHL.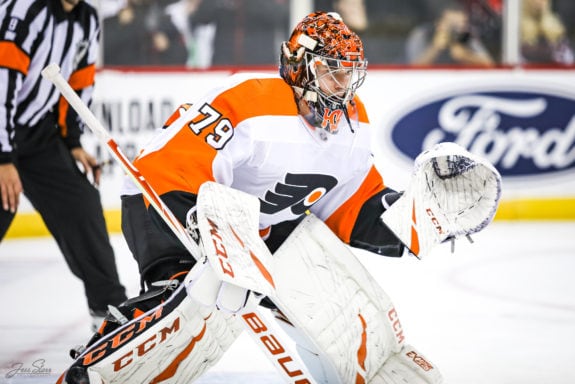 In his rookie campaign, the 2016 second-round draft pick put up a .917 save percentage (SV%) and 2.83 goals against average (GAA). Last season, he recorded a .914 SV% and 2.42 GAA. That GAA was second best among all goalies who played in at least 40 games.
One factor which has helped him progress so much is having 13-year veteran Brian Elliott as his backup and mentor. Hart still has a little ways to go to get to the all-star level that Elliott was once at, but he certainly has the potential. Like Sanheim, he will be due for a raise next summer.
2. Ivan Provorov: (Age: 23-320d)
If he does not already have the nickname, Ivan Provorov will soon be called "The Iron Man," because after four seasons he is yet to miss a game. Even more astonishing, he led the team in average time on ice (ATOI) in each of those seasons. The past three seasons, his ATOI was nearly three minutes more than any other skater.
The Flyers have to be thrilled with the return they got when they selected the defenseman seventh overall in 2015. In addition to providing durability, Provorov plays extremely well on both ends of the ice. For example, last season he led all Flyer defensemen in scoring and all players on the team in blocked shots. He blocked 27 more shots than the next closest player.
He also serves as the point-man on the Flyers' top power play unit. Last season, his seven power play goals led all NHL defensemen. Thanks to his scoring, the team ranked 14th in the league with a 20.8 power play percentage.
Perhaps the best thing about Provorov is that he is not going anywhere anytime soon. Last year, the Flyers signed him to a well-deserved six-year, $40.5 million contract extension. As a result, he is signed through the next five seasons.
1. Travis Konecny: (Age: 23-262d)
Drafted 17 picks after Provorov, Travis Konecny has helped cement the Flyers' 2015 draft class as its best in recent memory. Like his draft-mate, Konecny has compiled four promising seasons with the Flyers.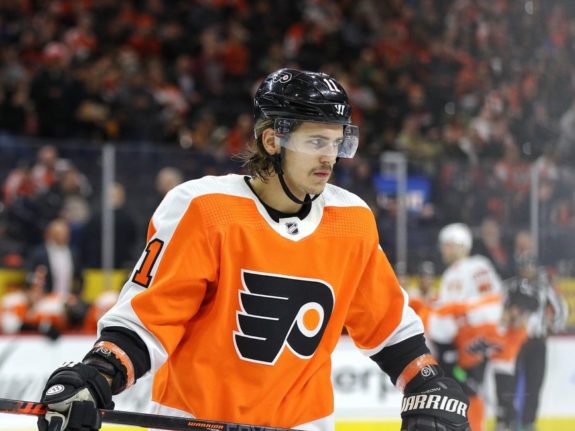 He has increased his production each season, and took a significant jump last season when he led the entire team in scoring. In this career year, he got off to an outstanding start with 34 points in his first 36 games. This earned him a spot in his first-career NHL All-Star Game. He was the Flyers' sole representative. He finished the season with 61 points in 66 games.
What was perhaps most impressive about Konecny's team-high 24 goals last season was his corresponding 17.0 shooting percentage. He only needed 141 shots to record his team-leading goal total. The Flyers had five other players who took more shots. In addition to having pinpoint accuracy, Konecny was an adept facilitator with 37 assists last season.
Like Provorov, Konecny will be a Flyer for years to come. His six-year, $33 million contract extension that he signed last season ensures he will be locked up through 2024-25. By then, he may just have inherited Giroux's "C."
A Bright Future
The best thing about these five players is that they were all drafted and developed by the Flyers. Instead of parting with significant assets to acquire them via trade or free agency, the Flyers signed them to team-friendly entry level contracts.
With these contracts beginning to expire, the Flyers are becoming forced to sign these players to more lucrative extensions. Still, they at least retain the negotiating rights to their former draft picks, and are thus able to dissuade other teams from swooping in. Therefore, with some prudent budgeting, the Flyers should be able to lock up all the players on this list.
With all five of these players under 25 and on the team for the immediate future, the Flyers are set up well. And let's not forget that the older guys, like Kevin Hayes, Giroux, Couturier and Voracek aren't too bad either. Thus, the future is bright in Philadelphia.
---
---