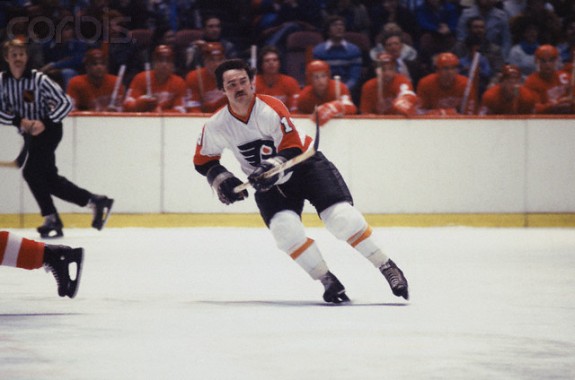 It was March 4, 1973.  The Philadelphia Flyers were playing host to the Toronto Maple Leafs.  The Spectrum was the place to be for a Philadelphia Flyers game in the 1970s.  The squad was one of the toughest to play against and was assembling a core group of players that would go on to win two Stanley Cups in a row (1974 and 1975).
But on this date, the team most notable for it's physical play and constant brawling would flip the script and net 10 goals against John McLellan-coached Maple Leafs.  At the forefront of this barrage was left winger, Rick MacLeish.  MacLeish would rattle off a total of seven points before the night was done (4G, 3A).  It wasn't until 1977, when Tom Blandon scored eight points that his record would be surpassed.
The Maple Leafs were in the middle of one of their worst seasons in franchise history.  They never seemed to regain their form after their 1967 Stanley Cup win.  The 1972-73 team still had some of the best players in Darryl Sittler, Rick Kehoe, and Dave Keon, however, none of their big-named stars factored into the game that night.
Not only did MacLeish go on to have his best game of his career, but he also broke another record against Toronto.  He became the first Philadelphia Flyer to score 40 goals in a season with his 2nd goal of the game.  He'd add another two before the end of the night.
The Cannington, Ontario native would go on to post the best numbers of his career that year.  MacLeish scored 50 goals and tack on 50 assists in the 1972-73.  The 10-0 win would be the largest margin of victory until 1977 when the Flyers beat the Pittsburgh Penguins 11-0.
Follow Shawn Reznik on Twitter: @ShawnTHW
Be sure to keep Vivid Seats in mind for your Philadelphia Flyers tickets needs.