In a strange turn of events, Philadelphia Flyers' former defenseman, Samuel Morin, has decided to shift to forward for the 2020-21 NHL season. Morin, who suffered a season-ending ACL injury at the beginning of the 2019-20 campaign, has been sidelined since then but is finally healthy after more than a year of rehab. The Flyers are already deep on defense, and Morin felt like he had no choice but to make the shift to save his career.
"I didn't know if we were going to have an American League or even if they were going to play, so I needed to have a plan because I'm fighting for my career right now. I'm fighting for another job. Obviously, I did all this because I wanted to keep playing hockey. I am really excited, honestly. Just to have a shot," said Morin during a press conference following the announcement.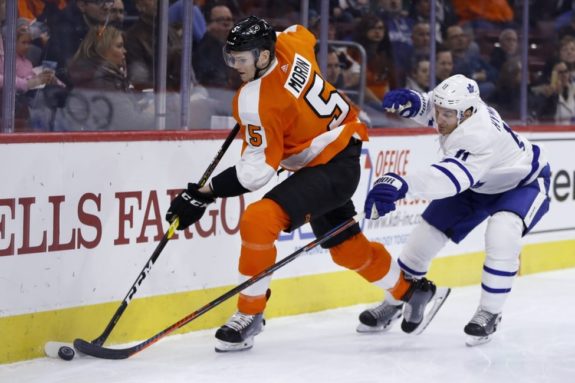 Morin played defense for the Flyers since being drafted in the first round, 11th overall, in 2013, and he was expected to be the X-factor for the team, but injuries and time in the American Hockey League (AHL) have prevented him from doing so. Over the last three seasons, he has only played 31 pro games: 23 with the Lehigh Valley Phantoms and eight with the Flyers. After drafting and signing similar players like Phil Myers, Ivan Provorov, Travis Sanheim, and Robert Hagg, the clock began to tick for Morin.
Outlook by Flyers GM Chuck Fletcher
"We think there is a realistic chance he can positively affect our team in that role," GM Chuck Fletcher, said when announcing that Morin was going to play on the left-wing moving forward. "Watching him out here, he's worked really hard. It's amazing what a good skater he is and we think he can really have a positive impact on our team and certainly be a disrupter on the ice."
In junior hockey, Morin played let-wing for the Rimouski Oceanic of the Quebec Major Junior Hockey League (QMJHL) during the 2011-2012 season. Putting up 8 points in 62 games, he quickly made the switch to defense, where he spent the rest of his hockey career until now. Fletcher believes this move will benefit everyone and help the team's physical play upfront.
"It's going to be a challenge no matter what we do; he hasn't played a lot of hockey in the last three years. We're pretty deep on defense right now, and with the uncertainty surrounding the American Hockey League, we feel this is the best opportunity for Sam to be with the club. His size, his skating, and his physicality are elements we feel our team can use," said Fletcher.
Playing Physical
While the road has been difficult, there is still light at the end of the tunnel for Morin. With the transition to forward to start the season, Morin is giving himself a chance to make an impact on the roster which is in need of physicality.
"Those big guys playing physical and even fighting. It's something that I'm willing to do. If I want to make the NHL, if I want to make it, I need to play physical and fight," said Morin in a video conference. He has played physical throughout his career, so he understands and accepts his role as a potential fighter.
In preparation for his new role on the wing, Morin admitted to studying film of New York Islanders forward Matt Martin. Martin is a gritty veteran with a similar size and stature, and Morin discussed this role in a recent video interview.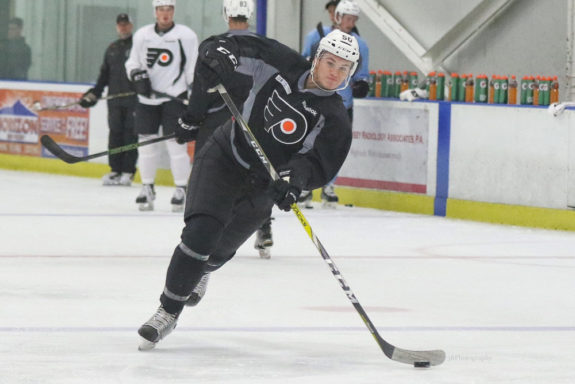 "Really simple game; really, really simple and really efficient," said Morin. "The puck is always behind the D-man and he always finishes his hit. His shift is honestly in like 30 seconds. He just goes change, then Barzal is on the ice, and they are just buzzing in the offensive zone because of just the little details he does. He finishes his check on the D-man, it's so annoying. I've been looking at his shifts a lot."
With just over a week until the start of the season, Morin still has work to do but he is hopeful about making the final roster. At worst, he will be a member of the taxi squad until the Phantoms kick off their season on Feb. 5.
---
---