The 2017-18 NHL Stanley Cup playoffs are underway, as sixteen teams completed their second and third postseason matchups over the weekend. It's a little weird for Chicago Blackhawks fans; their team isn't participating for the first time since the 2008-09 season. For nine consecutive years, they were part of the postseason festivities.
We all know the tale by now. In that time, the Hawks won three Stanley Cups, and made it to the Conference Finals twice. But alas, the magnificent run has come to an end.
So what are Blackhawks fans to do this season? Instead of moping in a corner, we can appreciate the excellent hockey that's played this time of year. The kind of hockey that comes from the challenges and rigors of a best-of-seven series. What better way to do so than to live vicariously through ex-Blackhawk players that are partaking in the postseason party? Here are six players to watch as the playoffs unfold.
Dustin Byfuglien, Winnipeg Jets, No. 33
Byfuglien was a member of the Blackhawks when they won the Stanley Cup in 2010. He played as a winger and is remembered as a big, physical presence who wasn't afraid to earn his bread and butter in front of the net. As a matter of fact, Byfuglien was credited with 11 goals and five assists (and who knows how many screens) in 22 games in the 2010 playoffs.
But Byfuglien was part of the salary cap purge that sent him to the Atlanta Thrashers, which is now the Winnipeg Jets. He serves as an alternate captain and plays in his original position as a defenseman.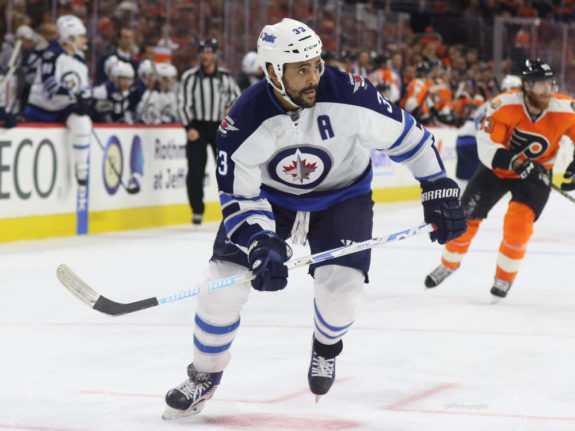 Byfuglien has been extremely productive since leaving Chicago. In his last eight seasons, he's tallied at least 45 points or more in all of them, with the exception of the 2012-13 lockout-shortened year (28 points). His highest total is 56 points in the 2013-14 season and this year he scored eight goals and 37 assists for 45 points. Can Byfuglien produce for the Jets in the postseason like he did for the Blackhawks? He's off to a great start with an assist in each of the first three games and making an impact with his physical presence.
Antoine Vermette, Anaheim Ducks, No. 50
Vermette's Blackhawks' career was short-lived but he sure made the most of it. "Vermy" was a member of the 2015 Stanley Cup winning team. He was picked up by the Hawks during the 2015 trade deadline in February from the Arizona Coyotes. At first, he struggled to find his fit with the team, but he became a valuable third line depth center. In 20 games, Vermette posted three goals and four assists and was an invaluable 58.7% in the faceoff circle.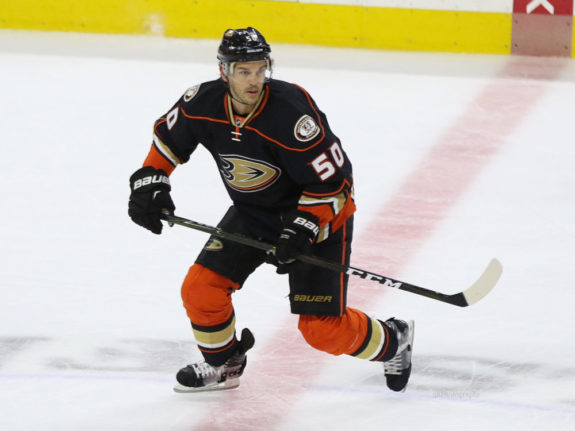 He was a rental player for the Hawks and hasn't fared that well since. He went back to his old team (Arizona) for a year and then ended up with the Anaheim Ducks, where he's had a mediocre two seasons as a bottom-six forward.
Towards the end of this regular season, Vermette was often a healthy scratch. But he did draw into the lineup for the Ducks' first two playoff games, because of his postseason and faceoff experience. He only recorded 7:08 and 5:14 min. of ice time in each contest (respectively), the lowest on the team. The Ducks lost both games to the San Jose Sharks. Will Vermette play going forward and will he have a chance to step up and make a larger contribution?
Michal Kempny, Washington Capitals, No. 6
One man's trash is another man's treasure, right? Kempny struggled with the Blackhawks in the last two seasons, after signing with them from the KHL in May of 2016. At times the defenseman looked solid and strong and at others, he made stupid mistakes that cost the team. Sound familiar? We could say that about all the Hawks defensemen but for some reason, Kempny wasn't able to fit into the Hawks' system and establish himself as a regular part of the lineup.
Kempny endured numerous healthy scratches this season with the Hawks. He played in only 31 games, contributing one goal and six assists, before being traded to the Washington Capitals in mid-February. He's participated in every game since, earning two goals and one assist in 22 games.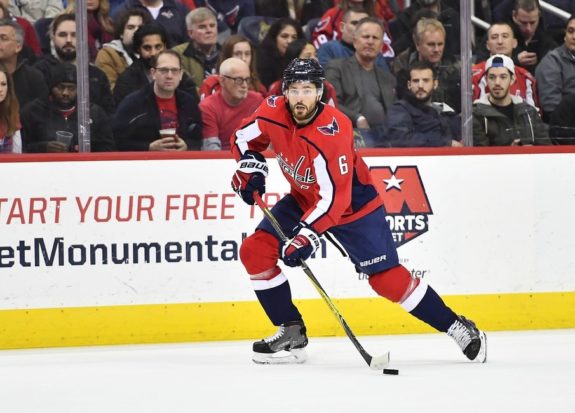 With the Caps, the Czech defenseman is a steady presence as a top-four defenseman alongside John Carlson, averaging 16:45 minutes on the ice and the organization seems happy with his contribution. Unfortunately, he was the victim of an unfortunate hit in Game 1 by Josh Anderson of the Columbus Blue Jackets. He left the ice in the second period and did not return. He was back in the lineup for Game 2 on Sunday, playing just over 20 minutes. Can Kempny continue to prove his worth with the Caps?
Artemi Panarin, Columbus Blue Jackets, No. 9
Well, at this point, it looks like Chicago got the bum end of the Panarin/Brandon Saad trade, doesn't it? The Bread Man left for the Blue Jackets, where he's found nothing but success. He finished the regular season with 27 goals, 55 assists, and 82 points, leading the team in all three areas. His assist and point totals surpassed franchise records. It's obvious he doesn't need Patrick Kane on his wing to produce.
In the meantime, Saad has had a disappointing season where he only put up 18 goals and 17 assists for 35 points. Saad is done for the year and busy setting up tee times while Panarin just set another franchise record in Game 1 for as the first Blue Jackets player to record three points in a playoff game. That included two assists and this beauty of an overtime winner (Update: he earned two assists in Game 2 as well):
But simmer down everyone. Panarin is due for a huge raise when his contract is up after next season and it's safe to say, the Hawks wouldn't have been able to keep him at that point. Whereas Saad is signed for the next three seasons. All Hawks fans can do is hope Saad has a bounce-back season and that the trade pays off in the long run. Oh, and enjoy watching what else Panarin can accomplish is these playoffs.
Tommy Wingels, Boston Bruins, No. 57
Wingels was a fan favorite when he was with the Blackhawks. The Evanston, IL native signed a one-year deal with the Hawks this season and is known for his energy and grit and his blue-collar style of play. He was traded to the Boston Bruins at the trade deadline on Feb. 26. Since then he's suited up for 18 games, contributing two goals and three assists. That's not bad for a veteran fourth line depth player on a brand new team. It was enough to earn him a spot in the lineup for Game 1 even though many experts had him listed as a reserve.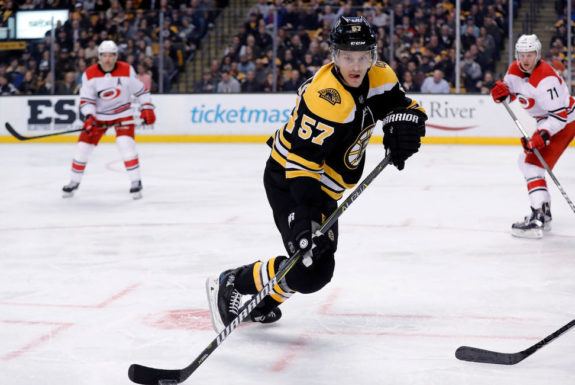 Unfortunately, Wingels was the recipient of a dirty hit from Nazem Kadri in the first game of this series and Kadri was suspended three games for the infraction. Wingels was on the ice for Saturday's morning skate but didn't suit up for Game 2.
The return on the Wingels deal was a fifth-round pick for the Hawks in the upcoming draft while Wingels has made no secret of how happy he was to play for his hometown team and it wouldn't be a surprise if he re-signed with the Hawks as a free agent next year. In the meantime, the Bruins are winning and Wingels is hoping to get back into the competition. Can he win the Cup with the Bruins?
Ryan Hartman, Nashville Predators, No. 38
Hartman, like Wingels, was traded at the deadline and has a chance to win it all with the Nashville Predators. He was supposed to be part of the youth movement, the future of the Hawks, and because of this, Hartsy's trade was a tough pill to swallow and a surprise to everyone. But general manager Stan Bowman received an offer he couldn't refuse.
Since moving to the Preds, Hartman has contributed three goals and three assists in 21 regular season games. The Predators have tons of depth, and Hartsy fits in mostly on the fourth line. But the team sees him as a player that could improve their chances of winning. He's played his part in the playoffs as well, contributing six hits in Game 1 and an empty net goal to seal the victory in Game 2.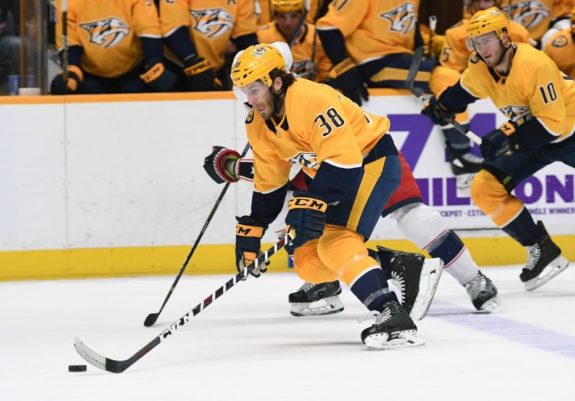 Hartman grew up in the Chicago area. He and Blackhawks forwards Vinnie Hinostroza and Nick Schmaltz have played together and been friends since childhood. I'm sure it was tough to be traded away from all that but now he's the only one of the three with a chance at the Cup.
---
The playoffs aren't the same without the Chicago Blackhawks but the show must go on, and it's fun to watch ex-Blackhawks compete. Who knows, perhaps at the end of it all, one of them will be raising a shiny silver chalice to the sky.
Gail Kauchak has covered the Chicago Blackhawks as a content writer since 2014. She previously wrote for Fansided's Blackhawk Up, and has been part of The Hockey Writer's team since 2017. It's not always easy to balance life's responsibility's with one's passion, but Gail's doing her best to make it happen. Quote to live by, "Follow your dreams, and good things will happen." Wait, maybe it's "Good things happen when you shoot the puck!" You get the idea.
Follow Gail for her unique commentary about this storied franchise. And be sure to catch her and the rest of the Blackhawks' crew on their weekly Blackhawks Banter show, as well as follow her on Twitter.