When the San Jose Sharks signed Taylor Fedun on the second day of free agency this past July, yours truly was unimpressed. After all, how good could a defenseman be who was cast aside by the Swiss cheese Edmonton Oilers defense? The same defense that allowed the Sharks to pummel 60 shots on net in a game last season. Fedun couldn't crack that lineup?
However, as the offseason has gone on, both myself and leading Sharks blog Fear The Fin have been quite impressed with what Fedun brings to the table. While the 26-year-old Edmonton native (Oilers couldn't find a spot for a homegrown kid?) won't push for top-4 minutes on an already right-handed dominant Sharks blue-line, the "veteran" rookie could flourish on the third pair.
Good interview with Taylor Fedun who I think has a better chance to make the opening night roster than many expect https://t.co/wfowTtPAtb

— Fear the Fin (@fearthefin) September 9, 2014
While my colleague David Pollak of the Mercury News offered mixed opinions on Fedun's performance vs the LA Kings on Tuesday, I put much more faith in the good that Fedun showed. In the first period, it was his saucy cross-ice neutral zone pass that initiated the zone entry leading up to Joe Thornton's goal. Furthermore, on a terrible cross ice feed from Scott Hannan, Fedun helped step up and break up the play in the neutral zone, slowing down what otherwise would have been a dangerous attack. There were some hiccups in his game, but again most of his struggles were created by Hannan putting him in bad spots with poor passes.
Mixed reviews. Stellar assist on Thornton goal, but overmatched at times. @Villanueva__A how did Fedun look in your eyes?

— David Pollak (@PollakOnSharks) October 1, 2014
Fedun isn't going to be a 20 minute guy, but he has the speed and jumping up nature similar to that of Justin Braun. Of course he is nowhere close to the type of defender Braun is, but his speed and puck movement can more than make up for that.
Fedun's opportunity with San Jose might be his last shot. Defensemen take longer to develop but not many establish themselves as viable NHL defenseman while pushing 30. However, in Fedun's case a freak injury wiped out his entire 2011-12 season at age 23. It's not as if he just hasn't been good enough. His broken leg was a major setback.
For whatever reason, possibly because the Oilers have no idea how to build a team, Fedun never got a fair shake. He did score twice in his four NHL games last year but was not re-signed. Edmonton's loss might just be San Jose's gain.
With a possible Sharks top-4 defense of Brent Burns, Marc-Edouard Vlasic, Jason Demers and Braun, Fedun could be utilized in soft offensive minutes on the third pair with fellow "offensive" defenseman Matt Irwin. Both these guys love having the puck on their sticks and the lefty, righty combination meshes well on paper. Furthermore, the bigger Irwin 6'2" 210, has the potential to become more of the physical/defensive type to help offset the slightly smaller and faster 6'0" 200 Fedun.
There is also the possibility 2013 first round pick Mirco Mueller pairs with Fedun on that third pair. Mueller has reportedly bulked up considerably over the last calendar year. Sharks head coach Todd McLellan liked what he saw from Mueller in Tuesday's preseason tilt against the Kings.
Fedun Good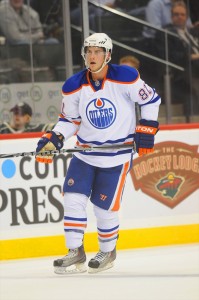 While Fedun is still technically a rookie, at 26, the former college player brings a sense of experience that other Sharks defense prospects like Mueller, Taylor Doherty, and others don't. Maturity, while hard to quantify, can be a bonus. As an older player trying to break through, Fedun clearly isn't tentative nor playing scared. Which the young guys at times might be doing.
With his performance to date, it would be surprising if Fedun doesn't find himself in the starting lineup for the opener in Los Angeles next week.