Five games into the 2014 preseason – racking up a nice 1-4 record so far – has fans asking, "Will Hurricanes roster moves help?"  Executive Vice-President and General Manager Ron Francis made some tough calls last night/this morning, and the team announced earlier today that they are trimming the training camp roster by 10, and have placed C, Jordan Staal on injured reserve.  Even so, many fans are shaking their heads and hoping that the regular season will not be another carbon copy of the past few years.
My favorite guy in camp was Haydn Fleury
He's gone.  The #1 overall draft pick for the team this year at times showed indications of being able to play with the big boys.  However there were glaring signs that he is just not ready.  He was sent back today to his junior club, the Red Deer Rebels of the Western Hockey League (WHL).  Fleury has the natural ability to make his way back to the NHL level.  It is a matter of getting a few more years under his belt, growing a bit more physically, and staying committed to what got him drafted in the first place.  He was not afraid to take a hit or handle the puck, and I think we will see him back sooner rather than later.  He has a very positive outlook, and understands the areas he needs to develop, as well as the natural process of maturing to become a NHL defenseman.
Also gone from training camp is Brock McGinn.  After last night's loss in Columbus, McGinn was getting a bit of love on the team's radio post-game show.  Apparently it was not enough love to sway management away from sending him down to the Charlotte Checkers.  According to the Hurricanes' website, joining McGinn in Charlotte will be Carter Sandlak, Brody Sutter and Brendan Woods, as well as defenseman Danny Biega.  Goaltender Drew MacIntyre (who had the best preseason outing of the 3 goalies in training camp) and defensemen Michal Jordan and Rasmus Rissanen will join Charlotte's camp pending waivers.
Who's Left after Hurricanes Roster Moves?
The training camp roster is now down to 25.  Coach Bill Peters says getting the camp down to a "more manageable number to practice as one group" will help.  The team looks strangely familiar.  The new faces of Brad Malone, Jay McClement and Victor Rask, are surrounded by the usual cast – Eric Staal, Tim Gleason, Jeff Skinner, Elias Lindholm, etc.
Rask raised his stock last night, netting 2 goals against the Blue Jackets.  Quite frankly, he is the talk of the town right now in Raleigh when the topic turns to Carolina Hurricanes hockey.  His play this preseason has really been a bright spot for the team – when there have been few others.  The power play did look good, and came back last night, but was not good Tuesday night in St. Louis versus the Blues.  Rask has looked good every time he has hit the ice, winning face offs and executing crisp passes – now he has the preseason goals to go with his resume.  The case for Victor Rask making the final roster is very strong.
And the "Stud" is…
Coach Bill Peters said he wants a "stud" he can ride night in and night out in-goal.  Will it be Cam Ward or Anton Khudobin?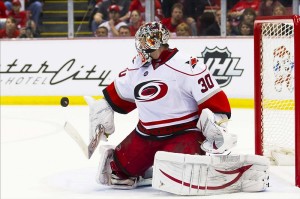 We don't know yet.  Ward gave up 3 goals in preseason game one against Columbus, and 3 Tuesday night to the Blues.  Khudobin gave up his first of the season last night, almost catching up by allowing 4 to the Blue Jackets.  Right now it is anyone's guess which guy will get the nod.  Honestly I thought it would be Khudobin.  But, I think the feeling is that Ward deserves another shot while finally healthy.  Ward is slated to play this Friday night when the Hurricanes finally get another preseason game at home and face the Buffalo Sabres.
This should be telling in a lot of ways.  Coach Peters has said he wants Friday night to resemble the roster we will see a week later on opening night.  So "Wardo" gets to play with the first-string.  (To his credit, Khudobin played a largely first-string Jackets team last night with a 'Canes lineup of guys trying to make the cut.)
But, this is it – the real deal for Cam.  If he goes out and plays hard and stops leaving those annoying gaps, he is likely going to be fitted for Coach Peters' saddle.  If not, then Anton – who likely will play in Washington on Monday – will have his chance to impress.  We will see how this plays out, but right this minute, I'm leaning Cam Ward in-goal to start the season.
Still Making Excuses
All last season we heard lots of excuses.  "The team was flat."  "Eric Staal was really still injured at the beginning of the season."  "The team is just not in sync."  We're hearing some of that already this preseason.  Coach Peters said after losing to St. Louis, "The team was flat."  Huh?  Please coach, don't go there.  We fans believe that you have what it takes to change the culture in Carolina, to help the team not be flat and to bring a mindset of winning back to Raleigh.  Getting beat is one thing, losing because of a poor attitude or lack of preparation is another.  The Hurricanes need leadership from the top both in management, coaching and in the locker room.  I hope that "the team was flat" is not uttered very often if at all this season.  It's unacceptable.