Before the 2014-15 season began, the Calder trophy seemed as if it was Jonathan Drouin's to lose. As 2014 ended, Drouin was no longer in the conversation and new names like Johnny Gaudreau, Tanner Pearson and Michael Hutchinson had entered people's minds. Despite great starts to the season from all three of those players, the Calder seems to be headed to a photo finish between Nashville's Filip Forsberg and Florida's Aaron Ekblad.
Both have been fantastic in their own right and if the season ended today, the argument could be made for either player.
The Case for Filip Forsberg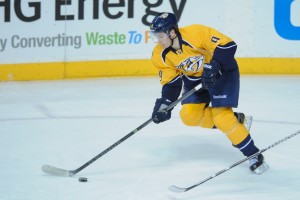 The Nashville Predators look like a completely different team this year than in years previous. It starts with new head coach Peter Laviolette's more offensive style and the attack has been led all season by Forsberg. After starting the year playing on the second line, Forsberg caught Laviolette's attention and was quickly moved alongside James Neal and Mike Ribeiro on the top line. He quickly fit in with the former Dallas Stars teammates and complimented them well. But as his confidence grew, his talent emerged and soon it was Forsberg who was the feared component of that line, not former 40-goal scorer Neal.
Through 38 games Forsberg leads all rookies in goals (14), assists (23), points (37), plus/minus (+22), power play points (11) and game-winning goals (4). He also hasn't been held off the scoresheet for three consecutive games this season making him Nashville's most reliable scorer. If individual stats aren't enough, he's also helped the Predators to the second-best record in the NHL playing in the much tougher Western Conference.
The Case for Aaron Ekblad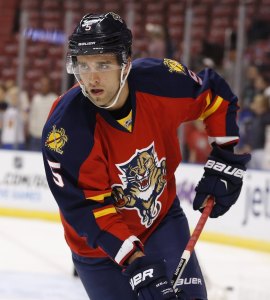 Meanwhile, Aaron Ekblad didn't start the season with the same splash that Forsberg showed but has come on as of late to pass Johnny Hockey in the Calder debate. The Panthers started slow as a team, in part due to injuries to forwards Scottie Upshall and Alexsander Barkov, but Ekblad and the Panthers have found their groove. The team sits just outside the Eastern Conference playoffs and the 18-year-old Ekblad is second in team scoring with 22 points while averaging over 22 minutes per game. He's also third in points by a rookie and has a plus/minus of +8 despite the Panthers overall negative goals for/against. And he already broke Ed Jovanovski's record for points by a Florida Panther's rookie defenseman when he assisted on Nick Bjugstad's goal Sunday against Washington.
Perhaps the most important thing to remember is that Ekblad is still just 18 and he's on pace to have one of the best ever seasons by 18-year-old defensemen. He's even had some questioning whether he could be a potential Norris candidate. However, Ekblad's challenge will be maintaining his torrid pace despite playing on a Panthers team that has scored fewer goals than the dysfunctional Edmonton Oilers this season.
Calder Prediction
There have only been 10 defenseman ever to win the Calder Trophy and those names include Bobby Orr, Ray Bourque and Brian Leetch so if Ekblad were to be voted rookie of the year it would be a pretty outstanding accomplishment. That being said, unless Forsberg stumbles in the second half the award will likely go to the Swedish sniper. He's been the driving force behind the Nashville Predators resurgence this season and is on pace for 30 goals and close to 80 points. Like many of the NHL awards, points trump play. Nathan MacKinnon won the award last year with 63 points so if Forsberg gets anywhere close to 80 he should be a lock for the Calder.
Josh Saggau is a Vancouver-based digital journalist with a passion for sports writing. He holds a Bachelor of Journalism from Kwantlen Polytechnic University and his work has also appeared in Hockey Now and Vancouver 24 Hours.