About one year after Franchise Hockey Manager 2 (FHM 2), Out of the Park Developments released Franchise Hockey Manager 3 (FHM 3) which is, as the name suggests, the third installment of the series.
This third episode of the saga was released on Monday and is available on Steam or eSellerate. The game features many novelties, and the good news is that most of the new stuff is actually represented by "under-the-hood" improvements to allow the user to feel more immersion (I think that it was the main problem of the first couple of editions) and to allow for a more realistic season development.
What's New
You will get one of the first new things as soon as you launch the game, as you will be presented with a screen offering to start a game in the new "Path to Glory" mode. In this mode, you'll have a chance to be either the general manager/head coach or the GM only of your favorite team and to enjoy a way to enhance your career getting upgrade points to add to your profile to perform your work in a better way. Sounds complicated, but it is not — it's just a few clicks to choose if you prefer to be an offensive tactics guru or a more conservative coach, or also if you prefer to be better in player management or in negotiating skills. The all-new Path to Glory mode also offers Steam achievements such as winning different leagues or having your players getting some kind of performance.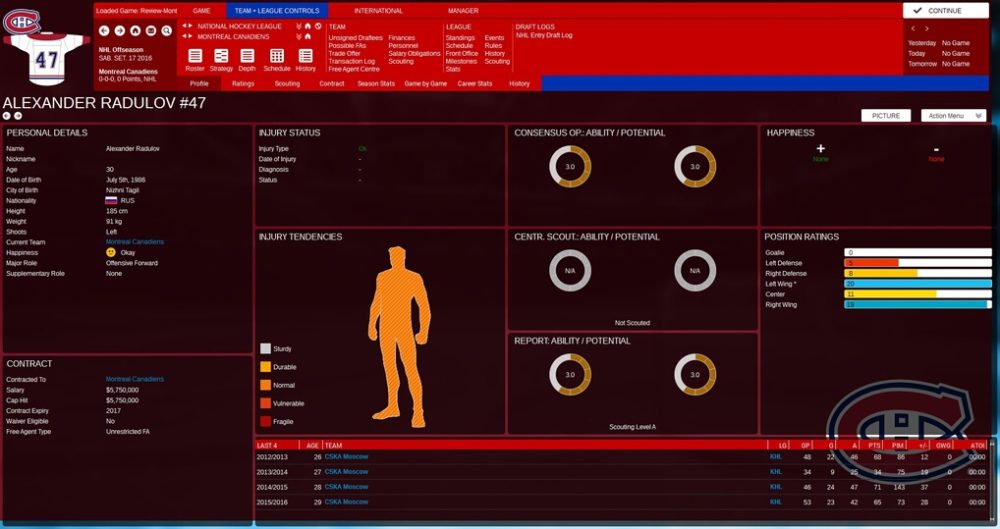 There are other modes, of course, as it was the case with the previous installments. You can play in either "Sandbox" mode or in "Historical" mode. The Historical mode is pretty much self-explanatory, and similar to last year's, while the Sandbox mode is more thought for the fictional games' fans. In Path to Glory mode, you can also start as unemployed and wait for offers, which of course will not arrive from the NHL, but rather from European or Major Junior leagues. To further clarify why the new Path to Glory mode is the most important thing right now for the developers, we spoke with Jeff Riddolls, the producer of FHM3.
"We wanted a mode that was a little more of a directed experience, particularly for the new user, as opposed to overwhelming them with options.  And for experienced users, it provides them with a little more recognition when they play with a few more restrictions on things like their ability to lean on assistants or make edits.  And, of course, if someone prefers the old play modes, those are all still available in sandbox mode."
NHL License
Another great piece of news is the fact that now the game is officially licensed by the NHL, meaning the game will ship with official NHL team and players names and logos and you will not have to rely on third-party add-ons to embellish your game (but you may still want to do so for other leagues or for other kinds of graphic mods). This, however, is valid for the NHL only as currently there are no other licensed leagues.
The game is actually a huge step forward last year's version. The game features a new tactical system which is amazingly deep where you can choose between different tactics (historical ones too!) as the main game plan and then micro-manage player roles. You can set, for example, Alexander Radulov as a playmaker and tie him with a dangler and a garbage collector. Or what about giving prospect Mikhail Sergachev a chance to be a rushing defenseman with the man advantage? You get endless possibilities, and for the ones who really like to micro-manager their team it is really a lot of fun. If you feel like setting individual tactics is a waste of time, you always have the GM-only mode.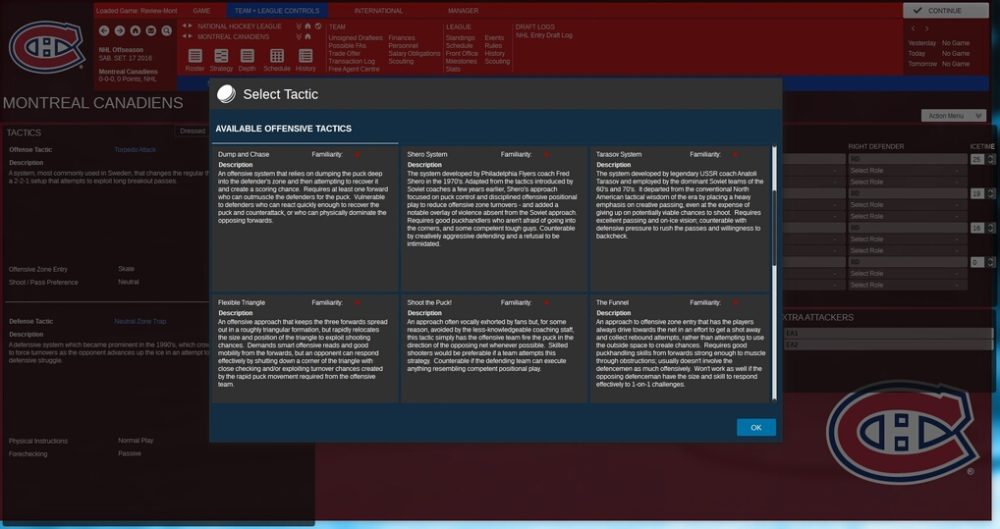 The new tactics system may be a bit overwhelming at first for less experienced users. However, Riddolls has some suggestions: "The easiest approach to take would be to simply let the AI make its suggestions, and take a look at what it's done.  We'll probably add a little more guidance to help make the good choices, like indicating which tactics your team might be the best at, and the systems the other teams in your league are using.  But it's always a balancing act about what information to provide – there are a lot of different factors that go into determining how effective your team's tactics are, and if we highlight one or two, people tend to get the wrong idea that those are the only ones that are important."
The game's novelties don't end here. Finally, the developers found time to add international competitions. This means that once you fire up your save, you will have the World Cup of Hockey running on your screen. The AI does a decent job of calling out the rosters, especially for North American teams. For the European teams, you'll have to accept a bit less accuracy. The actual rules, as well as the schedule, are correctly represented. In my sim, however, Team Sweden downed Team Canada 2-1 in the final series, with Daniel Sedin getting MVP honors after scoring three goals and 10 points in seven games.
UI and Playing out Games
Talking a little bit more about the flow of the game, the UI is pretty much the same as it was last year. There are some improvements, but I still feel like I have to make too many clicks to get what I need. There are less than before, but some more links within the game, in particular within news items, would be really welcome.
When you play out a game, the screen is still similar to the old version, with a representation of the ice sheet and a (basic) play-by-play commentary above it. The game rating has now been split into offensive and defensive ratings. As it was last year, making changes on the fly is a bit cumbersome, therefore most users will not change too much during the game, but switching a couple of players in a line or increasing ice  time for a particular unit is not too much of a mess. You can also count on a general rating. However, the screen has a couple of features more to adapt to the new tactical system. You can see more in the below screenshot.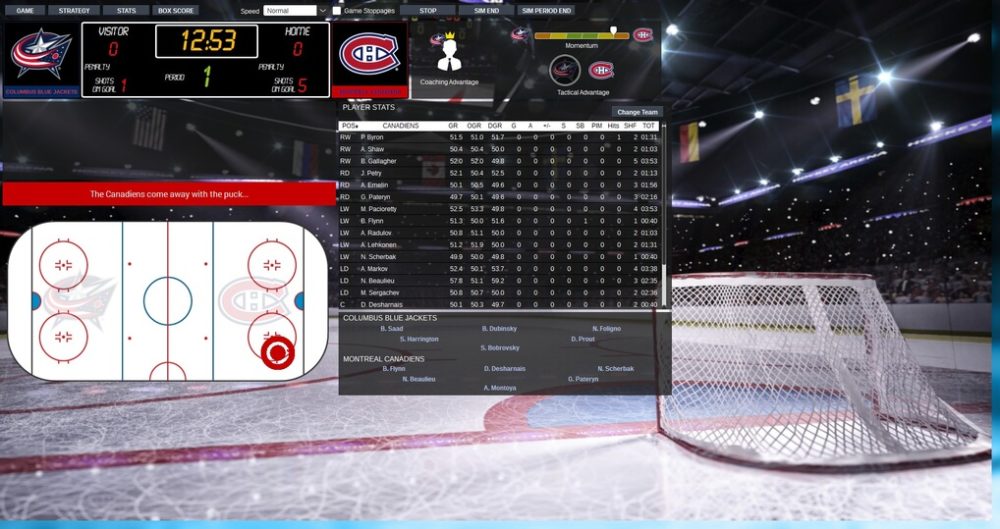 Scouting and trading did not see much change, and I still don't like that the game doesn't seem to offer you a way to understand why your trade offer was rejected, the AI GM is just going to tell you that you "have to add something more". The developers probably already know they have a need to improve this part and will do so later. In the NHL, you can now enjoy different rankings and screens to better help you on your way to the draft. The 2017-eligible prospects are covered with a reasonable level of realism, although in FHM 2, drafts were a bit too Euro-heavy and it's a bit early now to say if the problem was solved. As usual, FHM developers care about their customers providing post-release updates, as confirmed by Riddolls: "As we always do, we'll be providing regular updates to fix problems and add new features for months after release. I can't get into too much detail about the new stuff, but, for example, now that international play is implemented there's plenty of room for additions there, like junior tournaments. And with a name announcement for the NHL's new Las Vegas team coming soon, getting a detailed 2017 expansion into the game would be nice."
Life Beyond the NHL
Franchise Hockey Manager 3 offers 22 playable leagues, from the NHL to lower-level UK leagues. You can play with the new Chinese KHL franchise, Kunlun Red Star. KHL rules aren't a 100% match with real-life situations, but it's accurate enough to be interesting and most of the users will not notice any shortage of nuances.
In particular, the developers could improve European leagues' transfers. For example, players don't move enough from one league to another, especially during the season. Riddolls commented on the European simulation: "We spent a lot of time this summer going over the European rosters and rules and getting them into better shape.  We've also added appointed a head European researcher, who'll be able to keep a closer eye on the big picture for European data.  We'd hoped to add a little more detailed roster handling for the European leagues, but implementing the new tactical system had some significant implications for that (and roster AI in the North American leagues as well), so that didn't go as far as we'd have liked.  However, now that the tactical system is in place, that's going to give us a much better base on which to build better roster AI.  The international team roster selection was the first testbed for that, so we've been learning some lessons there that can and will be applied to club team AI."
The Bottom Line
At the end of the day, Franchise Hockey Manager 3 is a solid game, much improved from FHM 2, which was already good. If you are a fan of sim games, it's worth it to try to prove that you can do better than general managers like Peter Chiarelli or Lou Lamoriello. Alternatively, if you are a Habs fan, you can try and get back P.K. Subban from the Nashville Predators, maybe to pair him with Shea Weber. The price to pay though, would most likely be steep.
[Disclosure: Franchise Hockey Manager 3 was reviewed on Windows PC but will also available for Mac OS X. A retail copy of the game was provided Out of the Park Developments as the author helped the devs with some research and beta-testing work.]
A professional hockey writer and translator. Loves Russian culture, language, and hockey. Reachable on twitter @AlexSerenRosso