The Edmonton Oilers have a lot of needs. Besides solidifying the goaltending, one of the biggest areas of weakness for the Oilers is their team grit and toughness. If anyone believes that skill and speed is all you need, look no further than the Chicago Blackhawks, who find themselves on the brink of elimination from the playoffs. They have a deep line-up of talented players, but the Detroit Red Wings are limiting their time and space and the Hawks have no answers. They could still win this series, but if not, the issue of team toughness will likely be addressed in the offseason. They added Michal Handzus at the trade deadline, but could probably do well with an Andrew Ladd or Adam Burish, guys who helped them win the Cup in 2010.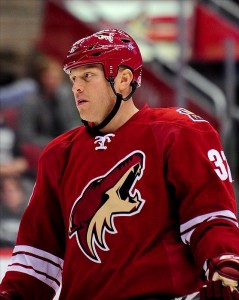 The Oilers forwards are getting beaten down and out-matched physically. You can win a lot of games in the regular season on skill alone, but imagine coming up against a team like the Kings or Blues in the playoffs. You need some sort of push back to beat these types of team, and that's something Edmonton is lacking. There aren't a whole lot of top free agents available, and even the ones who are currently UFA's could be easily re-signed by their current teams before the Oilers could get a sniff at them. But, here are a few players Edmonton may want to consider targeting when July 1st roles around.
Nathan Horton
At age 27, Horton is in his prime and seemed to have overcome the concussion troubles that have plagued him in the past. He's a big power forward who can skate. Imagine Horton creating space for guys like Taylor Hall and Jordan Eberle. He's got the foot-speed to keep up with them and the skills to light the lamp on his own as well.
Matt Cooke
He isn't the most popular guy in the NHL, but Matt Cooke knows his role and plays it well. Despite him being labeled a goon, make no mistake: Cooke can play. He's an excellent penalty killer, an agitator and can put up points. Opposing players watch their back when Cooke is on the ice, and the Oilers could certainly use an intimidating figure on their roster.
Raffi Torres
Speaking of players nobody likes, former Oiler Raffi Torres is also a UFA this summer. Suspension trouble aside, Torres is an effective player when he plays within the rules. He hits like a machine, and can still chip in on the score-sheet  Again, if they Oilers want to be a tougher team to play against, they need a guy like Torres in the line-up.
Rob Scuderi
At age 34, his body is starting to wear down, but a physical force on the blue-line is just what the doctor ordered for the Oilers. He's a two time Stanley Cup champion, and is still being missed in Pittsburgh. He is your prototypical shut-down defenceman, but he skates well and wears down opponents. He blocks shots and hits hard. Imagine Justin Schultz wheeling and dealing and Scuderi laying out guys on the same shift. Scary.
Matt Hendricks
He would be more of a bottom six forward, but Hendricks wouldn't cost much and he's the kind of guy who could log decent minutes on a regular basis. He can fight, he can hit, and he scores a goal every now and then. He can move up in the line-up and wouldn't look out of place. Hendricks can fill a need for the Oilers, but he's much more serviceable than a heavyweight who plays a couple minutes a night.
There's chance none of these guys will be available to sign. There's a chance they all could be. The Oilers have the skill. Now they need the guys who can create space and grind the opposition down. Imagine Edmonton becoming a team that will make you pay on the scoresheet and make you hesitant to go into the corners or to the front of the net. They would certainly become a force to be reckoned with.
Marcy, a former hockey player, is a hockey correspondent on CTV News and TSN radio. She began her career as a Sports Journalist in 2009 and has been part of The Hockey Writers since 2010, where she is currently a senior writer and editor.