To Buffalonians, their city is its own personal rallying cry. At any sporting event, the chant of "Let's Go Buff-a-lo!" will roar off of the rafters and bounce back like a monster, waiting to swallow its opponents whole. Around the country, though, Buffalo is known for three things: wings, snow, and hockey.
The city has self glossed itself 'Hockey Heaven,' and its citizens take the moniker seriously, so last week, when the Buffalo Beauts announced that hometown hero Emily Pfalzer would wear the 'C' for the season, Buffalo beamed with pride. That pride swelled even more this week when it was announced that Pfalzer will captain an All-Star team at the two-day celebration to be held at the HarborCenter.
I met the diminutive defenseman after practice. Her reserved persona betrayed her on-ice brilliance. Smart and skilled, with speed to kill, Pfalzer will pick your pocket, undress you in the neutral zone, blow by the blue line, and dish for the goal, all in the same play. She and some of her teammates have just returned from a whirlwind domination of the Four Nations Cup, and they're settling in nicely with their newly complete line-up.
@EmilyPfalzer was a great guest on @MSGNetworks @BuffaloSabres pre game. pic.twitter.com/GaAthYmLQ1

— Dan Dunleavy (@Dan_Dunleavy) November 14, 2015
Emily said she enjoyed Sweden, and when asked about her Player of the Game award in the opening matchup of the tournament, she said, "Anyone could have won it." I told her that was funny – Kelli Stack had said the same thing less than a week ago, to which she laughed. Then we got down to business.
– Is it difficult to come back and jump into a new system with a completely new team than when you left?
-No, not really. A lot of the Canadians were here before they got stuck back in Canada. It was nice to just be with everyone again.
– Congratulations on your captaincy. Had you been captain before? How does it feel to be leading a professional team?
– Yeah, in my senior year at BC. It feels awesome. There are so many leaders on the team, everything's really easy – everyone is a leader in their own way, but it is awesome to represent Buffalo and it's very humbling.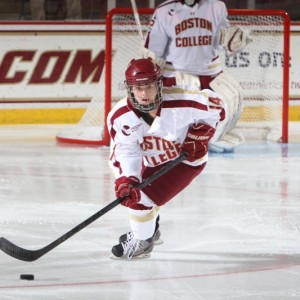 – How did it feel after Sunday's game, playing with a complete team?
– It felt good. I think we had a lot of chances. We could've buried some more, but we worked hard and came back from a 2-0 deficit, so it was good. We're really looking forward to Sunday.
– You guys did create a bunch of chances down low, but Leonoff was there every time.
– Yeah – she played well.
– You had a lot of ice time that game. You played a full penalty kill, went off for 20 seconds, then come out and play left wing on the power play, then drop back and finish the power play on D. How do you build that endurance – coming back from Sweden with the jet lag and all, but have the ability to still kill it like that?
– I don't know…I think from just skating a lot and [Impact] training. Being sure to be in the right shape.
– Had you practiced the power play on the wing, or was Coach (Shelley) Looney trying something different?
– Just trying something different. They told me to go up there, so I went!
– How do you feel about Sunday's game?
– Really good. We've been working really hard this week – practicing the power play and the penalty kill. It should be a good game.
– The power play has had a tough go of it so far. Are you trying a different approach or are you going to try to drive it home with the one you've used so far?
– I think a different strategy – trying different things to get the puck moving.
On Sunday, Nov. 22, the Beauts will take on the Connecticut Whale in a rebound match that is sure to be a bruising affair. Last week's game was a battle of the goaltenders, but this week's game may be settled on the boards more than the scoreboard. The game will be streamed on the NWHL's network, as well as in-game coverage from 716SportsPodcast.com.
****NOTE****
The Buffalo Beauts will host Military Appreciation Day. All members of the military will be given a 50% discount with valid ID. Show your Purple Heart, and you'll be admitted for free.
Our next game on Sunday, 11/22 will be Military Appreciation Day! We are proud to partner with @DefTheBlueLine pic.twitter.com/xGK8RikXMc

— Buffalo Beauts (@BuffaloBeauts) November 17, 2015
I am a proud lifelong Buffalo fan and an avid Jack Eichel defender. I have had a lot of fun covering the NWHL – it has been an exciting inaugural season and I look forward to sharing that excitement. For more of this season's NWHL and Sabres coverage, check out http://www.bonushockey.com and http://www.716sportspodcast.com.